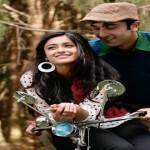 Barfi starring Ranbir Kapoor in the title role has surprised the trade with its performance at the box office. It is surprising because the film is not a regular commercial Bollywood fare rather it's a silent film where the lead actor is dumb and deaf.
In its opening weekend itself the film has done nearly 34 Cr and looking at the way the film has sustained on weekdays the trade feels the film will have long legs at the cinemas. If the Vinayaka Chavthi holiday today boosts the collections of the film the first week number of this film may cross even that of the recent release Raaz 3, says the trade analysts.
Barfi is directed by Anurag Basu, whose last film was the box office disaster Kites. With such a film behind him and the film itself being unconventional the trade has not expected the film to do as well as it has done.

Rating: 0.0/
5
(0 votes cast)