What Barever Natural Hair Inhibitor claims?
Barever is a Natural Hair Inhibitor and it works in tandem with your hair removal methods as the follicle pores are opened during that time which helps better penetration into the skin. The potent formula of Barever seeps into the opened pores and reduces hair growth by inhibiting the activity of hair follicle cells. Acting at the Anagen stage of active growth phase for hair follicles, Barever first slows down the formation of new hair at root level and then reduces the density and thickness of hair. It gently stops the growth of hair by naturally making them weaker, thinner and finer and results into a soft, silky and smoother skin for longer period.
After using Barever together with 3 sessions of your hair removal method, you will start noticing the results with the reduced hair growth. As far as safety is concerned, you will be delighted to know that Barever is formulated with ingredients derived from plants which make it 100% Natural, Safe and effective. The only side effect which you will have with Barever is that body hair growth will be reduced but that is also the main effect for which you shown trust in Barever.
·

  
Gradually restricts the growth of unwanted hair
·

  
Minimizes need for frequent hair removal
·

  
Made from 100% natural ingredients derived from plant extracts
·

  
Natural fragrance
·

  
Suitable for both men & women
·

  
It can be used on face, underarm, hands, legs, back, upper lips & bikini line
·

  
Paraben Free
·

  
Made from Himalayan Spring water which soothe & hydrate skin
·

  
Hygienic pump packaging with nozzle lock system
·

  
No Side effects.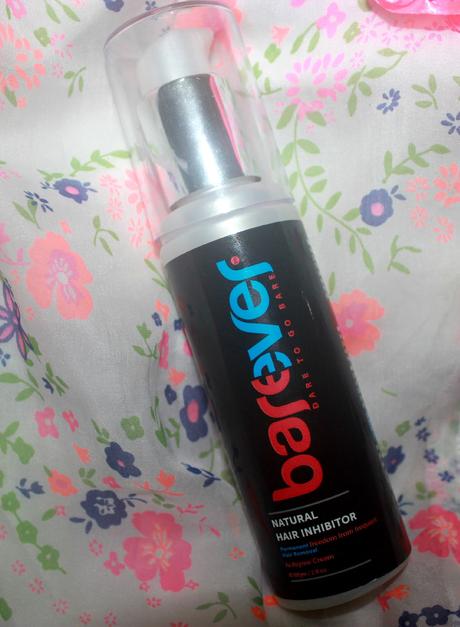 Price and quantity of Barever Natural Hair Inhibitor: Rs 1100 for 80 ml
Direction to use: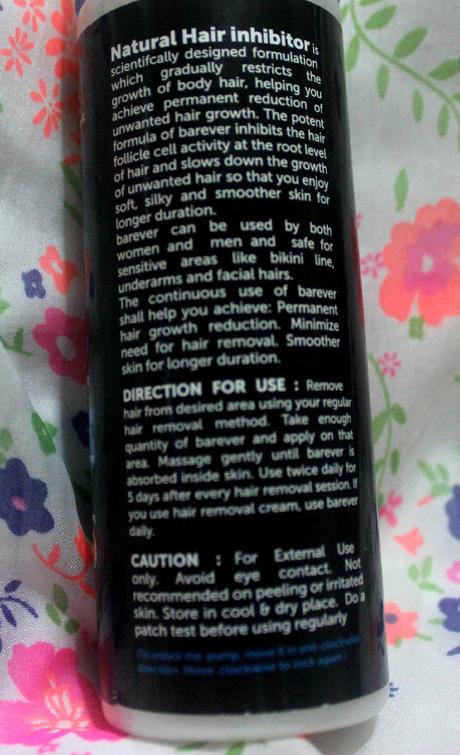 Ingredients of Barever Natural Hair Inhibitor: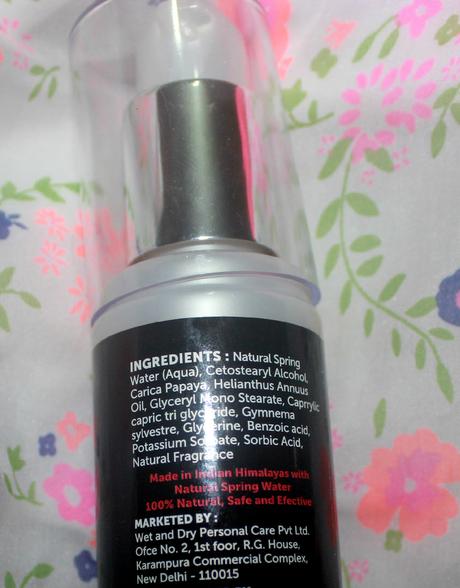 My view about Barever Natural Hair Inhibitor:
This product is available with pump dispenser plastic bottle. This has interlock system that makes it very travel friendly.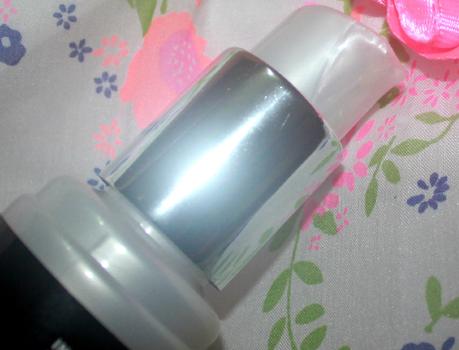 The texture of the cream is thick and is pearly white in color. This is also moisturising thus you won't have to use the moisturiser while you try this.  Mild fragrance is a bit unpleasant goes off after few seconds.
This product has lived up to its claim to inhibited hair growth on the body. This has reduced the hair growth drastically. I have tried this on my upper lips and underarms. First I started with a patch test on the underarms and also on eyebrows.
This didn't give any difference in growth for 1st first month, but the course hair of underarm became softer. The texture of hair didn't change but defiantly got better. After using this for 2 months I also saw slight reduction of hair. Even on the eyebrows it gave me similar results. The Hair started becoming thinner with reduced growth. This doesn't have any side effects from the cream.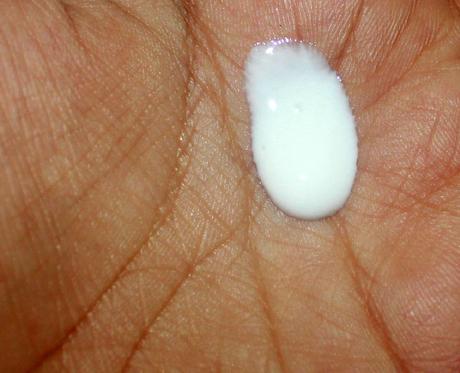 Final verdict for Natural Hair Inhibitor:
Buy this product if you can use this for a longer time to see the results. This gives a decent result. Yes the product is bit pricey for its quantity, but this mess free cream defiantly and moreover, it does actually work when it comes to the reduction of reduces hair growth!