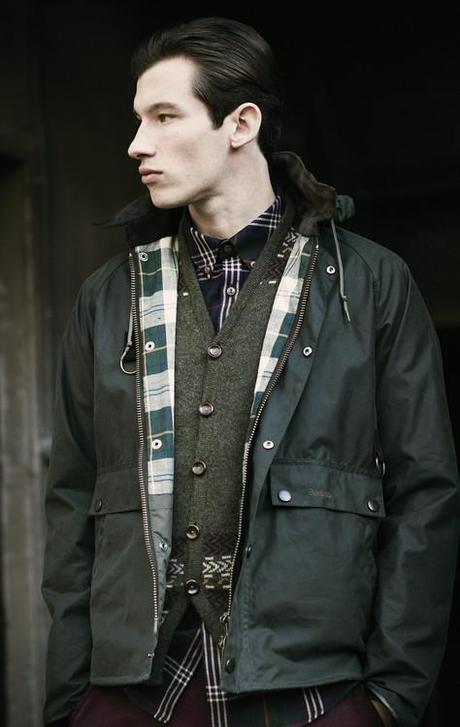 The new high-end, designer version Belstaff is starting to trickle into Barney's. I admit to liking some of their pieces, but it's clear there's only one place you can wear such things: to the dressing room - where you can admire your $2,500 jacket before going back outside in your imitation Baracuta Harrington, which you bought third-hand off eBay. 
So that more or less leaves us with Barbour, who continues to sell motorcycle jackets such as the International and Ariel at reasonably affordable prices. That's in addition to the country-outdoors clothing they're known for, which is featured here in their latest fall-winter lookbook below. Skimming through their website yesterday reminded me of how much I enjoy fall clothing - waxed cotton jackets; thick, cozy sweaters; heavy woolen trousers; and of course lots and lots of boots. The sweet pleasure of layers. 
Towards the end of this post are a few jackets from their Beacon Heritage Collection. I admit to never liking Tokihito Yoshida's designs in photos, but it's a different matter entirely when you get to try them on. There are few designers right now that are as able to create highly unique, but still very wearable, pieces. I encourage you to find a stockist and check them out in person, if you haven't already. Finally, at the very end of this post are some rare vintage Barbours and Belstaffs that Mister Crew directed me to. To see how great such mid-century pieces look when worn, you should check out Voxsartoria. 
For those anxious to start their fall outerwear shopping, search Yoox. They have a few good deals on motorcycle jackets, waxed cotton coats, and quilted outerwear.
Ah yes, fall is coming.