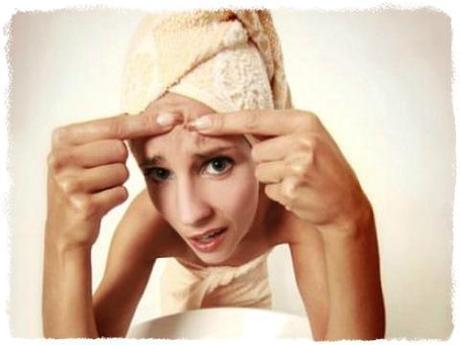 Tell me if this one sounds familiar. It's Tuesday and you're counting down the days (make that minutes) until your fun-filled weekend starts (hey, you've got big plans both Friday and Saturday night).  Wednesday morning arrives and you're practically dancing to the shower while inwardly chanting halfway to Friday — and then you notice a massive zit has popped up with all but a big, flickering neon arrow pointing to it. (Insert #%&@ expletives here.)
How about this one? Despite being an adult, you consistently break out worse than a 16-year-old teenager. (Really? So, not only do we have to fend off wrinkles, but we also have to battle zits, too?) And while we apply them in hopes they'll work like magic, topical zit creams just don't cut it when trying to deal with day-to-day acne or a time-sensitive zit. Well, great news clear skin seekers. There's a new blemish-fighting device on the scene called Clear Rayz and this over-the-counter gadget can help fight (and prevent) irksome acne. And the best part? No goopy, gloppy topicals are required. Here's the en-light-ening scoop: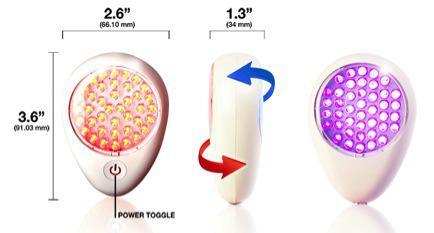 Beauty 411: Clear Rayz is a small, lightweight LED light therapy device that helps treat mild to moderate acne by utilizing natural, safe, painless light waves. A bonus? Not only does the device prevent breakouts, but their studies show that it may also help fill in the "craters" or pits caused by acne, leading to smoother skin!
How it works: Research shows that blue light activates chemical changes in the bacteria, which destroy it. And red light penetrates the skin to combat acne inflammation and heal the breakout. (So, in laymen's terms, the light waves are an easy, painless way to give acne the boot.) Simply place the device on each acne area for three minutes daily (it will beep at you to let you know when three minutes is up). After several weeks of use (once Clear Rayz has had a chance to work it's bacteria-killing magic), only weekly treatments are recommended.
Beauty bottom line: Basically, the same technology used by dermatologists and professional estheticians has been configured for home use. A DIY device that can effectively banishing zits and acne for good? (Insert cries of joy here!) The Clear Rayz retails for $199. (Yes, we know that's a chunk of change, but in the long run it's cheaper than buying and replacing over-the-counter topical treatments and Dermatologist visits.) So if you suffer from mild to moderate acne – or merely want to have a device on hand that knocks out a massive blemish before your 10 Year High School reunion (eat your heart out, Mr. Homecoming King), Clear Rayz is an easy, ultra effective solution.
Clear Rayz will be available starting September 19th. You can head to their website to learn more.
Buh-bye, blemishes. You're like a bad habit we're all too excited to ditch. Now, who's ready for their close-up?
Crows' Feet, Cupcakes, and Cellulite does not accept compensation for reviews. Samples may have been provided. Opinions are 100% the author's own.