Have you ever eaten at Bonefish Grill? It is one of my favorite restaurants right now. So, so good. Like my mouth is watering just thinking about it. AH! My favorite appetizer (and probably favorite thing on the entire menu) is the Bang Bang Shrimp. 
It's lightly breaded shrimp that is tossed in a spicy sauce and then eaten over lettuce. Seriously so delicious. If you've never been to Bonefish, I highly suggest going if you have one in your area :)
As you know, I'm pretty health conscience. But at the same time, I don't like to deprive myself of things that I enjoy eating. It's nice to change it up once in awhile. Instead of eating something that is completely terrible for me, though, I like to find ways to make recipes as healthy as I can.
So today I want to share with you a healthier version of Bang Bang Shrimp...made by none other than Toy (my grandma)!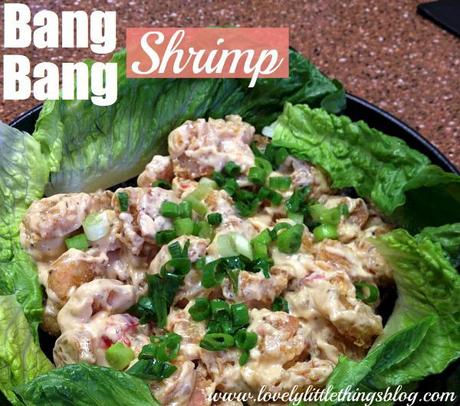 I went to Bonefish for my graduation dinner with my family and when my grandma found out how much I love the Bang Bang Shrimp, she took it upon herself to create a healthier version. The original recipe that she found is here, but I'm going to share her altered version with you guys.
Bonefish Grill's Bang Bang Shrimp "plus a twist by Toy" Serves: 4 // Difficulty Level: 3 // Ready In: <30 minutes
Ingredients: 1/2 Cup of Light Mayo 1/4 Cup of Thai Sweet Chili Sauce 3 Drops Sriracha Hot Sauce (or to taste) 1 Pound Shelled & Deveined Shrimp  Dry Cornstarch  Lettuce Chopped Scallions
Directions: Mix mayo with Thai Sweet Chili Sauce. Add hot sauce to taste. Cover the shrimp in cornstarch. Saute shrimp until lightly browned. Drain on a paper towel. Put in bowl and coat with sauce that was previously made. Serve in a lettuce lined bowl, topped with scallions.
Nutrition Per Serving (so 1/4 of the recipe): 288 calories 24g of fat 1g carbohydrates 19g protein
When my grandma made this last week, I honestly couldn't even tell the difference between her recipe & the restaurant's recipe! It was that good. But I have to warn you...my grandma is one mighty fine cook ;) But really, give this a try & let me know what you think!