I live in Pune, which is a short drive away from Mumbai, so needless to say I have visited Mumbai often. Taking flights from the city, landing into it often, work meetings and social obligations, my visits have always been on a very strict time budget, a strong agenda and long to do lists. Never have these visits been aimless, random, unplanned and free from time limits.
So a few weeks back when I got a chance to spend a day in Bandra with no agenda and a strong desire to explore (Thank you Dora for the inspiration), I did just that.
I have to say, that the fun in Bandra is not in staying holed up in a luxurious hotel, dining at the 5 stars or national chains, it is not in shopping at the malls.
True Bandra love is in walking down the tiny lanes in Pali Hill, admiring the quaint tiny villas nestled between tall modern high rises. These villas have it all,   picket fences, adorable wooden gates, vintage facades, and a resilience to change. They continue to live in a different era while the world around spins at lightning speed.
It is in walking down Hill Road and Linking Road - a treat for any shopping addict, the thrill is not in the purchases but in the bargaining and the triumphant feeling of having scored a steal. I was left amused by what all you could find in tiny nooks and corners of Bandra streets, if you looked carefully enough.
It is also in the convenience of having a beautiful sea front right across the street and the feeling of constantly being surrounded by the sound of waves and a blanket of sea breeze.
It is in the tiny little eateries each reflecting a distinct personality borrowed from its owners, which lovingly serve the most delicious food - bagles, cakes, sandwiches, whatever you might fancy!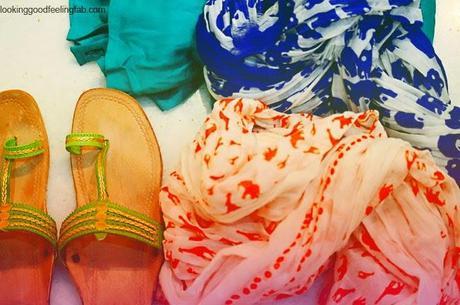 And then of course Bandra joy is in spotting a celebrity, Bandra does house a ton of celebrities and now I know why. Guess who I spotted??
Ranbir Kapoor!! Yes I did..
Watch the video for details of my shopping and eating spree.
Here are some more posts about my shopping obsession :)
Zara Westside sale haul 
More sale shoppingwant to look good and feel fab always?? Join us lookingoodfeelingfab.blogspot.in