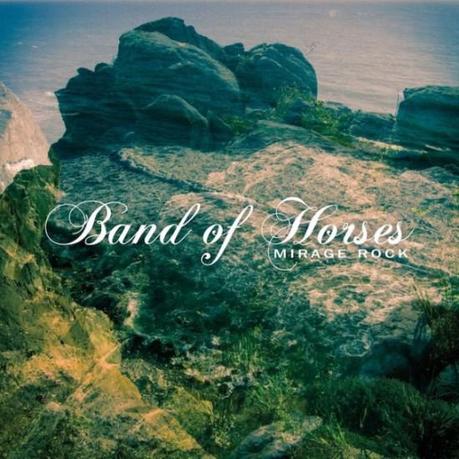 Mirage Rock is the first record from Band of Horses (@bandofhorses) since 2010′s much overlooked Infinite Arms. Produced by the legendary Glyn Johns, you'd expect the group's brand of southern rock to be taken to new heights. Unfortunately, thats not quite the case. Despite playing host to a number of pretty good tracks, Mirage Rock hangs a little too casually around the mediocre to decent mark.
The album leaves the starting grid with a pretty catchy tune in lead single "Knock Knock" before moving into "How To Live" and album highlight "Slow Cruel Hands of Time". The latter two serve as strong reminders of the rustic, bar band americana style Band of Horses does so well. After those three tracks, though, things seem to slow down dramatically. Songs like "A Little Biblical" and "Shut-In Tourist" play out with no hoorah or hard edges. While they're not bad songs per say, they just appear to be there, flat and deflated.
The album struggles to pick up pace, momentum and a cohesive sound after this particular speed bump. There are a few odd moments where they seem to pull things back, but regardless, their best material on Mirage Rock certainly isn't up to par with their best material period. Musically, the album dosent really inspire too much interest, seeming very straightforward in an A to B kind of way. Lyrically, the songs feel very distant from their previous material as well. Aside from the aforementioned "Slow Cruel Hands of Time" and "Heartbreak on the 101″, there's not a lot of depth, meaning or emotive output to the albums songwriting.
Mirage Rock sounds like a really good/potentially great band treading water for 45 minutes, which is pretty disappointing considering they're capable of so much more. Die hard fans may clutch this close to their chest, but the lack of anything truly distinctive or decidedly great will leave a lot of people passing this by.