I have the feeling I change the review layout every time I write a new one...

Band Baaja Baaraat
(2010) 
बैंड बाजा बारात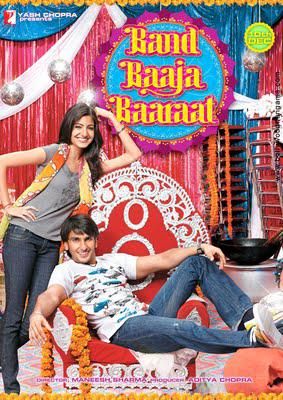 Director:
Maneesh Sharma –
Authors:
Maneesh Sharma, Habib Faisal
Starring:
Anushka Sharma, Ranveer Singh
Plot: 
After college, Shruti and Bittoo build up a wedding agency - however, they break their personal ground rule: no love in business.
Hidden Plot:
Classic Hindi cinema is reinvented in a fresh, modern way.
-------------------------------------------------------------------------------------------------------------------------------
NB: May contain spoilers (though I'm sure you know them already, even if you haven't seen the film, so read on if you want to).+ I wrote this review in the middle of the night, so it might not be linguistically perfect.
My Bollywood lean time is finally, finally over - it ended with a big BANG yesterday night (
this review was written 2. August)
.The "Bang" is also known as
Band Baaja Baaraat
, one of the most celebrated hits of the previous filmi year, that I have been literally dying to watch (!). After a sad misunderstanding with my father (I was sure he was going to give it to me as a birthday present), and my unsure-ness about ordering DVDs from India to Germany, the German Bollywood specialist label Rapid Eye Movies released the film here in Germany, so I ran out to the store to buy it. As I have watched the film with two cultivated German ladies, who otherwise love opera and similar, I can truly recommend it for convincing people that Bollywood is great. At least women, I don't know about men - and their filmic taste shouldn't be
too
elitist, however.
BBB is at the same time just as good as I had expected and also maybe even better. It's hard to decide, honestly. It is at any rate a fantastic film that has been needed badly.I have personally "grown up" (first "met" Bollywood when I was 9) with the classic 90s and early 2000 blockbusters like
Kuch Kuch Hota Hai, Kabhi Khushi Kabhi Gham, Main Hoon Na, Yes Boss
etc., all of them very colourful, funny in a cute way and of course, romantic. Today, the times have changed, and a film like KKHH wouldn't work today as it did in 1998. But that doesn't mean we have to forget those old times, or leave them behind - BBB is the proof.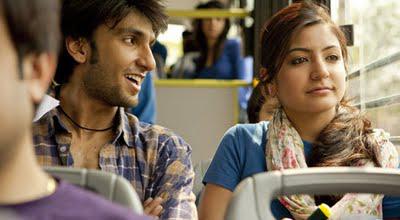 Yash Raj is back on track - but this time, everything is a little more realistic.
The film is just as colourful, funny, cute and romantic as my childhood classics, and the story is similarly easy to see through. This description may turn a lot of people off, especially the ones with the very elitist taste, that I mentioned before. I do have traces of that elitist taste in myself, probably because I taught myself to be like that - read avantgarde or very classic books and watch a lot of arthouse films. However, there is a part of me, the part that loved the films when she was young, that longs for those films, makes me re-watch the "old" favorites every year and enjoy them so much. This part of me does not have a brain in the common sense. Yes, she can turn the brain off. Isn't that just wonderful? And practical? It was she, who made me watch
Band Baaja Baaraat
. And I am forever thankful to her. 
A scene that truly impressed my fellow audience was the kiss scene. "How natural, how tasteful, how magical!" - those were their words. And I can only agree. That kiss might be the best kiss ever made in Indian cinema.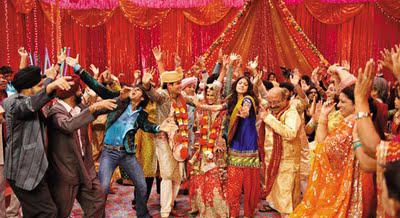 "Ainvayi Ainvayi" - already a classic amongst Fans.
Did I mention that BBB is colourful?
So far, I think that Anushka Sharma delivered her best performance yet in BBB. Her character does have many layers, which is unusual in romantic comedies - at the beginning, she just seems like a business-minded power woman without any feelings, but as the film goes on, we can see more and more of who she really is.
The
 kiss is a wonderful example for that. Shruti leans to Bittoos shoulders, which shows her being herself the first time - tired, vulnerable and searching for someone to lean on, literally. We also see how afraid and inexperienced she is, when the kiss is approaching, and how long she has kept many of her feelings locked inside. I can only say it again: the kiss scene is incredible. Not only because it really makes you blush (the only other scene [in an Indian film] that made this happen to me, was the famous
Kaminey
one), but also because it is so essential for the whole film and the characters. We also get to know Bittoo a little better, somehow. Well, I'll stop now - maybe I
am
 interpreting too much into films.
The soundtrack of BBB is also similar to my childhood favorites - a mixture of songs for different moods and occasions, one or two really haunting melodies, and some forgettable ones. Important is, how the songs are realized on screen - "Ainvayi Ainvayi", the Shaadi Mubarak song, "Aadha Ishq", the sometimes happy sometimes sad love song, "Tarkeebein", the background song" and "Dum Dum", the Item number/ mega Bollywood song. And not to forget the Theme Song, "Band Baaja Baaraat", which also only appears in the background. I was especially impressed by the choreography for "Dum Dum", even though it is incredibly unrealistic, especially in context.
Kudos to Maneesh Sharma and Yash Raj Films! I wish the former mentioned good luck with his further career in Mumbai, and to YR I'd like to say: welcome back!BBB is already a favorite, and I want to recommend it to every living soul - though I do know that not
everyone
 is going to love it as much as I do. If you do love the film, and maybe interpret as (too) much as I do into it, then Cheers!(A lot of exclamation marks in this review - I'm sure F. Scott Fitzgerald would only shake his head at me).





9/10

PS: Yes, BBB does have faults - but child-me didn't see them.
----------------------------
Thank you for reading,Mette M. K.