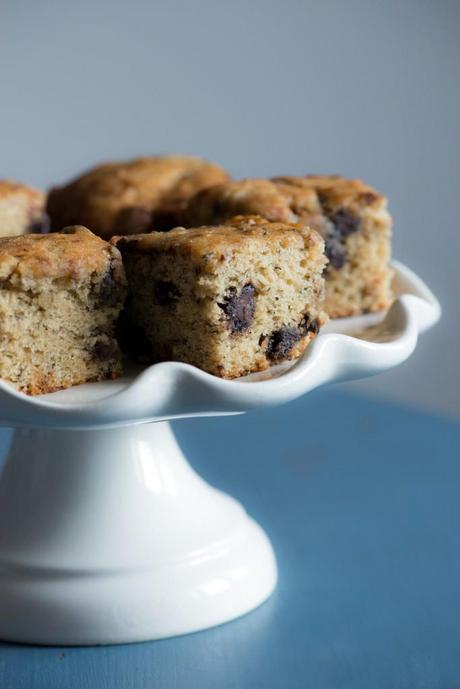 Bananas….and chocolate…and a slight sprinkle of cinnamon. I know you can already imagine how good your house will smell. This banana chocolate snack cake was delightfully simple to throw together and received rave reviews from everyone who tried it at my house. My seven-year-old nephew said, "I think I'm falling in love," after his first bite (and we all know that seven-years-old aren't afraid to tell the truth!).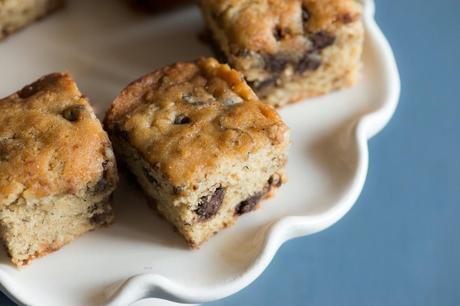 I found this banana chocolate cake to be the perfect hybrid between dessert and snack. You could even enjoy it for breakfast! The dark chocolate chips make it feel a bit more decadent, but then the bananas and whole wheat flour throw a few points towards wholesome. But whatever you want to call it or whenever you want to enjoy it…this cake is good.
What's also good? Sweet Lu is sixteen months old this week. She grows brighter by the day. We are so very blessed.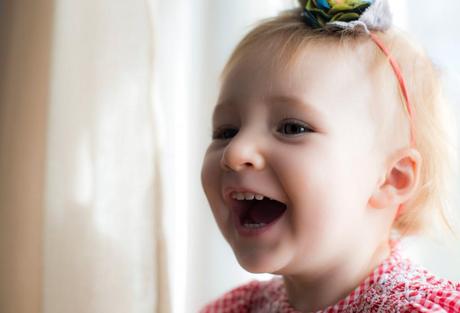 Banana Chocolate Snack Cake
1/2 cup butter, softened
3/4 cup brown sugar
1 egg
1 cup mashed, ripe bananas
1 teaspoon vanilla extract
2 cups whole wheat flour
1 teaspoon baking soda
1 teaspoon salt
1 teaspoon cinnamon
1/2 cup whole milk
3/4 cup dark chocolate chips
Preheat oven to 350 F. Line a 9 x 9 inch square baking pan with aluminum foil. Allow foil to slightly hang over sides. Grease lightly with butter.
In a medium bowl, beat together softened butter and sugar, until creamy. Add in egg and vanilla extract. Stir well. Fold in mashed bananas. Set aside.
In another medium bowl, whisk together flour, baking soda, cinnamon, and salt. Gently fold dry ingredients into banana-butter mixture, alternating with the whole milk. Once combined, gently fold in chocolate chips. Spread into prepared pan and bake in preheated oven for 25 minutes, or until a toothpick inserted in the center comes out clean. Allow to cool before removing from pan.