Banana Chips|How to make Banana Chips| Homemade Banana Chips| Plantain Chips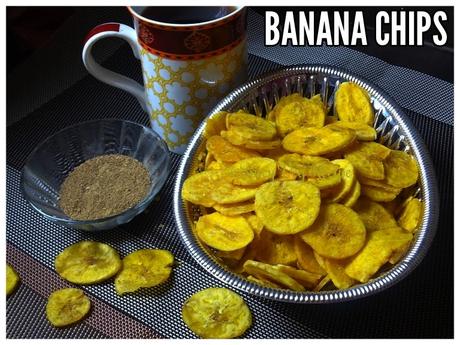 Banana Chips recipe
If you like Banana, then you will love these chips. 
These are prepared from raw bananas. Banana chips are the perfect option for tea time snack. 
More recipes from this blog:
Palak Pakoda
Spicy crispy chickpeas
Whole wheat flour and almond cookies
Dry Fruits Chikki
Nariyal Magaz Katli
No Bake Oats and Peanuts Ladoo
Namak Pare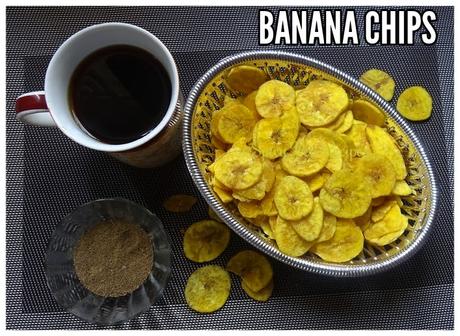 Banana Chips recipe
Banana Chips Recipe:
---
Prep time: 20          cooking Time: 20 min            Serves: 3 
---
Main Ingredients:
Raw Banana
Cuisine:
Indian
Recipe Type:
snacks
Level of cooking:
Easy
Ingredients:
2 Raw bananas
1 tablespoon Turmeric powder
Salt to taste(optional)
Oil for deep-frying
3 cup iced water
Preparation:
Peel and slice the banana into thin slices with a slicer or knife.
Add turmeric powder and salt to a bowl of iced water. 
Method:
Put the slices of banana into a water solution and let sit for 5-15 minutes.
Transfer them to a colander and drain out the water completely from the chips.
Spread out them on a kitchen cloth to take off moisture.
Heat the oil.
When it starts smoking add the banana slices in small batches,  
Fry the chips on a high flame, till they are crispy and golden.
Transfer them to a paper napkin.
Repeat with the rest of the slices.
Store in an air-tight container for up to a week.
Enjoy!
If you liked this, please share. Thanks!