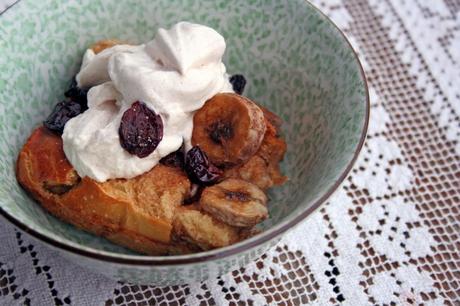 In learning what it means to be "mother," I'm learning what it means to take pleasure in the most simple, most quiet moments. Like when I put Lucy on our bed and watch her lips form into a perfect circle. She sticks her tongue out, retracts it, and then smiles at me. No one is watching, and to most in our entertainment drenched society, such actions might be easily ignorable. And yet as a mother, a new mother, these small moments fill my body with an unmatched joy.
Everything takes longer now. Cooking dinner. Getting dressed. Reading a book. Writing a blog post. And so I've slowed down. And so I'm seeing these small moments much easier now.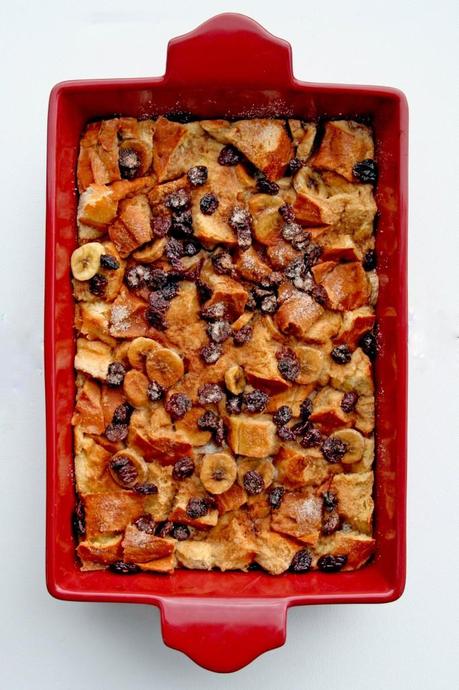 Lately, we've sat on the porch in late evening. The ground is soaked from a storm still lingering on the horizon. Our dry Colorado air is finally thick with moisture and the three of us breathe it–Ryan and I deeply because we know how quickly it will pass. I am not exactly sure what we are looking for as we sit on our cracked concrete porch, but we find it. I can see it in the way our faces relax. The tension from a long day of crying and nursing and changing diapers dissipates.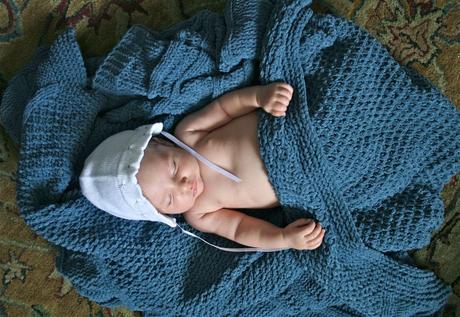 I made this banana bread pudding on a rainy Saturday afternoon. As it stormed outside, Ryan held Lucy in his arms, and I cut up day-old French bread in our kitchen. I soaked cherries in rum, and I sliced bananas with my favorite paring knife. One thing every kitchen needs: a good paring knife. And I felt thankful for an hour to myself. I felt thankful that my daughter was in the room next to me. I felt thankful for day-old bread and ripe bananas. And when I pulled this from the oven a little later…we were all thankful for good recipes and Saturday evening desserts.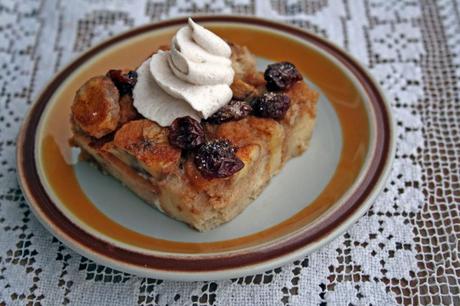 Banana, Cherry, and Roasted Cinnamon Bread Pudding
1/2 cup dried cherries
1 tablespoon rum
1 cup sugar
4 teaspoons McCormick® Gourmet Collection Roasted Saigon Cinnamon
4 eggs
3 teaspoons McCormick® Pure Vanilla Extract, divided
1/4 teaspoon salt
3 cups milk
7 cups challah, French or Italian bread cubes
2 ripe bananas, sliced
1 cup heavy cream
Preheat oven to 350°F. Mix cherries and rum in small bowl. Let stand 5 minutes. Mix sugar and cinnamon in small bowl. Reserve 1/4 cup plus 2 tablespoons of the sugar mixture.
Mix eggs, remaining sugar mixture, 2 teaspoons of the vanilla and salt in large bowl with wire whisk until well blended. Stir in milk until well blended. Add bread cubes and bananas; toss to coat well. Pour into greased 13×9-inch baking dish. Sprinkle cherries evenly over top. Sprinkle with 2 tablespoons of the reserved sugar mixture.
Bake 35 to 40 minutes or until knife inserted in center comes out clean. Cool slightly on wire rack. Meanwhile, beat cream, remaining 1/4 cup sugar mixture and 1 teaspoon vanilla in medium bowl with electric mixer just until stiff peaks form. Refrigerate until ready to serve. Serve warm bread pudding with whipped cream.
Monet
Anecdotes and Apple Cores