It has been a few weeks since first getting our shipment of 1/16" Bamboo veneers in at Roarockit. Not only have we been building boards with the new material, but the first orders have gone out and we have received some great feedback from other builders as well. In this edition of Rockit Talk, we wanted to share some of our experiences and feedback we have received about building boards with the Bamboo.
Let's get to it!
As we have mentioned before, the bamboo is somewhat fragile before it has been laminated into a deck. It is important to remember this when handling it, especially if you are using bamboo as a face (outside) layer. As you can see in the photo below, it can split along the preglued seams fairly easily; however, once glued it does not seem to affect the strength or look of the veneer.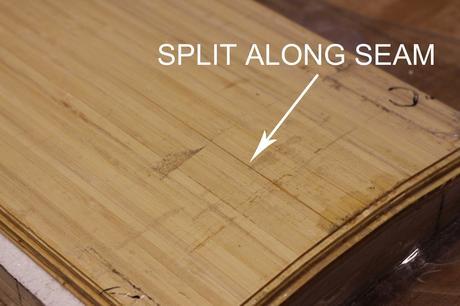 If you are going to laminate a bamboo veneer as a face layer on the top or bottom, we have had good success with laying a strip of tape across the seams to help prevent any additional splitting while the board is being pressed.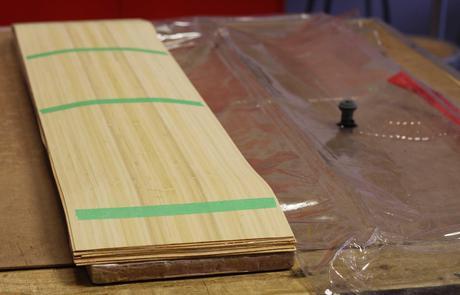 We have pressed three unique decks with the bamboo stock, and all of them have come out great! It is very nice to work with and machines a lot better than we had anticipated. Each sheet comes pre-sanded and we found that it cuts very easily as well.  
Click on the photos below for futher information about these two bamboo builds on our Instructables page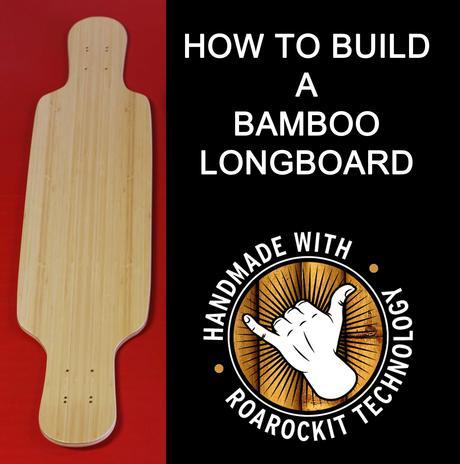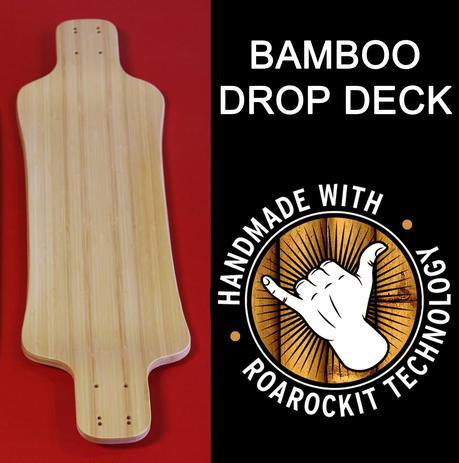 Now, we would like to switch gears and show everyone what someone outside the shop has done with the Bamboo veneers. This build and review was posted by an incredible builder out of Florida called Jords Boards. In the post, not only does she document the amazing custom board that was pressed with the material, but she actually took a photo of the veneers fresh out of the box. This was one of the very first orders of the Bamboo veneer we shipped, and needless to say we were super stoked to see it arrive safely without damage! Extra big thanks to Jords Boards for that one :)
The quotes and photos below are from Jords Boards' post on Silverfish: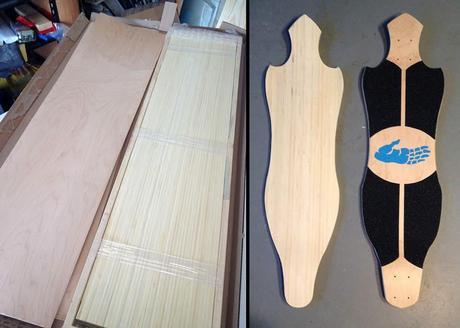 The bamboo splits really easily if you're not paying attention but is completely manageable overall. Roarockit speaks to this on the order page for the bamboo and I concur - if it splits, you can deal with it. Roarockit packs the veneer really really well, I had no splits from shipping, only handling after opening the package, and specifically, rolling glue onto it on a tarp that had a wrinkle in it. I rolled over the wrinkled part and *pop* - the veneer split from about 6 inches in to the end of the sheet. Definitely more sensitive than cross-grain veneer but once you get the hang of it it's not brain surgery.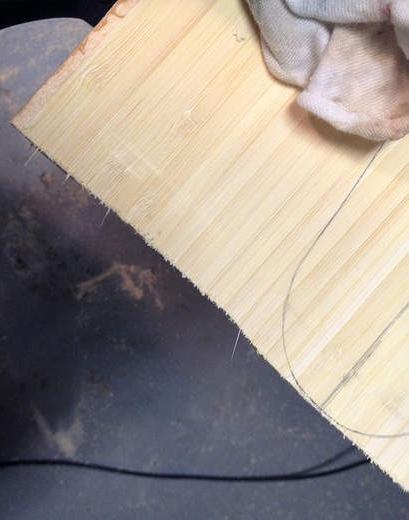 The bamboo is all face quality with a very clean, almost gloss, finish. I normally take 60 grit to my deck blanks after cutting them to clean up grain, burrs, glue mess, etc. and the bamboo as face to your decks just doesn't need it...220 is probably where you need to be otherwise a damp cloth with a mild detergent to clean up marks or greasy fingerprints is all you need before painting it or pre-sanding before clear coat.
I use a jigsaw to cut my blanks and I usually cut slightly wide of my mark and then orbit sand the excess. The bamboo cuts incredibly clean, and cleans up crisper than maple alone. Normally a jigsaw leaves that fuzz top and bottom, right? That stuff just zips right off leaving a knife's edge look without any real effort, it's pretty neat actually.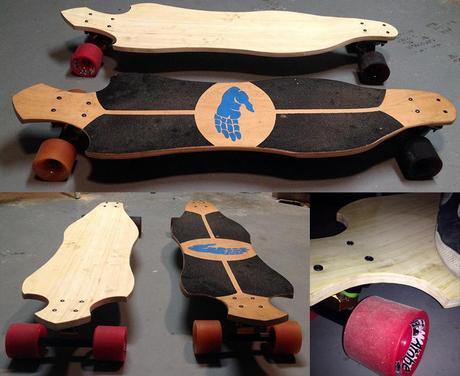 The Low-Fat Monkey (bamboo) next to the Mad Monkey Howler (maple)

We would like to thank Jords Boards for sharing her unique custom decks and taking the time to review the Bamboo material. It is always great to see people doing such creative work with our TAP bags and material! Make sure to give her a 'like' on facebook and check out her awesome build/riding videos on Youtube.

If you have any questions, comments or reviews of the new bamboo veneer, we would love to hear from you and see your boards! Feel free to email [email protected]