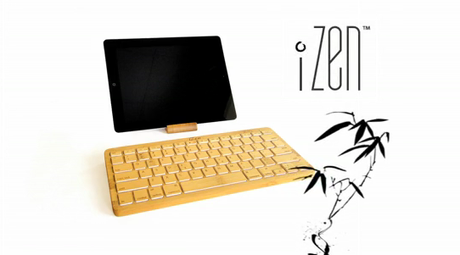 You spilled soda on your wireless keyboard and that darn M key keeps sticking.
You broke down and bought a new iPad, then realized you didn't want to compose long messages by tapping on the glass (perhaps the MacBook Wheel is what you are looking for) and are thinking about a keyboard accessory. Maybe you are just looking for a replacement keyboard or want to try something new. Then it may be worth checking out this iZen keyboard that is 92% bamboo.
From a read over of the specs below, it seems to be a decent potential replacement for traditional keyboards. Being mostly made of bamboo means it breaks down more easily in nature, isn't made out of plastics that rely on oil for their creation, and is all around more natural. Bamboo grows at incredible rates (40 times as fast as some other types of hardwoods) and can be more sustainably harvested if done right. In case you are worried whether it can handle all that typing, the keyboard comes with a one year warranty.
Will getting a bamboo keyboard make up for all the pollution, resource extraction, and energy use that comes with buying an iPad? No, but it might be a step toward reaching some kind of balance between living modernly while thinking about the consequences of our lifestyle.
The iZen team has reached its Kickstarter goal of $18,000 with 46 hours still to go.
Here are the product specs:
Uses Bluetooth technology
Built-in rechargeable lithium-ion battery
Charges with a USB 2.0 cable, the same one used to charge an iPhone or iPad.  The USB charging cord is included in the box with the keyboard. ($19 value)
One-touch access to iPad/iOS features
Improved key feel
Weighs 1.1 lbs (including box)
Dimensions 11.5″ W x 5″ L x .75″H
[Image]