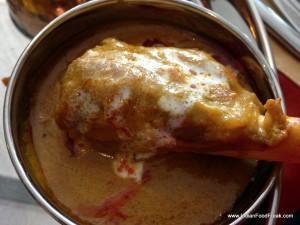 Is there a cuisine that always makes you wonder, how did they do that? For me it has always been the cuisine of the North West Frontier. There is something rustic, robust and rich all in one about the dishes that make me go back to them over and over again. For the restaurant week preview, I got an opportunity to visit The Lalit Ashok's celebrated restaurant Baluchi.
I am surprised to find a thali menu but then they are promoting Express Lunch/dinner with live ghazal performance for the guests.
The welcome drink Jeera Ananas is simple yet it tantalizes the taste buds. As the name suggests, it's a pineapple and cumin drink. However, the pineapple is slow roasted and sweetness adjusted to just right. About a pinch of roasted jeera powder then heightens the flavor. An assortment of papads, pickle and chutneys are served with it.
Soup comes next and it is a glorious mix of vegetables and rich broth. They call it Subz Masale Ka Murakkat.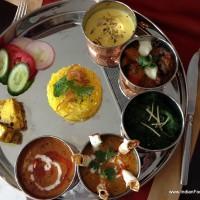 Being the thali service, thali is of course the next logical step. The thali is a huge affair let me tell you. It might look like small-ish portion but dig in and the food speaks for itself. First thing that grabbed my attention was the
Ulte Tave ak Paratha
. The golden brown color, the crisp outer layer and the lovely soft layers inside was a celebration of its own. The chef explained the method of making this paratha.  It is a mix of maida, ghee, reduced milk, fine semolina and saffron. The reduced milk and saffron give it slightly sweet tinge. It is extremely rich and the measure of ghee and maida is equal in each portion. I manage to eat only about a quarter of it. One must try it to believe it. Other bread choices are also available for the guests.
We got two thalis, vegetarian for me and non vegetarian for the companion. Vegetarian thali consists of: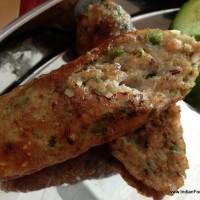 Dhuan Aur Sarson Ke Paneer: This is a starter of Paneer sandwiched with a tangy sauce and marinated in yogurt.
Lahori Paneer Ke Parchey: This delicate dish is the most eye appealing of them all. Thin slices of paneer were roasted on a griddle and folded neatly. The gravy is mildly spiced cashew gravy. The blend is perfect and it was lip smacking.
Wah Wah Khumb: I am not a tandoori mushroom fan hence I taste this one and move on. However it is noteworthy to see goat cheese in Indian spice blend. It is interesting if you enjoy mushrooms.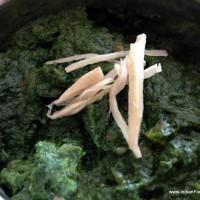 Bhuna Saag: This bowl is a celebration of greens. The simple tempering of garlic, chili and salt makes me finish my greens without any complain.
Dal Baluchi: The dal is cooked overnight and is wonderfully creamy and wholesome. There is absolutely no other dal other than the black whole lentil. This one is worthy of being the signature.
Zafraani Pualo: The bright yellow rice prepared in generous ghee goes well with everything on the menu.
Zaffrani Rasmalai: The mark of a good rasmalai is that fact that one should feel that the deal is closed. I am so happy to end the meal with this as the last bite. The perfectly balanced sweet dish shall be in my memory for a long time.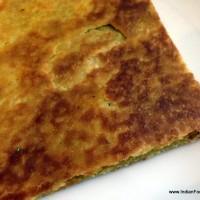 In the non vegetarian Thali the repeats are Zaffrani Rasmalai, Zafraani Pualo, Dal Baluchi and Bhuna Saag.
Murgh Ki Reshmi Seekh: This was a spiced hand pounded chicken mince on the skewer. Being one of the signature dishes, this one was rich and dripping in ghee. The dripping in ghee is little let down, I am not able to enjoy the seasoning as the mouth was clouded with ghee.
Macchali Methi: My dining companion can't not enjoy this one due to the dietary restrictions. However the description sounded lovely. Fenugreek flavored fish fillet just tempered with mild gravy.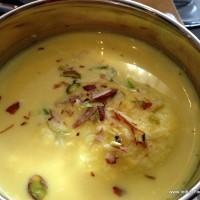 Dum Nalli Ka Gosht: This is the highlight for the NV meal. The meat neatly falls off the bone and sits in the yogurt gravy. The baby lamb meat goes beautifully with the spiced mix.
All in all, we love the food and would definitely go back to the place. The staff is very polite and Chef Lakshmi is gracious. She explains about each dish with lots of love and passion.
Ratings: (out of 5)
Food: 4.0 | Ambience: 4.0 | Service: 4.0 | Overall: 4.0
Address: Baluchi, The Lalit Ashok, Kumara Krupa High Grounds, Bangalore | Phone: 080 3052-7777
Restaurant week shall be hosted from September 23 to October 2, 2013, across Mumbai, Delhi and Bangalore. Bookings open from September 16, 2013, exclusively for Citibank cardholders and for others on Sept 18, 2013.
- Pallavi Purani