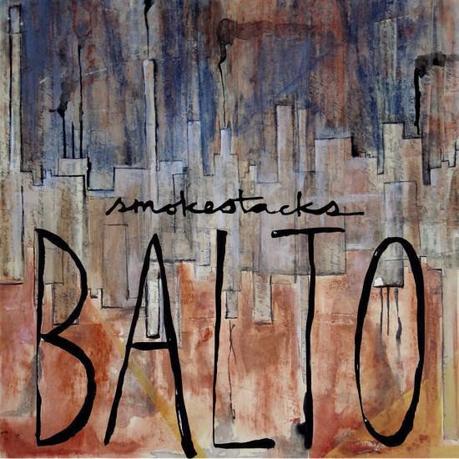 Credit: Laura Ritchie, "Smokestacks," Acrylic, India ink and collage on board, 2012
Smokestacks – Balto
Balto (@baltoontherails), a folk collective currently based in Portland, came into existence after frontman Daniel Sheron abandoned his life in Moscow and ventured out alone into Siberia. After he eventually made it over to America, he and five friends entered a Brooklyn basement in December of 2010 and emerged that night as Balto, with what would be their beautiful debut album, October's Road.
Now, the band is getting ready for their sophomore release, and we're pleased to premiere the first single! The lead track, "Smokestacks", is a rambling narrative that picks up where "Home November Shore", the last song on October's Road, left off. Unlike October's Road, the six songs on the new EP (products of months of writing and three days of non-stop tracking in an old church) are less tethered to realism, tending to center on the ideas of coming home, recalling what has been left behind to memory, and the tying of loose ends.
With road worn lyrics and heart warming melodies, double basses, mandolins, banjos, harmonicas, and accordions, it's safe to call this Americana/folk/folk-rock, though the band has previously dubbed their sound as "Trans-Siberian Americana." Regardless, their music is wide-open, and paints vivid pictures of Sheron's adventures and experiences in the wilderness, along with his return home. This is some serious road trip montage soundtrack material and a perfect musical segue as we transition into fall.
While we know the EP will be released September 18th, the album's title remains a mystery. Check out "Smokestacks" above, and be sure to follow Balto on Facebook and Twitter for news on the new album and upcoming shows!