Balsamic Pork and Roasted Red Potatoes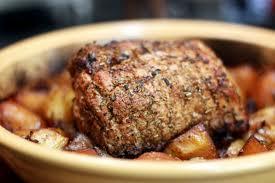 Mmmm Pork
I'm gonna give this a shot tonight. I might have to fine tune it a bit but we'll see.
UPDATE: This was a really good meal. It did require a couple tweaks. First off microwave the potatoes wedges for about 5 minutes before coating and cooking, otherwise the pork will be done before the potatoes. Second, and this is just a suggestion, maybe throw a small chopped red onion in with potatoes. Also if at all possible use fresh rosemary ( due to a mysterious rosemary shortage I had to use dried, which was good but fresh would have been much better ). All in all this recipe was a keeper. 
Ingredients:
1 1/2 pounds Blue Ribbon pork tenderloin, trimmed

Salt and pepper, to taste

2 tbsp chopped fresh rosemary or 2 tsp dried rosemary, divided

2 large garlic cloves, finely chopped, divided

2 tbsp Extra Virgin olive oil, divided

1/4 c. Grand Selections balsamic vinegar

1 pound red potatoes, cut into 1/2-inch wedges
 All you do
Preheat oven to 400 degrees. Season pork with salt and pepper to taste. Rub pork evenly with half the rosemary and half the garlic. Heat 1 tablespoon of the oil in a large skillet over medium-high heat. Add pork; cook 10 minutes, turning to brown all sides. Remove skillet from heat. Transfer pork to a 15-by-10-inch jellyroll pan or broiler pan. Set aside.
Return skillet to medium-low heat. Add vinegar, scraping pan to loosen any browned bits. Remove skillet from heat; stir in remaining oil, rosemary and garlic. Add potatoes; toss to coat.
Spoon potatoes around pork; pour vinegar mixture over pork. Roast 15 to 20 minutes or until an instant-read thermometer inserted into the pork registers 145 degrees. Remove pork from oven, leaving potatoes to roast an additional 5 to 10 minutes or until tender. Let pork rest 5 minutes before thinly slicing and serving with potatoes.