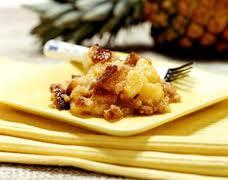 Recipe for a baked pineapple bread pudding using crushed pineapple and pecans or walnuts.
Cook Time:
45 minutes
Total Time:
45 minutes
Ingredients:
1/2 cup butter or margarine, softened
1 cup sugar
1/2 teaspoon ground cinnamon
4 eggs
1 can crushed pineapple, drained (14 ounces)
2 cups French bread cubes (about 1/2-inch pieces)
1/4 cup chopped pecans or walnuts
Preparation:
In a large bowl with mixer on medium speed, beat butter, sugar and cinnamon for about 1 minute, scraping the bowl frequently. Add eggs; beat on high speed for 2 minutes, or until light and fluffy. Fold in remaining ingredients; pour into a greased 1 1/2-quart casserole. Bake in a preheated 350° oven for 40 to 45 minutes, or until a knife inserted in the center comes out clean.
Serves 4.
Props goes to -   
http://southernfood.about.com/od/breadpuddingrecipes/r/bln449.htm