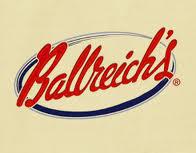 Ballreich : Ballreich's is a family owned company, founded in 1920 in Tiffin, Ohio. We strive to make the highest quality potato chips and snacks, as well as maintaining exemplary customer service. We also focus on giving back to our community, employees, consumers and the environment.
1920 - Today's History : It was 1920 in Tiffin, Ohio when Fred Ballreich and his wife, Ethel, opened their homemade potato chip operation in a dirt floor garage, using a copper kettle heated with wood scraps. It was an all day process that produced only 14 pounds of potato chips. Ballreich's chose to call their potato chips "marcelled", which means "wavy", taken from the popular ladies' wavy hairstyle of the 1920's.  (Read More)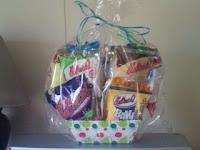 If you haven't you should really read Ballreich's History, it's fascinating. From black and white photo's of them getting started, to the color photos and updated factory of the 21st century! the Ballreich family knows what they are doing for sure. And I realized that when I tried just one bag of chips they sent me. Yummy! Forget the stale tasting chips that you get from grocery stores that have probably been sitting on the shelf for who knows how long. I couldn't wait to dig into my gift basket (SPECIAL All Occasion Basket Original) Only $15.00!! That's cheaper than flowers, special candy, and 98% of regular gift baskets you can buy! Who wouldn't love to get a basket packed full (10 bags) of delicious tasting chips! I love product reviews who package their products in special ways. As you can see in the picture Ballreich scent me the special all occasion basket with of course chips.. But what made it really special was the cute little basket it came with it. I'm a sucker for reusing things like bags, boxes, cute gift wrap's with jewelry studs and Misc. But When I seen that it came with that cute little basket my heart melted. I have a million and one ways to reuse it. I don't know anyone who's heart wouldn't skip a beat if this amazing gift basket showed up at their door. I posted the picture (above) to my private personal facebook and all my friends and family went crazy posting comments about it, They loved it and wanted one for themselfs. ♥ Ballreich has other amazing Gift Baskets ready to order such as - Special Birthday Pack that includes a Ballreich T-shirt,  Licorice, and more, the JUMBO basket, the Special all occasion basket that includes a really cute wicker basket!, they also have a Large Ballreich Meat Sticks gift pack sampler that my husband would LOVE to have. They also have Gourmet potato chocolates (Chocolate covered potato chips) That is something I would have to try at least twice!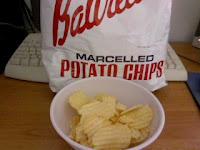 The first chips I decided to try was the 1 lb. bag of Ballreich's Marcelled (wavy) potato chips. When I first put my hand into the bag my first thought was I am going to pull my hand out and I'm going to have a greasy arm. boy was I wrong! My arm or hand was not slicked down with grease what so ever, unlike grocery store brand chips. Ick. Talking about getting off to a great start! I love a good Marcelled chip but hate the amount of grease that comes along with it. But the Ballreich's chip has an amazing amount of less grease then I expected. Even eating them with my fingers I had just a tiny bit of grease on my finger tips then I expected! the taste of the  Marcelled was wonderful. Ever bite of the potato chip felt like it melted in my mouth. It was salted just right, and the crunch was perfect. These would be great for any burger night, or grilling dogs at the park or camping trip. Your family will not be disappointed in these.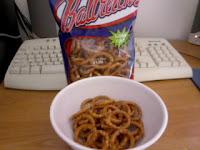 The second product I was excited to try was the Ballreich's pretzels. I am a huge pretzel freak, I love them any way I can get them, rather it be like these, soft, coated in cheddar cheese, extra salt, or in a recipe. I have bought bags of pretzels that let me down tho. They were stale, under salted, or way over salted. But the Ballreich's pretzels are amazing, They are salted perfectly, they have an amazing crunch, they are sweet but still have that yeasty flavor that I love. I have already ate the pretzels in the bowl in the picture writing my review on them, that's how good they are! more please!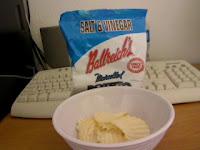 I was a little nervous about the Ballreich's Salt & Vinegar chips, about as much vinegar I like is the vinegar packets from Long John Silvers you put on the fish. I tend to stay away from anything vinegar related other than that. When I opened the bag a strong whiff of vinegar filled my nose. And I was like oh boy, I don't know about this one. But I got brave and ssslloowwllly.. bit into the chip and squinted my eyes together and was like..wow..These are good! I have never tried a Salt & Vinegar chip I have ever liked unti now! way to go Ballreich family! You now have a new customer. These are really delicious, and even tho they have a strong flavor they have a amazing taste. You will have to try them to belive how good they taste for yourself. They are amazingly crisp like they have just been deep fried and salted for your satisfaction. Yummy!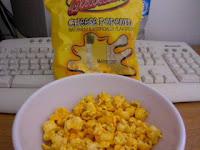 I'm usually not big on regular pop corn unless it's flavored. My favorites are Carmel corn, and cheese. Ballreich sent me one of my favorites, Cheese Popcorn. I have had tons, and tons, of cheese popcorn ever since I can remember. But I have never had any like this. One minute It has this heavnly cheddar taste, then the next I feel like I'm eating popcorn from the movie theater. From this tasty cheesey taste then BAM! movie time extra butter popcorn. Talk about a thrill ride. I never had flavor changing popcorn before. I think they are onto something! Yummy! This popcorn packs a punch of flavor and is crispy as ever. This is the kind of popcorn I would be proud to serve to my family, or party guest.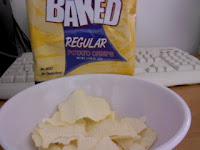 I am super happy about these chips. I descovered my love for Baked Potato Chips when I decided to start to diet awhile ago. And I couldn't hold out on my love for a good potato chip, that's when I descovered the "Baked" like of chips on the market. And I fell in love with first bite. granted the baked line of chips doesn't have no where as much grease as the deep fried potatos on the market but baked has something special to offer, baking them brings out the sweetness in the chips. Every crunch has salty sweetness to the baked chips that I love. I get my chips without all of the horrible grease and my sugar cravings go away also. It's a win,win. If you have never had a Baked potato chip it's something you should try at least once. And Ballreich's baked is now the best kind I have ever had. Yum!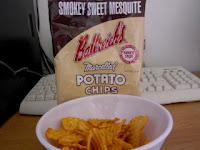 I was so excited to try something new such as the Smokey Sweet Mesquite . But unfortunately I don't love it. I liked that it was really sweet, but I wasn't to big of a fan of the Mesquite. But I'm not normally a big BBQ fan either. I tried really hard to love it. I wasn't fond of the over powering flavor or the smoky flavor. But for those who love Smokey, sweet Mesquite flavors this chip would be for you. This chip would make a great BBQ side, or for the footballer party throwers.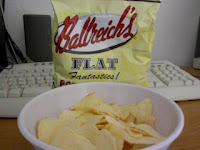 This is one of the strangest Ballreich Chip's I have ever had. (Not in a bad way) It taste like a cross between a regular deep fried potato chip, and a baked orginal potato chip.It's delicious in every way. Its super crunchy, has a wonderful salty flavor but it's thicker than most chips you buy. It's packed full of yummy goodness that would pair perfectly with a po'boy or a sub sandwhich. Yum! the salt is a little bit thicker than most chips that I buy so it gives it that crisp goodness flavor that anyone will love.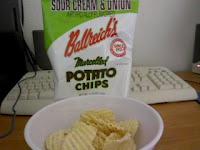 I'm the first to pass on Sour Cream & Onion I do not like the flavor of chips, even tho I'm a huge dairy fan. I love to make my own sour cream and onion dip but I greatly dislike the flavor of pre-packaged chips. Ick. My whole family loves them, my Mom, Sister's, Brother, even my husband loves them. But I snarl my nose at them every time someone offers me them. Blah. So I was very hesitant when Trying the Sour Cream & Onion chips from Ballreich . But part of the review process is to try things even if I don't like it. I won't be saying I will be buying this kind for (myself) maybe for my husband or family, but I can say that I didn't sling the bowl across the room with the chips in it. I would be the first to buy them for my loved ones because I know they would be head over heels for these. But not MY cup of tea. or should I say bowl of chips.  They have a great crispy crunch and they are cram-packed full of flavor and seasonings. If you are a sour cream & onion chip fan, this would be a chip for you.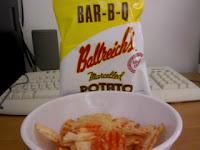 As I said previously..I'm not a BBQ chip fan, But because the  Ballreich family was so generous, and kind for sending me such an amazing review product I will try to give the best review I can for the BAR-B-Q chips. I was a little discouraged trying these because of my dislike for the mesquite ones. But the BAR-B-Q ones don't hold no where as big of a punch as the Mesquite ones. Even tho I still don't like the taste of the BAR-B-Q chips they have a pretty good flavor, had a lot of crunch and seasonings on them. They were slightly sweet, but with that smokey BBQ flavor that you would enjoy. My husband loves anything BBQ chip related he really enjoys the BBQ Pork Rinds that he buy's and I know for sure he would love the Ballreich Pork Rinds the Ballreich family provides and sells.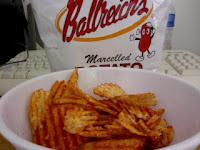 If you are into spice, you will love the Hot 'N' Sassy chips from Ballreich. I was not the kind of woman who was born to eat spicy foods, I don't like the flavors nor the heat that comes with it. and then I got my gulblater removed my body tolirates spice even less now then before. These chips are doused with spice. As you can see in the picture they are seriously coated with heat!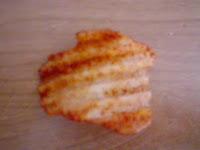 This is the chip that I tried to do this review, as you can see I found a chip that had the minimal coating on it, and even then the spice lit me up like a flame. Just a little nibble and I had to drink some milk to cool my stomach down. Like I said I can't tolerate spice so my body might just be over sensitive, and it might not be that spicy to some. But I know my husband will chow down on these and love them. If you are overly sensitive like me please becareful if you decide to try these. Because they're HOT 'N' SASSY! ♥
♥ I received no monetary compensation for this review.  I was provided Ballreich chip's to try and give my honest opinion(s). 
♥ You can buy Ballreich Chip's : Here
♥ You can find Ballreich on : Ballreich Chip's Facebook
♥ You can find Ballreich on : Ballreich Chip's Twitter