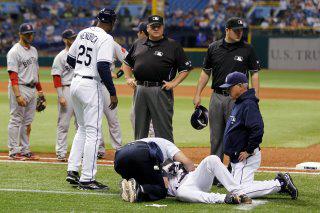 Another good start from Clay Buchholz on Wednesday night, as he allowed just two earned runs in five plus innings.
But the first run was balked in in the second inning, and Tampa Bay scored the second run when they loaded the bases in the sixth, and Matt Joyce scored from third when Cody Ross slightly stumbled making a catch in shallow right.
Daniel Nava had an RBI single in the fourth for the only Red Sox run.
Buchholz' balk was one of three called on Sox pitchers on the night. Both Matt Albers and Franklin Morales balked in the eighth, but it did not lead to any runs. The Sox pitchers have now committed six balks on the season, the most in MLB.
There was a scary moment in that inning when Rays' infielder Will Rhymes (pictued) was hit in the right arm with a pitch, and then collapsed shortly after reaching first. It brought back some scary moments when Bolton midfielder Fabrice Muamba had a heart attack during an FA Cup match earlier this year. But Rhymes fortunately suffered just a bruise on his arm.
The Sox are now 17-20 with their five-game winning streak ended.
And the Red Sox owners were busy this week, as they called legendary Liverpool manager Kenny Dalglish to Boston and gave him his walking papers.