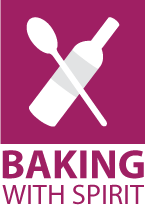 It may be late in the day, but it is the first of August, which means it's time for a new Baking With Spirit challenge!
Last month's challenge (
Midori
) seems to have been a little too challenging for most, so this month I've decided to go super easy on you all. Your challenge is to bake something using an alcoholic ingredient that represents
summer
. You can use any recipe you like, and any alcohol you like. This can be as easy or difficult as you like!
Get creative, and send me your entries. I look forward to seeing what everyone comes up with.
Here is a simplified list of the rules (full set
here
):
Write a post about what you've made on your blog and link back to my blog, Cake Of The Week, and mention Baking With Spirit.

Email the link to me at [email protected] and include your name, your blog and the photo you want me to use in the round-up. If you tweet me @CakeOfTheWeek and/or use #bakingwithspirit I will endeavour to retweet!

The deadline is midnight on the 28th of August.