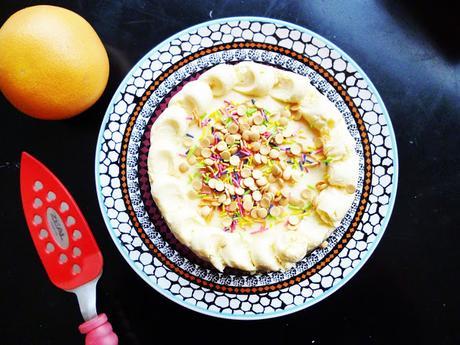 I have had enough of Swiss Meringue Buttercream. This may well be the last time I make it. There is a lot of work involved, and to be honest I know of several frostings which are just as malleable and are easier to make. And I don't have to worry about the copious amounts of fat repelling any food colouring, flavourings or even the meringue itself.
Yes, I am happy with this cake, and it was delicious, but the icing was far more work than it is worth. I usually make French Buttercream, which is similarly made, only it uses less fat and has never decided to ooze liquid whilst/after I pipe it onto a cake. I thought that this time I would try Swiss Meringue Buttercream again, since I hadn't used it in such a long time - now I remember why.
I think the main issue, aside from stability, is that I don't own a stand mixer. Instead, I have to hold an electric whisk for around 20 mins whilst slowly adding butter, during which time the meringue (which returns to a liquid almost as soon as the butter is added) flies around the room as the whisk comes into contact with a lump of butter and throws it around the bowl. Electric whisks generally don't have a slow setting, so there is no way to avoid the splatter. I'm honestly not sure how much meringue even stayed in the bowl this time. I found drops of meringue on the TV screen, which is over a meter from where I was working.
Don't get me wrong; Swiss Meringue Buttercream is lovely when it's made, as long as it's stable enough to hold onto anything you added to the fat. This
Strawberry & Clotted Cream Jubilee Cake
from a few years ago was made with Swiss Meringue Buttercream, and what I didn't mention at the time is that it started to weep the gel food colouring after a few hours. No baker wants to see their cake cry red and blue tears.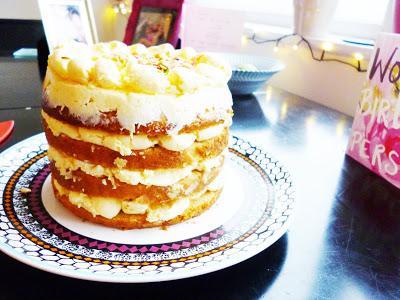 Ok, so my rant about Swiss Meringue Buttercream is over. If you want to see other cakes that I've made using this buttercream, scroll to the bottom of the post (please excuse the dodgy formatting). This will almost certainly be the last!
Alongside a huge battle with buttercream, I made Grapefruit Curd for the first time, with very satisfying results. I've seen a lot of recipes calling for large numbers of yolks or whole eggs, with or without cornflour, and varying levels of sugar, so I took my favorite parts from a few recipes (
Sweetapolita
, Bravetart and
BBC Food
). I'm very pleased with the results; the curd is a beautiful pink-orange and has just the right amount of tartness. I really enjoy the taste of grapefruit, but if they aren't your thing you could always add more sugar to taste, or use a different citrus fruit.
This cake was served at a January Clandestine Cake Club meeting (which is why there's no artsy cake slice photo today). I organize the events for the North Birmingham & Sutton Coldfield (UK) branch, so if you live nearby you should come along next time! The cake was delicious, and everyone was very complimentary, especially on the curd.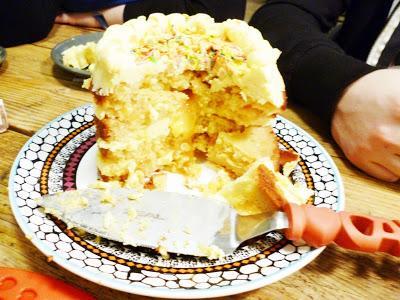 This Grapefruit Curd Celebration Cake is made up of four layers of cinnamon flavoured sponge. The first and third fillings between the layers are Swiss Meringue Buttercream, and the middle one is Grapefruit Curd. To make the cake into four layers, I made one deep cake in an 8" springform tin and froze it before dividing it into four. A cake turntable comes in very handy here; alternatively you could just double the recipe for the sponge and bake four 9" cakes in a normal cake tin.

Ingredients

Grapefruit Curd:
1 large Grapefruit
2 Egg Yolks
100g Caster Sugar
1 Tsp Cornflour
Cinnamon Sponge Cake:
200g Butter
200g Caster Sugar
3 Eggs
50mL Sour Cream
200g Plain Flour
2 Tsp Baking Powder
2 Tsp Ground Cinnamon
Swiss Meringue Buttercream (from Sweetapolita):
500g Butter (room temperature)
6 Egg Whites
90g Caster Sugar
1 Tsp Vanilla Extract
Recipe

Grapefruit Curd:
Grate the all of the coloured grapefruit rind into a medium saucepan.
Slice the grapefruit in half and squeeze the juices into the saucepan.
Add the egg yolks and cornflour, then stir constantly over a medium heat until the liquid has thickened and started to simmer.
Remove from the heat and strain into a sterilised jar. Can be stored at room temperature for up to six months until opened, as long as the jar is properly sterilised.
Cinnamon Sponge:
Preheat the oven to 200C/180C fan. Line an 8" springform tin with baking parchment.
Beat the butter and sugar together in a mixing bowl until light and fluffy.
Beat in the eggs, one at a time, until smooth.
Fold in the sour cream until well combined.
Sieve the flour, baking powder and cinnamon into the batter and fold in until well combined.
The batter should have a soft dropping consistency; if not, add more sour cream.
Bake in the oven for 1 hour, or until a skewer comes out clean.
Allow the cake to cool completely before removing from the tin and wrapping in cling film. Place in the freezer for at least 4 hours, and up to 2 weeks.
Use a ruler (or do it by eye, if you're brave) and a palette knife to divide the cake into four slices.
Swiss Meringue Buttercream:
Place the egg whites and sugar in a Bain Marie (a heatproof bowl over a pan of boiling water, ensuring that the base of the bowl does not touch the water), and stir constantly with a whisk until the sugar has dissolved into the whites. This is best tested by rubbing clean fingers together in the mixture - don't worry, it's not going to be more than luke warm - to check if you can still feel the sugar granules.
Tip the egg mixture into a mixing bowl, add the vanilla extract and whisk to stiff peaks.
Slice the butter into small chunks and slowly add it, one chunk at a time, until it has all been incorporated into the meringue.
Assembly:
Put a dot of the buttercream onto the cake stand/dish you want to serve the cake on, then put one of the sponge slices on top.
Pipe dots of buttercream on the sponge, until covered.
Cover with a second cake slice.
Dot the buttercream around the edge of the cake to stop the curd escaping. Spoon the curd into the center of the cake and gently spread it so that there is an even layer. There may be some curd left over.
Cover with a third cake slice.
Pipe dots of buttercream all over the sponge slice, as before.
Cover with the final cake slice.
Spread the remaining buttercream over the top and sides of the cake. I chose to pipe more around the edge of the top of the cake, but do what you want. I then used gold sprinkles with hundreds and thousands sprinkles to decorate.



Previous Cakes Decorated With Swiss Meringue Buttercream: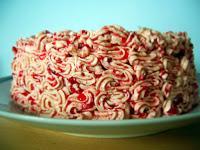 Cinnamon Raspberry Cake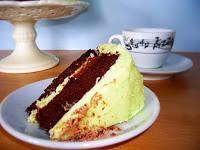 Mint Chocolate Cake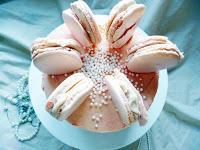 Pink Cake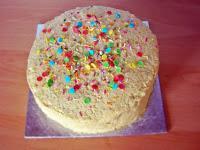 Funfetti Cake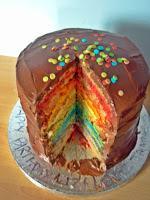 Eight Layer Kahlua Cake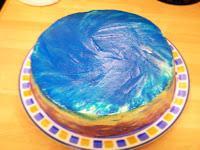 Blackberry Cake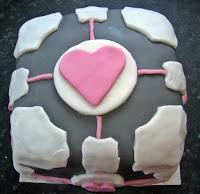 Portal Companion Cube Cake