I'm itching to write about Sunday's 20-mile circuit around the Georgian city of Bath but instead, this evening, I'm going to deviate from my recent stream of walk-related posts to talk about my first attempt at baking cookies.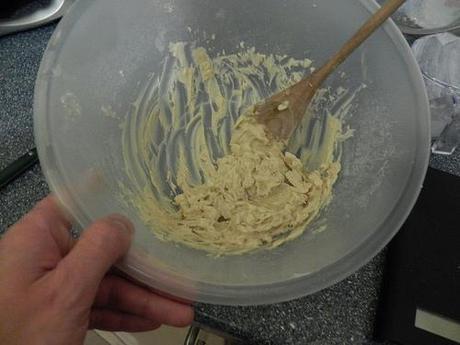 …Which were, admittedly, baked in preparation for the big event!
It's a text-only recipe taken straight from the cook book (penned by Norma Miller) that came supplied with my halogen oven, all those months ago. This happens to be the first time I've used a recipe from this book – not to mention my first attempt at cooking/baking something without a representative picture of what I should be aiming for…
But, everyone knows what a cookie looks like, right?
I have only the four photos to share with you but what I'd like to get across from the top of this page is that after mixing all the ingredients, I was surprised by how minute the quantity of mixed dough was within the bowl.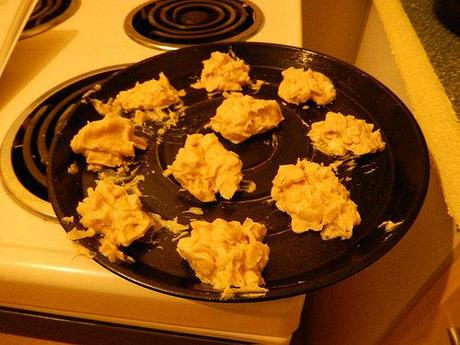 I then tea-spooned it out on to my tray in preparation to arrive in the oven and they still look fundamentally small… That was, until it struck me that I was using self-raising flour in this recipe!
A friend of mine has stated that I should be using this over plain flour in my less-successful cake-baking attempts, in spite of what the instructions may say. It's something to try the next time I'm feeling hungry!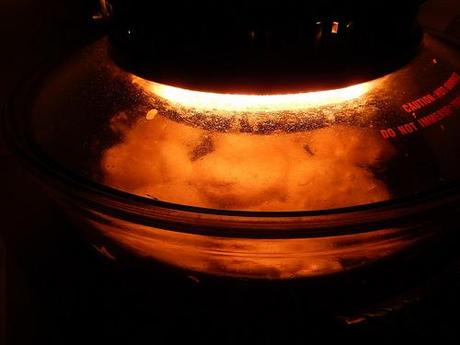 You can probably see, from above, the affect a little self-raising flour can have; as my once-seemingly-very-well-spaced-out spoonfuls had begun to congeal together in to one mass of warming dough!
After baking for the allocated time, I found that the cookies weren't as firm as I was expecting. On the underside, they barely felt half-baked. So, I put them in again; eventually doubling the baking time…
By then, the tops were beginning to crisp dark brown in small areas and I decided to take action by segregating them in to two halves; baking the first batch of five for 5 minutes and then the second batch, on their own, for another 5 minutes and this appeared to do the trick. Even though they were a little brown on top.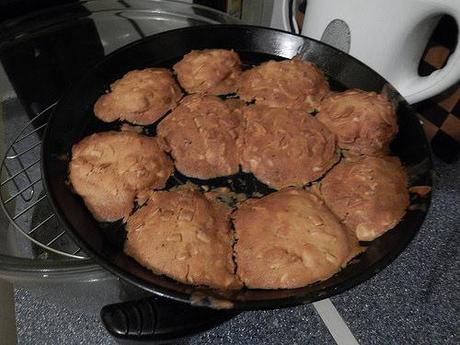 I used white chocolate chips as I happened to have some in the cupboard and although I bought sliced almonds, I think the recipe calls for chopped – which I could easily have created using my Mini Chopper. They were a little bit hard but with all the almonds, they did taste very nice and I was pleasantly surprised (not to mention relieved)!
These were baked to provide some energy and spontaneity at critical/strategic moments throughout the walk but they were so hard to resist, I had to leave them well alone for much of the journey. I only regret not being able to share them with my two friends, who were walking in the opposite direction and setting off from a different start point.
I'll be trying this one again very soon, as it uses the minimal of ingredients. Next time, I'll definitely bake them in smaller batches as well!
Thanks for reading.