We have a tradition in our family that we make the effort to make a birthday cake (if you're at home for your birthday, that is). The problem arises usually around this end of September when it's my mum's birthday. Normally she makes the cake, and so the question arises 'who makes hers?' It would be a bit of a shame if she had to make her own. For the last four years I've been back at uni by this time and so the answer has usually turned in to 'Mr Tesco, Mr Sainsbury's or Messers Mark and Spencer', however, this year I am home and thus had no excuse not to spend a day in the kitchen whilst she was at work and make a cake.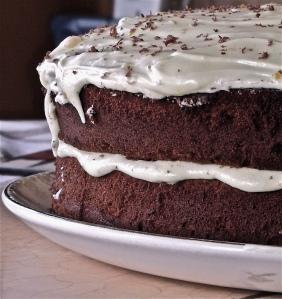 Then comes the big question – what to make. Normally I pick a flavour (usually some sort of alcohol) the person likes and go from there, but with the top two on that scale being wine (red or white) and Martini I was struggling. I also decided that ginger would be good to have as it's a particular favourite of hers. I was now totally stumped. White wine and ginger? Sounds disgusting. With red wine? Sound even worse. Ginger cake with martini icing? Please excuse me whilst I go throw up.
Oh, and did I mention that it was to have chocolate in it too?
So no alcohol. Sad times. Plan B (or perhaps Z by this time) time. How about chocolate with bits of crystallised orange in it? Sounds like a plan (man). The only slight issue was that I couldn't find any crystalised orange when I went into town last week. Bit of an issue.
In the end I decided that the best ideas come when you combine ideas. And so I went for a Chocolate and Ginger cake with Orange Butter Icing.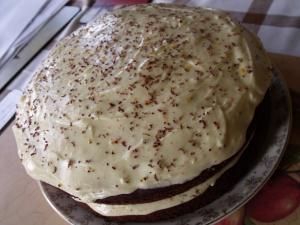 When I bake cake I have a bad habit of not weighing everything to the exact gram; I go with the weight of the eggs. Thus in this '4 eggs' sponge the flour, butter and sugar are weighed to be equal to the eggs.
Ingredients:
4 Large Eggs
Self Raising Flour
Butter
Caster Sugar
2 tsp ground ginger
Glacé cubed Ginger (about a handful, but add to your own taste)
Dark Chocolate (50g, 'chunked')
2.5 tbsp Cocoa Powder
Double cream  (just a dribble, about 50ml – max)
1/2 tsp Vanilla Essence
For the Icing:
I didn't weigh the butter or icing sugar, but do as much as you want for the size of your cake.
Icing Sugar
Butter
Zest and Juice of an Orange
1/2 tsp vanilla essence
Chocolate (Grated, to decorate)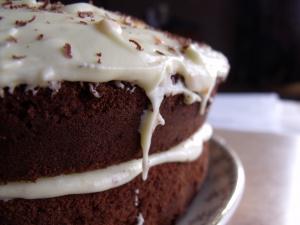 Sieve in the flour, sugar and butter; cream together a little. Whisk the eggs and vanilla together before adding in to the mix. Whisk until mixed.
Melt half the chocolate in the cream and stir in to the mixture.
Add in the ground ginger and the cocoa powder. Whisk until light (in texture, not colour, it'll always be brown) and 'fluffy'.
Using a spatula, fold in the glacé ginger and chocolate chunks.
Pour into two 20cm cake tins and cook at 180 degrees for 15-20 mins.
Take out of the tins and allow to cool.
Mix the icing sugar, butter, orange juice and half the orange zest to make the icing.
Put a layer between the two sponges and then another layer of icing on top.
Scatter the rest of the zest over the top of the cake and then grate the remaining chocolate on top.
Stick candles on the top, light them (don't blow them out by laughing too much), get someone to blow them out, eat, enjoy.
This cake was dead simple to make, but tasted absolutely delicious (even if I do say so myself). Don't worry if it looks a little on the dry side, mine did, but was actually very moist when you bit in.
 Cr