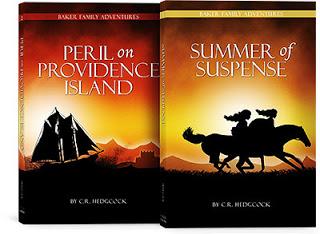 The Baker Family Adventures are new from Vision Forum!
Think Nancy Drew or The Hardy Boys, BUT,  written from a Christian worldview for the whole family.
"The Baker Family Adventures series follows the exciting lives of Mr. and Mrs. Baker and their four children: responsible Phil, sensible Abby, daring Andy , and inquisitive Tom.  The Bakers are a Christian homeschooling family who, in their desire to help others, frequently find themselves in dangerous situations where they must grown in courage and learn important lessons of godliness."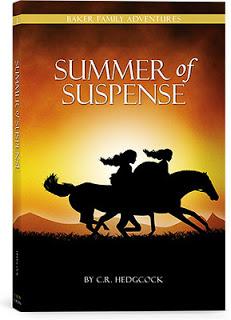 Summer of Suspense opens on the Baker family farm in America.  The family is pleased to learn that their cousin Millie from England and Mr. Baker will trade places for a few weeks.  Cousin Millie to visit and participate in a local horse show with the Baker siblings and Mr. Baker to help his brother with business.
From the get go, Millie is withdrawn and snobby.  Seeking her own selfish ways, she unwittingly winds up kidnapped and held for a high ransom by a famous jewel thief.  In trying to save their cousin, the Baker children put themselves in harms way as well.
"Oh, Lord, please deliver us from this prison, bring us home safely, and work all things out for the good, Abby whispered.  She struggled to her feet.  Her neck was sore, and she tried to ease the pain by stretching ....."
Through a series of twists and turns with prayer plus the help of a detective and undercover agent, the missing kids are found and the crime ring taken down.  God is given the glory!
Read a sample chapter from Summer of Suspense.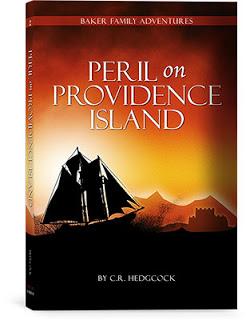 Peril on Providence Island  is a mystery centered around a long, lost sunken treasure.
When the Bakers venture to England to celebrate their grandpa's 80th birthday, they meet up with long-time neighbor and widow, Old Marge.  She shares an intriguing tale of lost family treasure belonging to Edward Jenkins and the kids are hooked!
Upon exploring the estate belonging to Old Marge's relatives, the Baker children discover Jenkins' diaries are missing.
The Baker's decide to follow the Bible's command to take care of widows and call in the well known detective from Book One!  They all begin working together to figure out if Old Marge's account is true, who stole the diaries and is the treasure still out there?
"Mr. Baker nodded.  "Yes, but the problem in our day is that people around the world have lost the Lord's perspective on things.  They don't see children as a heritage from the Lord, and they see elderly relatives as a burden and not a wealth of knowledge and wisdom....."
Setting off for the coastal town of Cornwall, the clues are followed and the story really starts to move.  The  detective and Baker's exchange coded messages to share information regarding the robbers and their movement.  (Ever heard of 'aigy paigy'?)
Ironically the Bakers end up bumping into the robbers multiple times.  The last time on a deserted, lonesome island where a descendant of Jenkins once landed.
Who is really behind this theft?
Through prayer and perseverance, the Baker's are able to fulfill the Bible's command to take care of widows - namely Old Marge.
Read a sample chapter from Peril on Providence Island.
These books made great read alouds.  My boys aged 11 & 14 enjoyed them, but, preferred the rough action of the Men of Grit Series.  However, they were perfect for my 9 year old daughter and her parents!
Disclaimer:
I received these books free of charge in exchange for an honest review. This post written and property of Homeschool Circus and can be found at: www.upatdawnreadytowork.com.