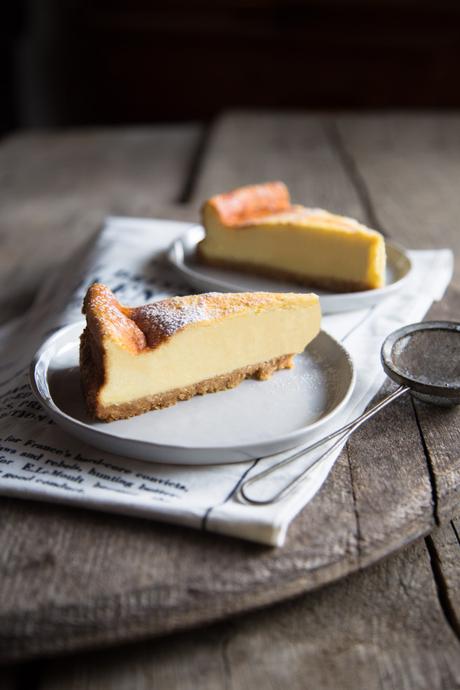 All the cheesecake lovers out there listen up! I´ve baked my grandmother´s favorite cheesecake recipe! She lives on a farm with about a dozen milk cows, so we have a yearly overproduction of milk in summer. For that reason my grandmother makes a big batch of Topfen, or as it is called farmer´s cheese in English. It´s simply the best Topfen I´ve ever tasted, you know like all the products you make from scratch. They simply can not be compared to the store-bought Topfen.
Well anyways, for those who wondered if this recipe is a  New York Style one? Nope it isn´t, because it has lemon in it! For me the lemon flavor in a cheesecake makes it taste a little lighter. This recipe is quick and super easy to make. Speaking about citrus flavor infused cheese cakes… When I visited Amsterdam this spring I went to cheesecake heaven tasting cotton cake´s lime cheese cake. Using citrus makes the cake juicier and and as I´ve already mentioned much lighter in taste! That´s why I am a huge fan of using citrus in it!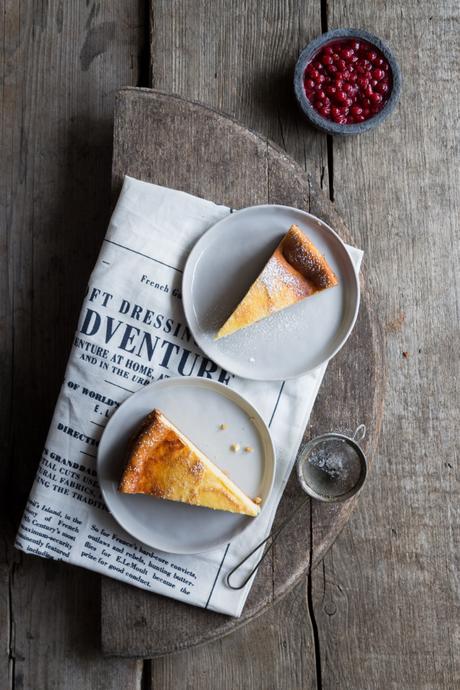 This is what you will need:
For the crust…
200g shortbread cookies
100g butter
Place shortbread cookies in a plastic zip lock bag and crush cookies using a rolling pin. You can also crumble up your cookies in a food processor. Melt butter in a small pan and set aside. Combine the melted butter and the cookie crumbles and stir until well incorporated. Place the cookie crust mixture on the bottom of a buttered pie pan. Set aside.
For the filling…
1kg topfen/ farmers cheese
250g sugar
100g butter, melted
6 eggs
zest from one organic lemon
1 tsp. baking powder
1 tbs. vanilla sugar
50g cornstarch
Combine topfen with sugar and mix using an electric mixer. Add eggs, one after another, also add lemon zest, vanilla sugar, cornstarch and baking powder and mix until well incorporated. Pour filling into set aside pie crust. Bake the cheesecake for about 30-40 minutes (oven temperature 175°C) until the top has turned light brown.
Enjoy!
xx Nadja