Try something a little different for dinner than the typical spaghetti with this Baked Spaghetti Recipe! Green Peppers, olives, mushrooms, cheese, and beef (if desired), put a nice twist on a classic. It's easy to fix, too. Simply saute your veggies, brown the ground beef, cook the spaghetti, and layer the ingredients in a greased 13 x 9 glass baking dish. See what I mean? Easy! The olives add a nice touch while the green peppers make for a welcome zip of color. I like using blends of cheeses for more flavor rather than just straight Mozzarella. To each his/her own.
Pair this baked spaghetti recipe with a side salad. We love the homemade salad dressing that can be found right here on little Indiana. Simply visit the search bar at the top of the page and look for the zesty Italian dressing. Mmm! Dinner just isn't dinner at our house without some sort of fresh baked bread to go with it! I can't help but turn to these homemade buttery breadsticks for a memorable meal. We adore this soft breadsticks recipe. Using an electric stand mixer makes whipping them up a snap! Unlike other breadstick recipes, these don't harden after a day but stay deliciously soft for days! Yes, days. Amazing!
This main dish is a lot different from what I would typically do with spaghetti so I wasn't sure how it would be received. Our family absolutely LOVED this baked spaghetti! Our boys requested leftovers for dinner the next day! You know there aren't usually very many calls for leftovers so that says a lot right there. It isn't the most gorgeous entree but it sure does taste spectacular. It's from an old Taste of Home magazine recipe clipping.
Baked Spaghetti Recipe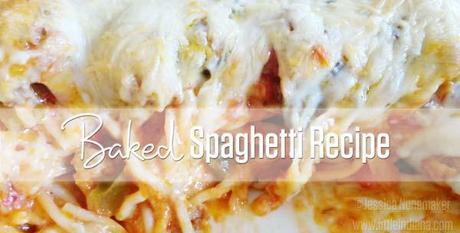 Ingredients
Instructions
Small Towns: Destinations, not Drive-Thrus! I'm Jessica Nunemaker and THIS is little Indiana!