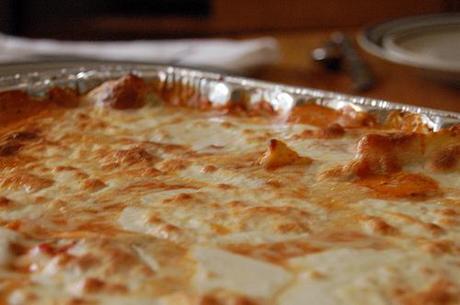 Ingredients
2 Packages of mushroom ravioli
1 jar of good quality tomato pasta sauce (I use the lowest sodium version I can find. Usually a mushroom flavor)
2 Cans No Salt Added diced tomatoes
2-3 Tbs finely ground (with a mortar and pestle) Italian dried herbs.
1 Tbs sugar
1 8oz package of cream cheese
1 onion finely chopped
2 cloves of garlic finely chopped
1 8oz package of mushrooms sliced thin
2 cups shredded mozzarella
Directions
Preheat the oven to 375 degrees.
Bring a large pot of water to a boil for the ravioli.
Saute the mushrooms, onions, and garlic in a medium sauce pan. Add dried herbs and continue to cook until mushrooms and onions are tender.
Add the tomato sauce and diced tomatoes. Bring the sauce to a simmer.
Once the sauce has reached the thickness you desire start the ravioli to cook. Mix the cream cheese and sugar into the sauce and stir until the cream cheese is thoroughly melted and mixed.
Once the ravioli is done, put the ravioli into a large baking dish. Pour the creamy tomato sauce over the top. Gently wiggle the pan so the sauce settles around the ravioli.
Top the ravioli and sauce with the shredded mozzarella cheese and place in the oven. Bake for about 30 min until the cheese is melted and bubbly.
We enjoyed roasted balsamic brussels sprouts with our tasty baked ravioli.  I followed this recipe from The White on Rice Couple.