Our lovely lady laying hens (tongue twister!) are producing eggs like CRAZY! That means we're eating eggs like CRAZY and need all kinds of recipes that use eggs.  Enter an abundance of pesto and a love of cheese and I've found a great recipe.
BAKED EGGS IN PASTA NESTS from Babble Food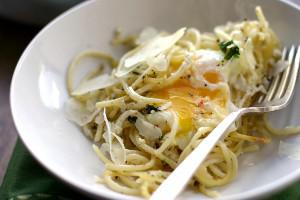 We've been making pesto with all the basil our garden has produced this summer and can't wait to try out these baked eggs for dinner.