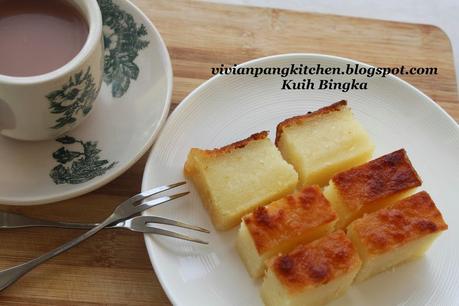 My husband brought back about 2 kg of tapioca and wanted me to make something with it. Immediately I thought kuih bingka which I wanted to try long time. 
In order to make Kuih Bingka, cassava need to be grated finely but I was too lazy to grate it manually! So I decided to grind it. This made the Kuih Bingka making a lot easier. With my heavy duty "blender", 

Thermomix

 I added cut (small pieces) cassava along with other ingredients and ground till fine batter. Then, poured the batter into prepared pan and baked! Sound easy? With this recipe you can use finely grated cassava or even frozen one.
Reference from

Helena's Kitchen
Baked Cassava /Kuih Bingka (烤木薯糕 )
Ingredients:
(A)
800g cassava or tapioca, cut into small pieces
2 eggs
250g coconut milk
220g sugar
75g vegetable oil
1 teaspoon vanilla extract
¼ teaspoon salt
(B)
1-2 tablespoons honey
Method:
1. Lined 8" square pan with baking paper and greased. (Line with banana leaf even better!)
2. Add in all ingredients (A) into heavy duty blender and grind into fine batter.
3. Pour batter into prepared pan. Bake in preheated oven at 180C for about 40 minutes or until the skewer insert into the center comes out clean.
4. Remove the pan from oven, spread a thin layer of honey on top. Return to oven and bake at 200C for further 10-15 minutes or until the top layer golden brown.
*If your oven has grill function, turn on grill and grill for 5-10 minutes until the top layer golden brown.
5. Cool the kuih completely before cutting into pieces.
Note: With Thermomix, I grind at speed 0-6-10 for about 20 seconds or till fine batter