0 Flares
0 Flares
×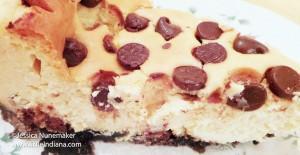 Bailey's Irish Cream Chocolate Chip Cheesecake Recipe
Smooth and creamy, this
recipe for Bailey's Irish Cream Chocolate Chip Cheesecake
is absolutely amazing!
As a day after Christmas baby, I don't normally get cake. but with this Bailey's Irish Cream Chocolate Chip Cheesecake recipe, I don't even mind.
Easy to make, I did not use the coffee topping but instead made homemade whipped cream. No matter when you serve this delicious cheesecake recipe, it will receive rave reviews! For best results, I recommend preparing this wonderful cheesecake two nights in advance of your event.
Bailey's Irish Cream Chocolate Chip Cheesecake Recipe
Print Bailey's Irish Cream Chocolate Chip Cheesecake Recipe
Rating: 51
Prep Time: 15 minutes
Cook Time: 1 hour, 20 minutes
Yield: 1 Cheesecake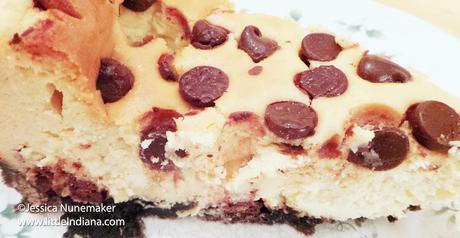 I found the original recipe on Food.com. I did take a few liberties with it: I made an Oreo cookie crust and did not use the pecans. I also did not make the Coffee Cream Topping but instead made homemade whipped cream.
Ingredients
Crust
1/2 Cup Toasted Pecans, Cooled and Crushed
2 Cups Chocolate Oreo Cookie Crumbs
1/4 Cup Sugar
6 Tablespoons Butter, Melted
Filling
2 1/4 lbs Cream Cheese, Softened
1 2/3 Cups sugar
5 Eggs
1 Cup Bailey's Original Irish Cream
1 Tablespoon Vanilla Extract
1 Cup Semi-Sweet Chocolate Chips
Coffee Cream Topping
1 Cup Whipping Cream
2 tablespoons Sugar
1 teaspoon Instant Coffee Powder
Chocolate Curls or English Toffee Bits, to Top
Instructions
Crust
Combine all Crust ingredients.
Press into a 10" spring form pan and up the sides one inch.
Bake at 325 for 7-10 minute.
Filling
Beat Cream Cheese with electric mixer until smooth.
Beat sugar in gradually, and then add eggs one at a time.
Slowly blend in Bailey's Irish Cream and Vanilla Extract.
Sprinkle half of the Chocolate Chips over the Crust.
Blend in Bailey's and vanilla.
Spoon in filling.
Sprinkle with remaining Chocolate Chips.
Bake at 325 degrees approximately for 1 hour and 20 minutes or until puffed, springy in center and golden brown. Place a pan of water on bottom rack of oven while baking to keep it moist.
Cool cake completely.
Topping
Beat Whipping Cream and Sugar in chilled mixer bowl.
Place on cooled Cheesecake. Top with Curls or Bits, if desired.
Schema/Recipe SEO Data Markup by ZipList Recipe Plugin2.2
http://littleindiana.com/2014/01/baileys-irish-cream-chocolate-chip-cheesecake-recipe/
Photos are the Property of little Indiana. Do Not Use Without Permission.
Small Towns: Destinations, not Drive-Thrus! I'm Jessica Nunemaker and THIS is little Indiana!
Find pictures in Indiana on my Flickr photostream or on the new little Indiana Tumblr blog.
Just don't forget to tell 'em that  little Indiana sent you!
Don't miss a moment. Subscribe to little Indiana and receive instant updates to stay on top of everything "little."
little Indiana: Where to Stay, Play, and Eat in Small Towns in Indiana. Discovering Indiana's best small towns! Now get little Indiana on your Kindle.
Targeted. Relevant. Affordable! little Indiana advertising.