Day 2: February 20, 2011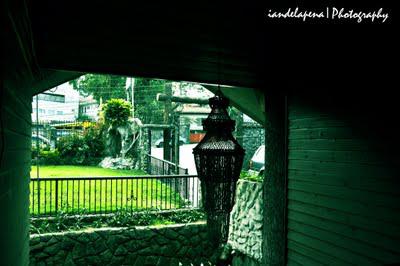 View from a connecting bridge inside the hotel.
It was almost eight in the morning and after just almost five hours of sleep I already felt energized, the cold weather and the good mattress gave me quality sleep.
I went out to buy some food at the grocery store beside the hotel for breakfast and after everybody had finished eating they started preparing for their appointments around the city.
We were on our way to their first appointment at Loakan road but they were kind enough to think that I would enjoy more if I explore the city. So they dropped me off at the Rose Garden of Burnham Park and introduced me to Bien. I was told that Bien was a professional basketball player who, together with his wife had fell in love with the city and found their home here.
There were a lot of things going on at Burnharm Park, people from different fields of arts including culinary were there sharing their talents to the public.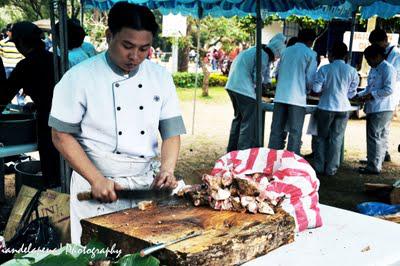 A chef preparing Pinikpikan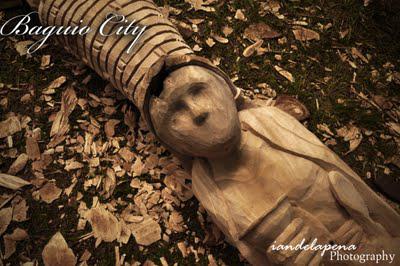 Part of a Totem Pole entry for the wood carving entry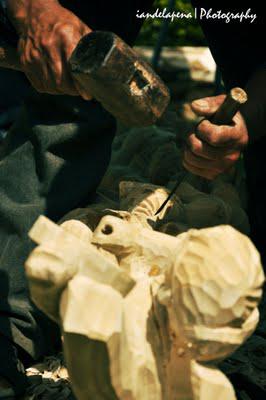 A contestant working on his entry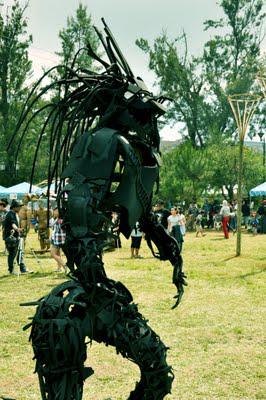 An art installation using scrap rubber materials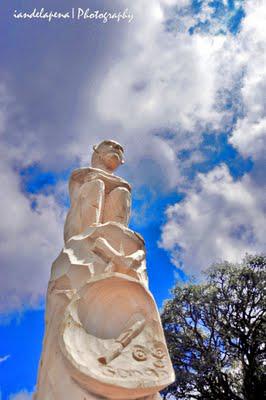 Wood carving entry
Bien showed me around the park and introduced me to his friends who were mostly are also from  Manila who, like him have decided to settle and retire in Baguio.

Bien with his friends and debate mates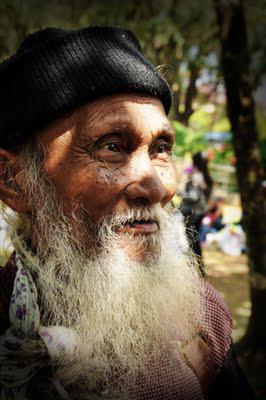 one of Bien's friend who they call apo.
But there are two people that was really memorable for me. One of them is Ms. Susan Henson. Susan was an actress during the 1980's who's of with the same manager as Rio Locsin. An article that I read online said that Susan and Rio were treated differently from their co-actors by their manager. It was said that they were allowed to act on very few and selected movies. But unlike Rio Locsin, Susan's career wasn't that fortunate. Now on her Fifties Susan still is as beautiful and vibrant as she could be.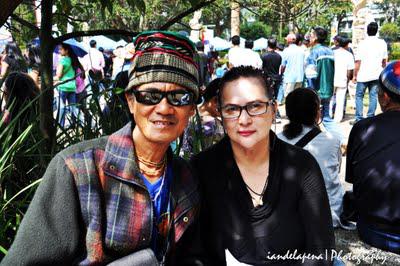 Bien with Ms. Susan Henson
Probably the next person that I met during my stay in Baguio would be classified as a master, well he is indeed a master. Let me introduce you to Apo Kidlat Tahimik.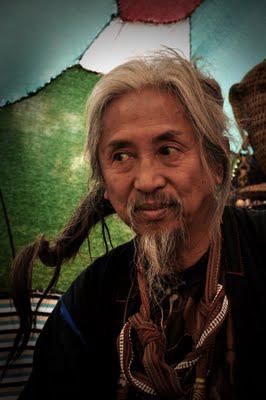 I have high regards for apo, I have been reading and watching documentaries about him ever since I fell in love with multimedia arts.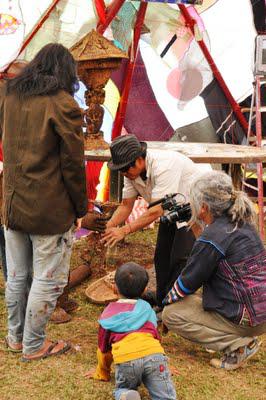 the master at work
I admire his passion to arts and preserving the Cordilleran culture. He makes videos to document his culture and shares them to the world. As I entered the dome that they made out of pieces of cloths, I saw him, I stood in awe thinking, Finally I have seen him! Someday I hope to get to talk to him some more about his art and lifestyle.
I left Bien for a while to look for a wash room and on my way back I chanced upon a group of youth who performed traditional cordillera dances. It feels good that there are Filipinos who are so proud of their heritage. I my self once said that I envy the Cordillera people because of the richness of their culture.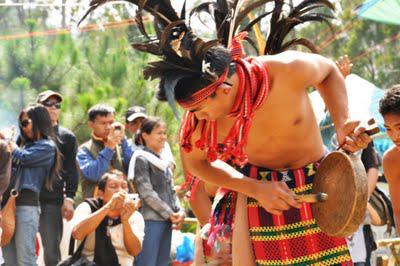 an Igorotte youth dancing a traditional ritual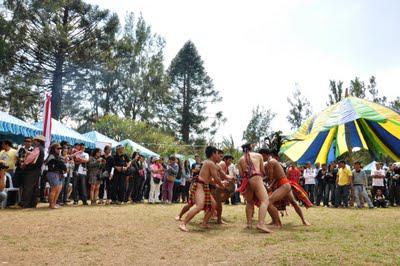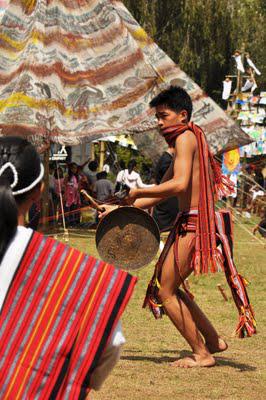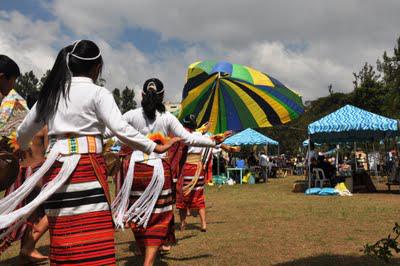 It was lunch time already when I met up with my mom near the park to eat lunch. We ordered the usual food fried chicken and some vegtables at an eatery in the park. I was surprised that their regular prices are quite expensive compared to fast food.
After eating I took my mom around the park and showed her the art installations. Afterwards we headed to the botanical garden where they were selling plants and took pictures of a nice colonial house adjacent to it. It was nice experiencing Baguio with my mom as we never had done it before but it would be great if we experience it again without the time pressure since it was actually a business trip for them.
By afternoon we decided to go ahead of the guys and went back to the hotel we rested and slept for a couple of hours. Choi and his wife got back already when I woke up and it was dark already. My mom on the other  hand had to go back to Manila for a meeting but I decided to stay.
I was chatting with my sister who mentioned online that she was also heading for Baguio the following day for a business meeting as well, so I asked if I could hitch a ride going back to Manila so I could spend a couple more days in Baguio.