New to little Indiana? Subscribe for free to my RSS feed. Thanks for stopping by!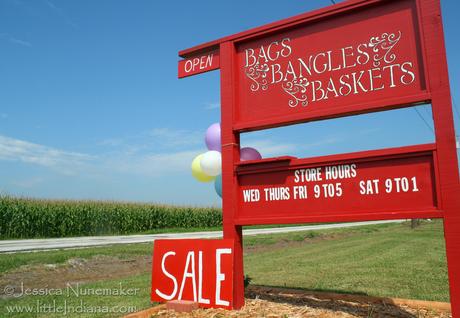 Rensselaer, Indiana: Bags, Bangles, and Beads
Rensselaer, Indiana has been home to a really fun shop on the outskirts of town: Bags, Bangles, and Baskets.
You may think you have to turn to the big box shops when you live in a small Indiana town, but great finds like this one prove it just ain't so!
Bags, Bangles, and Baskets in Rensselaer, Indiana
Once located in downtown Rensselaer, Indiana, the owners of the shop are enjoying their new country location. Though it's away from the bustling downtown, it's now 2 miles South along Highway 231 and super easy to find.
The long red building is so cute. It looks like it was made for holding this cute and clean shop.
Outside on nice days you'll find plenty of stuff just begging to come home with you–can you resist?
Indiana Mom and Pop Shops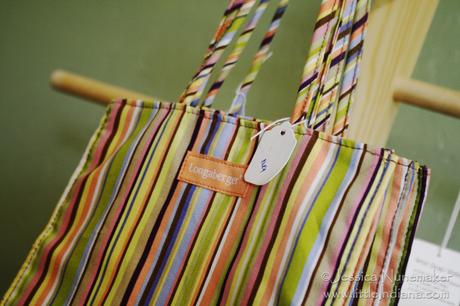 Rensselaer, Indiana: Bags, Bangles, and Beads
Here's a little random tidbit about me: I don't use purses. I was curious as to what this shop could offer to someone like me. The answer? A lot!
Hubs was along for the ride that day when we browsed this Indiana shop and even he found things he pointed to that were unique, interesting, or just plain make great gifts.
There's all sorts of bags in a variety of colors and styles, but there's also jewelry, candles, baskets and so much more!
See Bags, Bangles, and Baskets images and other pictures in Rensselaer, Indiana on my Flickr Photostream.
Bags, Bangles, and Baskets
8717 S US Highway 231
Rensselaer, IN 47978
219.869.9207
Wednesday, Thursday, Friday: 9 AM – 5 PM
Saturday: 9 AM – 1 PM

View Larger Map
little Indiana: Where to Stay, Play, and Eat in Small Towns in Indiana. Discovering Indiana's best small towns! Now get little Indiana on your Kindle.
New! Offering affordable online advertising for your small Indiana business! little Indiana Businesses is the online presence that you've been looking for.