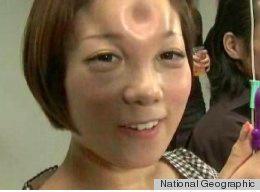 I am truly at a loss for words.  No, really…
Yet, being a lover of the bizarre and unusual, we must talk about Japan's trend: Bagel Heads.  "National Geographic Taboo" will be featuring strange body modification  treatments by following three people who undergo this temporary injection procedure.  Well, thank God for small miracles…it's temporary.  After 16 hours the saline is absorbed into the body.
In case you're thinking of opening a Bagel Head practice on your own, this is how its done: A technician inserts a small needle into the forehead and injects 400 cc's of saline into the forehead to create bump that resembles a hard hit to the head.  To get the full "Bagel Head" effect, the technician then presses his thumb on the lump to create the indentation.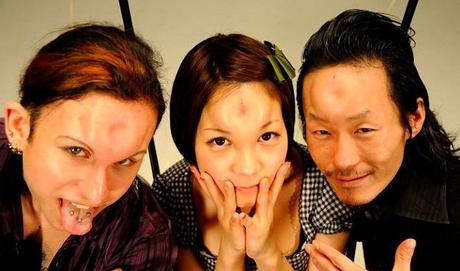 But, why?  Why do this?  Well, I guess if aliens came down and looked at all the weird body modification things we do they would be shocked.   Not that it explains anything but Japanese artist Keroppy, pioneer of the "modcon" body art explained back in 2009 that it's about innovation: "People who like extreme body modification want to find their own way of doing things, and they're always looking for new ways to do that. The more progressive the scene gets, the more these people have to experiment and go their own way."
Want to see the treatment in action?  (You do…it's fascinating), watch the video.