Weed.
NO, not THAT one!!
What is a weed?
     A plant whose virtues have not yet been discovered.  ~Ralph Waldo Emerson
Well, I really wish that somebody would find the virtue of the plant I want to discuss today!
I have actually been asked a half dozen times in the past couple of weeks, what IS this thing!?
It seems to really be bad this year.
The plant?
Phyllanthus urinaria a.k.a Chamberbitter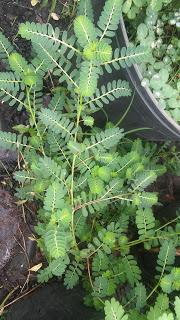 This weed is a real pain to get rid of, everyone gripes about it, there is even another common name for it....Gripeweed. They resemble Mimosa trees, which is also an invasive weed in some places.
Chamberbitter is a warm-season, annual, broadleaf weed that emerges from warm soils beginning in early summer. I am assuming that, because of the fairly warm winter last year, we are experiencing a bumper crop this year.
     It has an upright growth habit and a very well defined taproot. Being more of a tropical plant that loves hot weather and can tolerate drought conditions, it is very at home in the southern landscape. It is a member of the Euphorbiaceae family and has the sticky, milky sap like many of the different Spurge weeds that we deal with here in the south.
What makes this thing hard to deal with?
     First it is a very tough plant that grows fast, is drought tolerant, produces seed in just a few weeks and it produces an abundant amount of them. The seeds, which are found in the green, warty-like fruit attached to the underside of the branch explode, they throw seed in many directions away from the plant thus allowing it to spread over a larger area.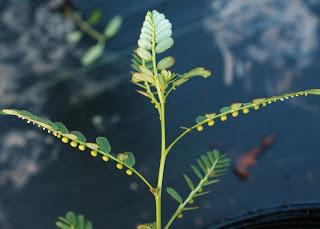 Look at those little bombs, just waiting to spread themselves.
The control of Chamberbitter is through a combination of mechanical, cultural, and chemical methods.
     Mechanical is usually the easiest. Pull them by hand and do not allow them to go to seed. As soon as you see them emerging, pull them up. They will pull out easily if the soil is wet but tend to break off if the soil is too dry. Do not put these in your compost bin, it will probably not get hot enough to destroy the seeds. Burn them or throw them in the trash.
     Some of the cultural methods of eradication involve putting down two to three inches of mulch in the spring to cover seeds from the previous season. Chamberbitter seeds require light to germinate, so this is fairly effective. In your lawn, if you keep it healthy, mow regularly at the proper height, and feed it correctly, there should not be much problem there.
      Chemical control involves the use of herbicides. Both pre-emergent and post-emergent may needed if you are over run with this weed.
     In the case of a pre-emergent, timing is the most important thing. It is too late now, early August, but next spring when the soil temperatures start to rise, remember these seeds need very warm soil to germinate, you can order Bayer Advanced 704050 from Amazon if you can not find it locally.
Glyphosate (Roundup Weed and Grass Killer) will kill it but you have to be careful to keep the chemical off nearby foliage. You can paint it on with a paintbrush, wear gloves and brush it on the leaves. In a lawn, broadleaf weedkiller (Ortho Weed B Gon Weed Killer) applied twice, seven days apart, is also effective. Just be absolutely sure that you read and follow the directions on any chemical, it is the law!
     Hopefully, you do not have much, or any, for that matter, of this nasty weed in your landscape. Prevention is the best action, just keep an eye out for it, and try not to introduce it if at all possible.
     If you are not sure if a plant you are looking at is a weed or a wanted plant, just remember this quote by that famous Author, Unknown.....When weeding, the best way to make sure you are removing a weed and not a valuable plant is to pull on it. If it comes out of the ground easily, it is a valuable plant.
     As always, if you have any questions concerning this, or any of my other articles, please feel free to ask. Also, don't forget to follow me on FACEBOOK
Happy Growing!
Darren