Bad Cop / Bad Cop returned to Toronto with the Frank Turner and The Sleeping Souls / Sam Coffey & The Iron Lungs tour this week for a two date, sold-out stint at The Phoenix.
I had the pleasure of chatting with Stacey Dee who's responsible for vocals and guitar, Jennie Cotterill also on vocals and guitar, Myra Gallarza on drums and Linh Le on bass and vocals before the show and when I say pleasure, I mean it in the most literal way. It was fun, it was spontaneous, and it was informative. I was disappointed that I wasn't able to attend the show, but our newest photographer Cory Parsons was there. I will be making sure that my schedule is clear the next time they come to town.
Watch for: Frank Turner, Sam Coffey, and Bad Cop / Bad Cop Take Toronto!
I'd be remiss if I didn't talk about the music first. My immediate reaction was that this band reminded me of The Distillers, NOFX, The Interrupters, No Doubt but of course, with a uniqueness that's all Bad Cop / Bad Cop. It's punky, it has its pop influences but it rocks. The music has great guitar riffs and bass lines and badass drums. The lyrics are genius, and I can't stop listening. And, the harmonies are top level. It's empowered, it tackles real issues, and it still manages to be fun. After my first listen to , I had to share it with friends. Tell me you can't relate on some level. I'll call you a liar.
But where Nightmare from 2015 album Not Sorry feels light-hearted, Retrograde from their 2017 album Warriors hits hard. I could talk all day about their music, but I'm going to stop here and share some of the things we covered.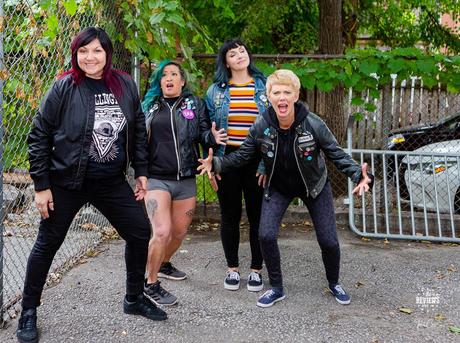 When asked how much fun they were having performing with Frank Turner, they answered with resounding praise. Inspiring was the word they agreed on. They talked about how different this tour was for them. They've done a lot of fun punk rock tours, but this was a different audience, with very different venues including some concert halls. This brings up new challenges and learning to perform to a seated audience. Learning how to interact with people who aren't right in your face. They've risen to the challenge and embraced it.
I asked how they liked Toronto, they expressed that it was fun to be in a city longer than just an evening and that Toronto was beautiful and a cool place to spend some time in. Myra talked about the band's visit to The Bata Shoe Museum and showed me images of some awesome shoes.
They also gave a sweet shoutout to Sneaky Dee's where they stopped to grab a bite to eat.
Moving on to the topic of touring and music, I asked if they'd been working on new music. Warriors came out in June of 2017, and in keeping with a two-year cycle, when they get home from this tour, they'll start working on that. They're hoping for a new record release next summer.
This slideshow requires JavaScript.
One of our favourite questions to ask bands is about the experience of hearing fans singing lyrics back, and we were thrilled when it turned out that this California band had their lyrics sung back to them at House of Targ in Ottawa! Raving about the show, Jennie said about the crowd, "it was like they were actors and acrobats, pretending to be a ballet of a punk rock audience". Way to go Canadian punk fans.
Wrapping up my time with Bad Cop / Bad Cop I asked a couple of quick questions.
Q1) First Album You Bought Yourself
Stacey: The Go-Go's Beauty and the Beat
Myra: Madonna Borderline (Like a Virgin & Other Big Hits!)
Linh: A Madball Album
Jennie: Björk Aeroplane ( Debut album)
Q2) Tell us something about you that your fans might not know.
Stacey: She loves the smell and taste of cardboard
Myra: She's a lefty, but she plays righty
Linh: She can cook and she used to be a gymnast
Jennie: She loves shoe design, she designs all of the band's merch
Stacey, Jennie, Myra and Linh are people I'd love to hang out and spend some time with, and you should go check out their show live if you're lucky enough to be on the other side of this tour.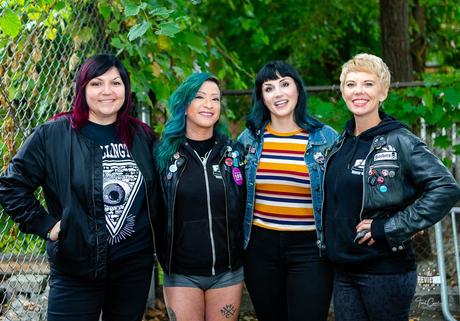 09/22/18 Montreal, QC Canada Théâtre Corona w/ Frank Turner
09/24/18 Ottawa, ON Canada Bronson Centre Theatre w/ Frank Turner
09/25/18 Kingston, ON Canada Alehouse w/ Frank Turner
09/26/18 South Burlington, VT Ballroom, Higher Ground w/ Frank Turner
09/28/18 Hampton Beach, NH Hampton Beach Casino Ballroom w/ Frank Turner
09/29/18 Brooklyn, NY El Cortez
09/30/18 Ithaca, NY The State Theatre of Ithaca w/ Frank Turner
10/01/18 Charlottesville, VA The Jefferson Theatre w/ Frank Turner
10/03/18 Asheville, NC The Orange Peel w/ Frank Turner
10/04/18 Nashville, TN Cannery Ballroom w/ Frank Turner
10/05/18 Cincinnati, OH Bogarts w/ Frank Turner
10/06/18 Milwaukee, WI Pabst Theatre w/ Frank Turner
10/07/18 Chicago, IL Reggie's Music Joint
10/09/18 Denver, CO Oriental Theater
10/24/18 Ybor City, FL PRE-FEST 6
10/26/18 Gainesville, FL THE FEST 17
01/05/19 Santa Ana, CA The Observatory w/ T.S.O.L., Youth Brigade, Tartar