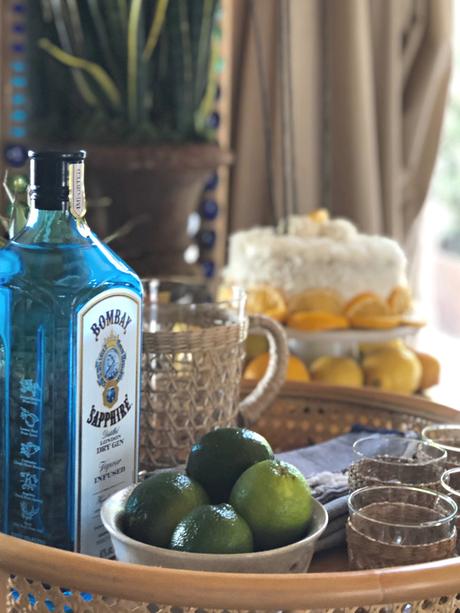 Last weekend we celebrated our

son Hunter turning 24!

His late May birthdayalways seems to jumpstart our

Summer!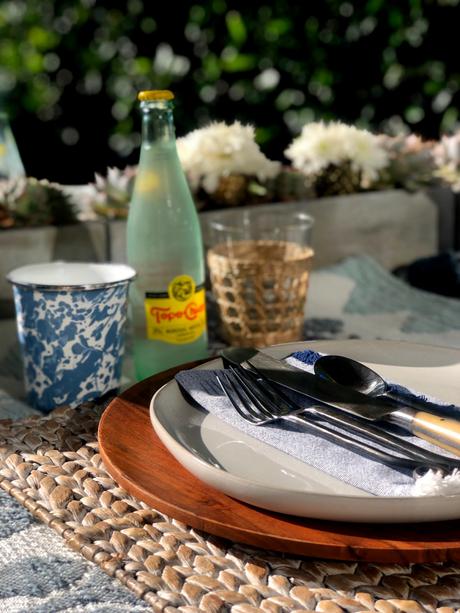 The weather was perfect for a 

Backyard Dinner Party!




I chose blues and whites as my accent color for 

The Tablescape




I mixed  blue  and whites 


with all kinds of 

Natural Textures.




From woven placemats, wooden chargers, cloth napkins, ceramic plates

iron silverware,  enamel cups and wrapped wicker glasses.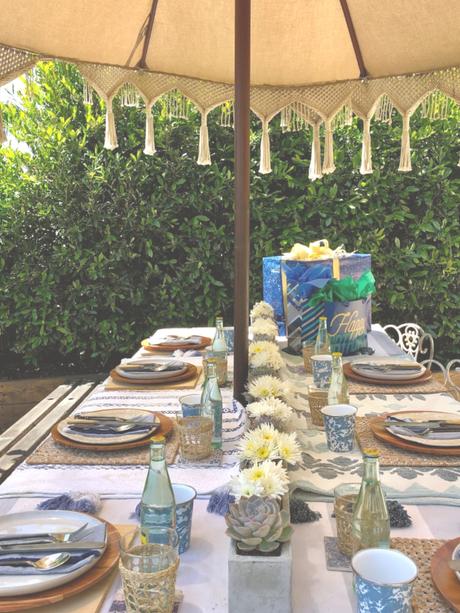 For the centerpiece

 I kept my 


rectangular cement planters


that I grow succulents ininterspersed usually with candles.
To give a 

Party Feel

for the centerpiece

I filled the candleholders with fresh white flower arrangements.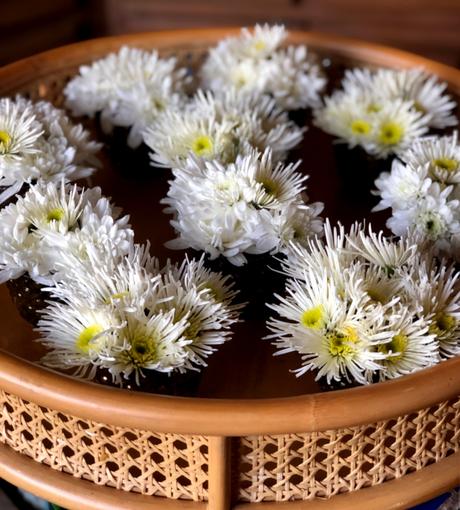 They were simple to do.I purchased 2 grocery store bouquetsof differing white mumsand cut the flowers down to short stemsmaking individual bouquets for the candle holders.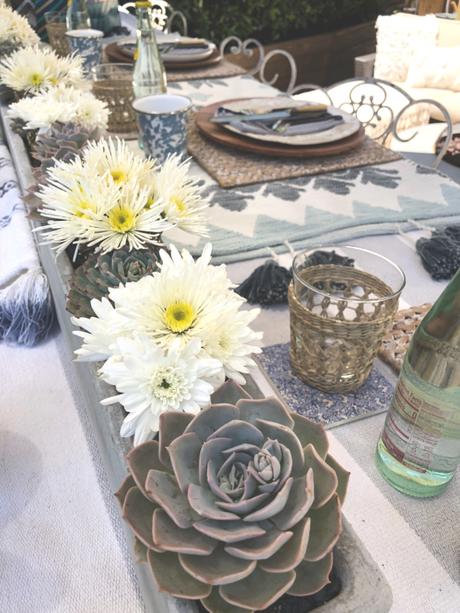 They were 

simple and efficient

adding the perfect 

Party Flourish!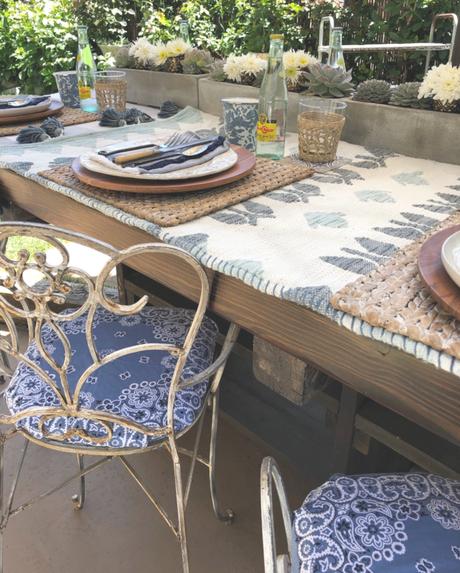 I was very happy with my


'tablecloth'


which was actually

 four different tapestries!


We recently added the large umbrella to our 10 foot Farm Tablewhich made getting a traditional tablecloth to work wasn't going to happen.
My solution was to take one tapestry on each side simply fold it in halfand then uses two more across the ends of the table.
I was so happy with the subtle color texture play it brought to my tablescape.
For me

 dressing a table is like 

creating a painting

using color, layers and textures.




Really not to different than styling a great outfit!


To bring in even more color playI simply wrapped our bar stool seatswith light blue bandanas!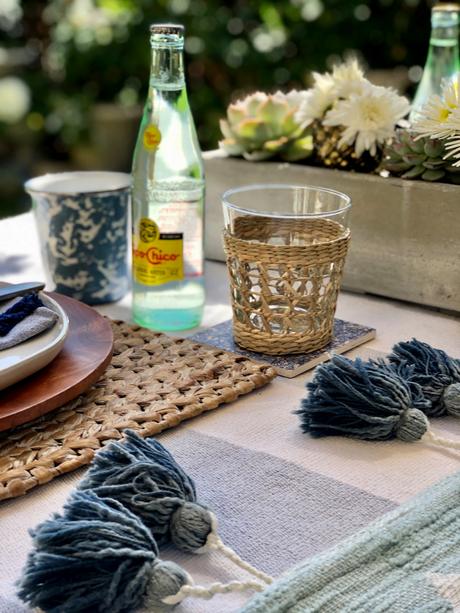 I loved the added

 pizazz

the tapestry tassels 

brought to the table!
I find so often solving a styling situationin a non traditional waycan illicit some beautifully creative solutionsif you stay open to trying new ways!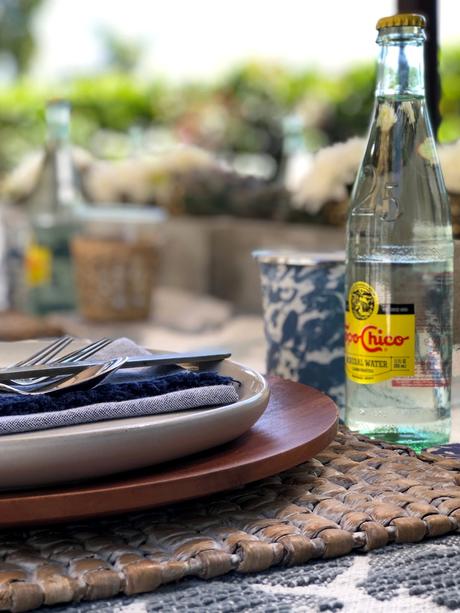 I finished each place setting with a bottle of our favorite sparkling water.
I woke up the morning of the partywith the idea the Topo Chico bottleswould add just the right amount of a yellow punch.


You never know when creative ideas 

will strike!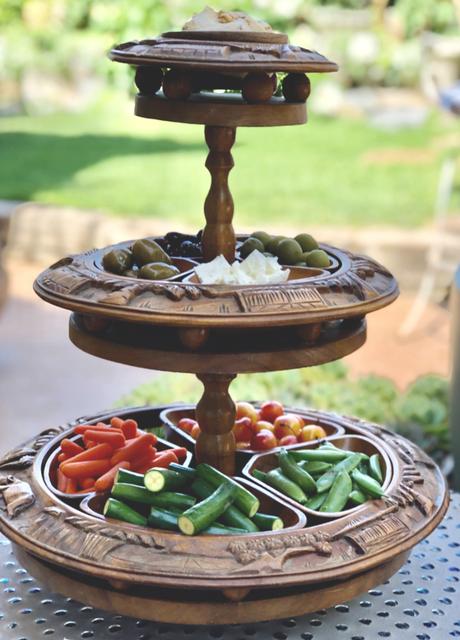 Jeff and I chose a colorful and fresh menufor the party.
I love doing parties with JeffI make everything look gorgeousand Jeff makes everythingtaste delicious!
How fun is this


 vintage serving piece.

It pacts a big punch of styleelevating cruditesto a  party level!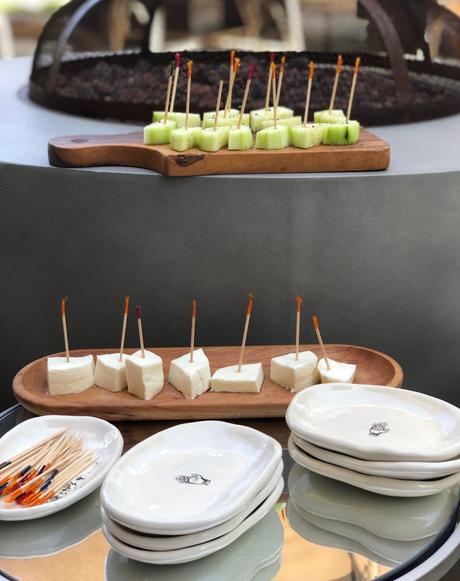 I love what Jeff did with the cucumbers and cheese!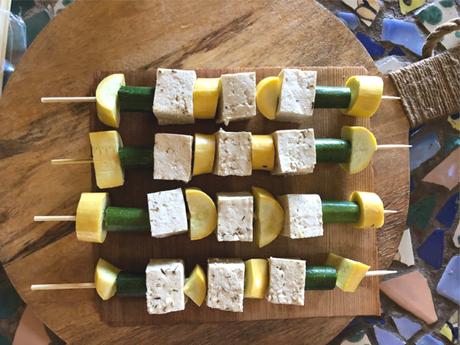 Our menu consisted of salmon on the barbequewithtofu skewers.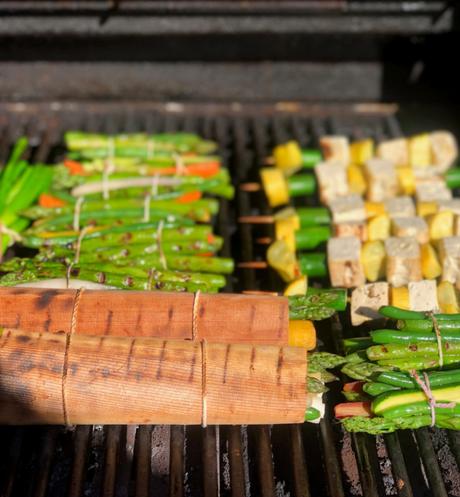 Jeff made individually wrapped vegetables to accompany the salmon.
They were as pretty as they were delicious!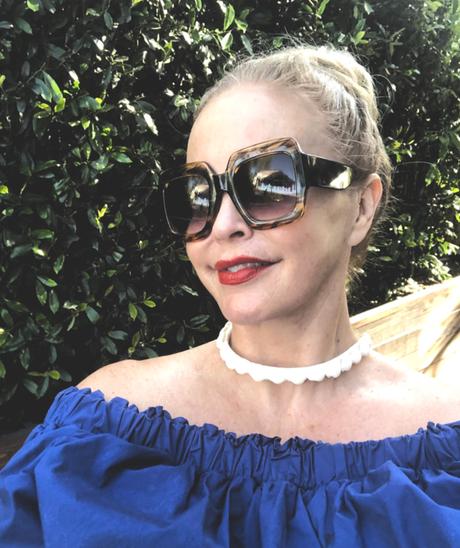 For my party outfitI kept it backyard casualwith an off the shoulder top and white jeansI kept my hair up and unfussy.
but brought


 a dose of glam with my 

bold sunglasses and shell choker

that is actually a headband from my upcoming Accessory Collection!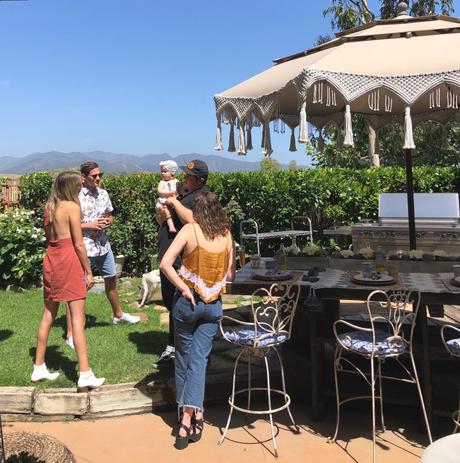 It made my heart so happy 

to have some of my 

very favorite people

at the house!!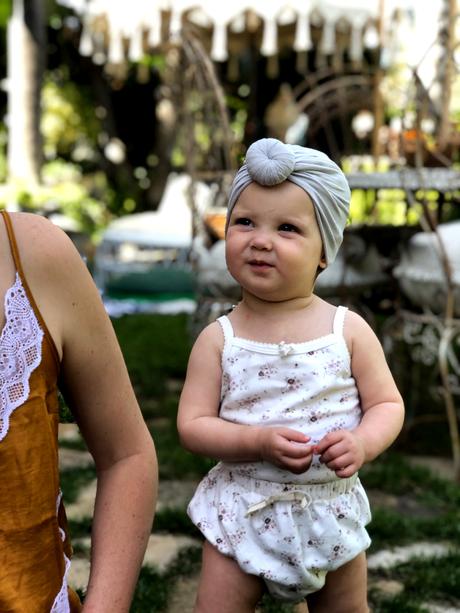 Especially this little nuggetwho is up and walking these days!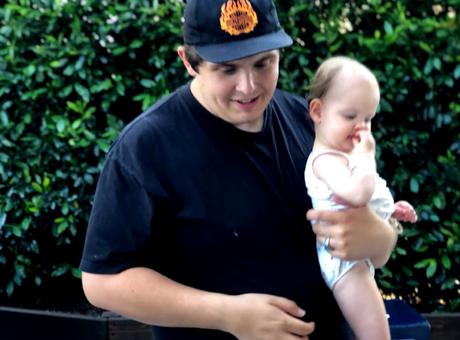 It always just makes my heart melt 
seeing 
our boy
with 
his baby girl!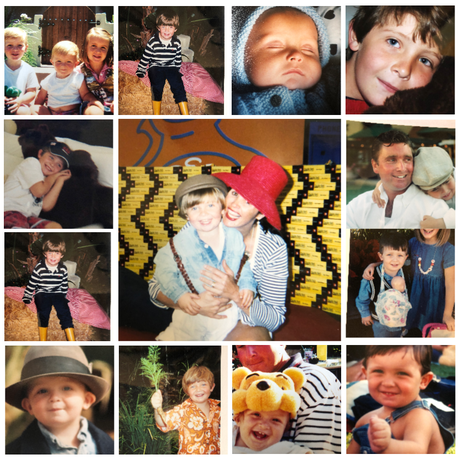 And it always reminds me of how much


I enjoyed being his Momma!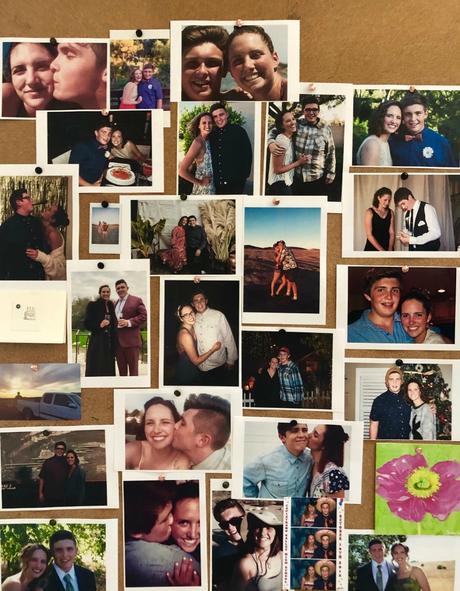 And I couldn't be happier Hunter married the love of his life.They have been together since they were 14!Quite the 

Love Story!!


We made this sweet the collage  for their

Rehearsal Dinner

You can see that  fabulous 

Tablescape HERE


Lenny is one lucky little girlto have these two as parents!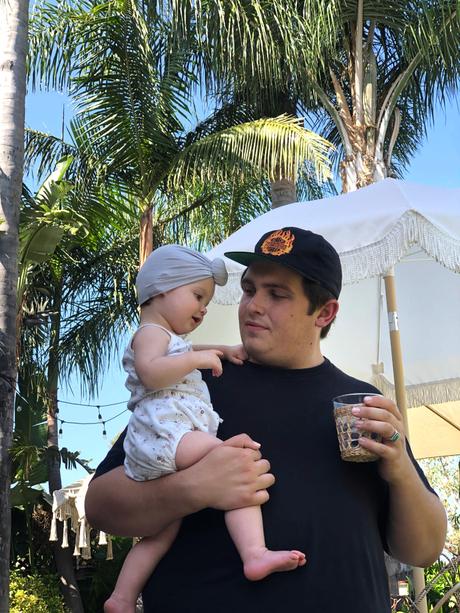 Isn't Lenny the sweetest!
Having grandkidsis everything I heard it would be!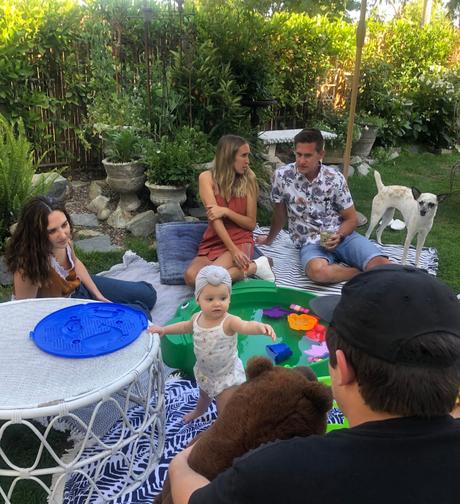 I set up a little pool for Lennyand  ...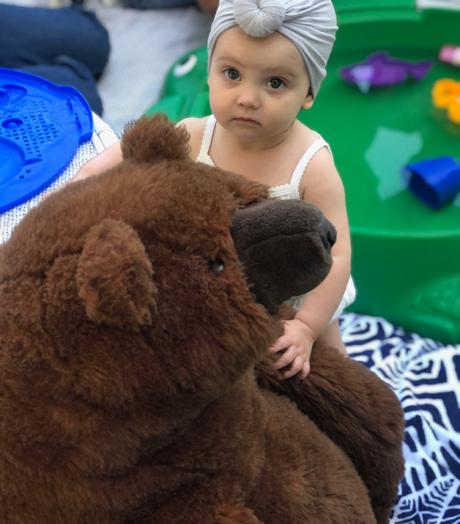 She got to meet for the very first timeHunter's old

Big Bear

who has been tucked away safely in storage for many, many years.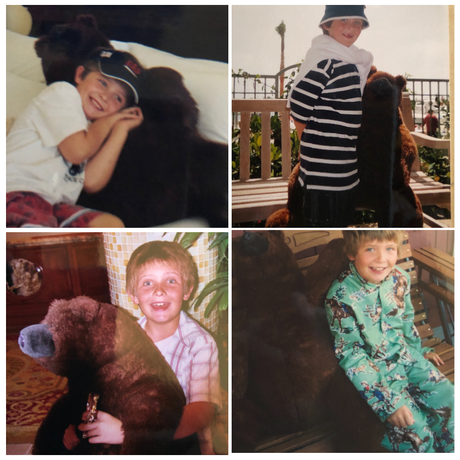 Big Bear was a favorite of Hunter's when he was little.So much so 

Big Bear

was allowed to accompany the familyon so many road trips!
Big Bear traveled with us toMammoth MountainMonterreyThe Montage in Laguna BeachDisneyland's California Grand Adventureto name just a few of our families destinations.
Which meant when Hunter out grew Big BearI couldn't bear to part with herso I brought her to storagewhere she has lived for so many years.



I hadn't even foreseen such a heartfelt time seeing her now with Hunter's daughter!
I am so glad I listened to my heartand kept this sweet bear!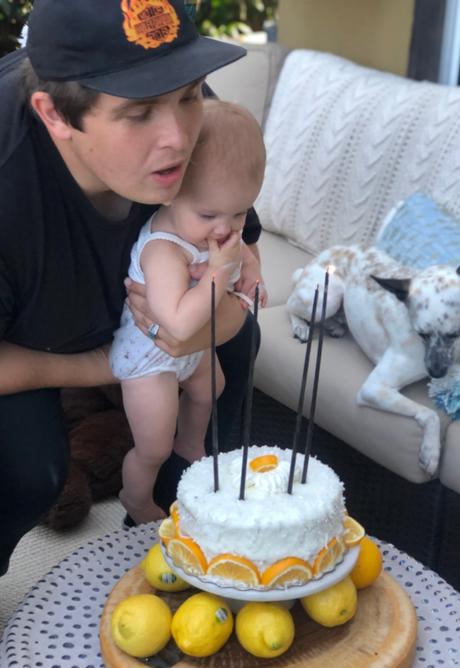 Happy Happy Birthday Hunter!


We are ever so proud of the 

man, husband and father 

you have become in

your 24 Years!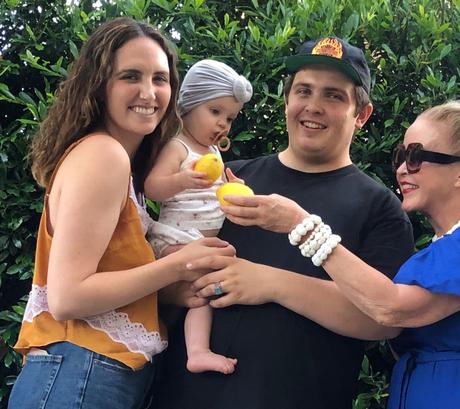 Sweetest Young Family!Thank you for letting us celebrate you!XOX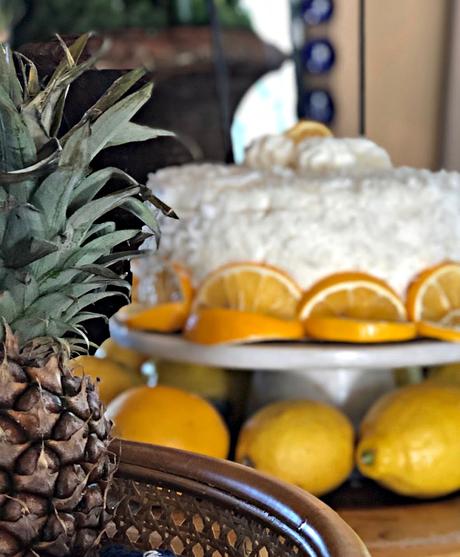 As always my friends


I wish you love and joy

as you style your life