At the end of Part 1, I was more than halfway up the hill road and closing in one the highest point.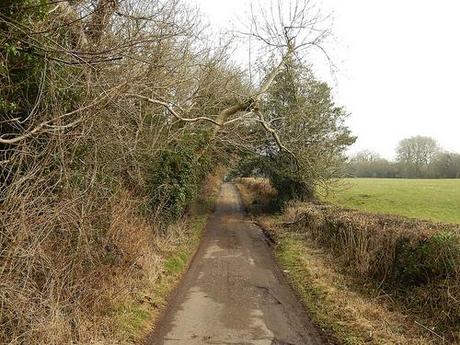 From here, I'll almost pass-by an old, familiar estate (pretty close to where I lived, for a time), before completing my return route around Bristol Airport.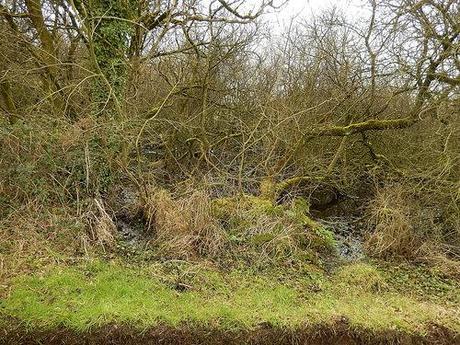 Oatfield Pool – Backwell, North Somerset.
That first photo shows another lane I used to wander along, during my 'time off school'. Follow it all the way and I believe you can enter a nature reserve or woodland area in Flax Bourton, the next village to the north. But I'd never taken a turn right.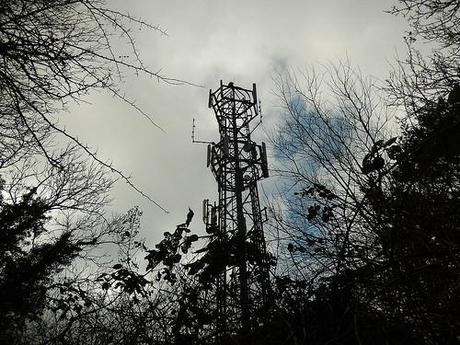 This transmitter isn't marked on an OS map. Yet, you can see its lights from some distance away, in the evening hours.
This turned out to be another route that could've kept me away from the open road, if only for a short while. I got to witness Oatfield Pool before turning a corner that would, according to my map, lead me past a trig point, somewhere upon the hill to my right (which, unfortunately, resides upon private land with no public access).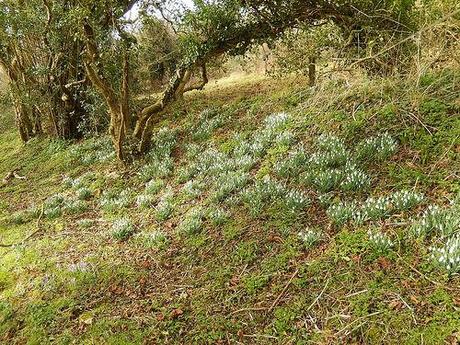 Returning to Backwell Hill Road, I crossed over and took the next waymarked path up and to my left, which passed over a battered cattle grid and along a drive down towards a farmyard. It was beside this drive that I spotted these early signs of spring – just as in the same month one-year ago.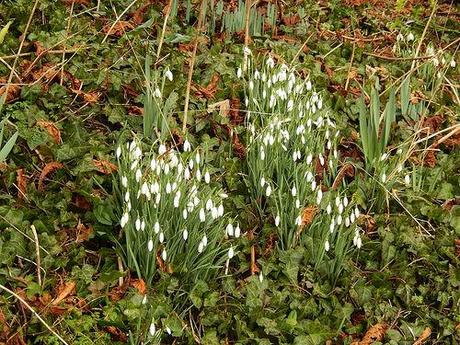 One of the gates was padlocked; the other remained very difficult to open and so, I climbed over. As I approached the house, I could see two large metal gates to the left, both apparently giving access through the yard. But there was no waymarking and I couldn't be certain of which one would continue the public footpath… That fear that used to prevent me from walking too far down unknown lanes or climbing stiles kicked in and I made my way back up to the road (before some irate mutton-chopped land-owner came storming after me with his shotgun and wellies…).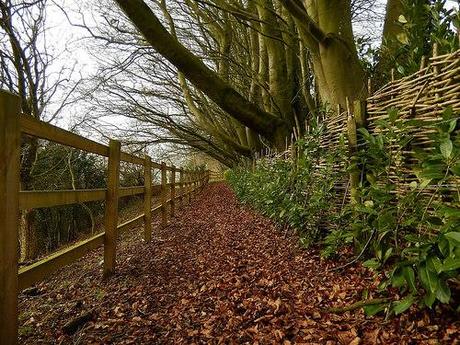 Walking a bit further along the road (and towards Backwell, on the approach to a very sharp blind bend) and I took another left turn beside large wooden gates.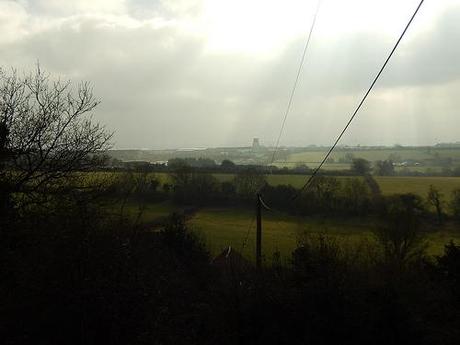 This carried me along what appeared to be a very-well-maintained path with autumn color on the floor. To my left; a distant view of Bristol Airport's newest current building…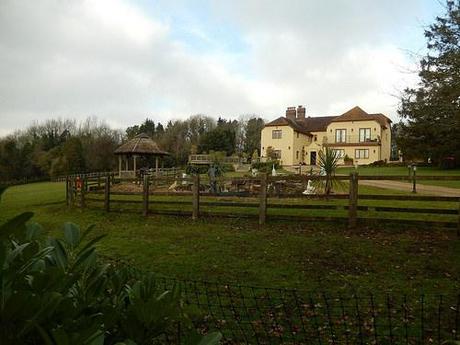 To my right; a rather grand house and garden. Such large gates at the entrance and yet, these grounds await the eyes of Britain's ramblers.
But taking a left turn up ahead, the clear path instantly vanished and I found myself meandering around fallen trees and climbing banks of earth in search of the next stile and, even a left-hand boundary to follow… Of course, I got there eventually (and without being spotted or shouted at). Through a succession of gates and well-defined paths, I returned to Downside Road (the other end of which resides in Brockley Combe, which I crossed in Part 1).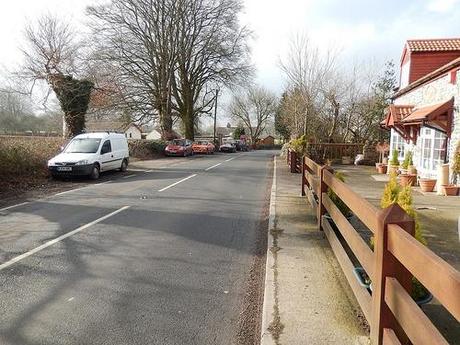 To my right; what used to be Downside Stores.
Right beside me was a very up-to-date and well-maintained cottage that was once home to Downside Stores when we first moved to the area, back in 1998. That place didn't survive for much longer (not to ignoring the fact that they often sold dairy products that were beyond their best) and, cycling up and down this road in the years to follow, I gradually witness a change in the face of this building.
If anything surprised me here though, it was when I crossed over the road to read a notice board declaring that this section was within the Parish of Wrington – which is where I live today!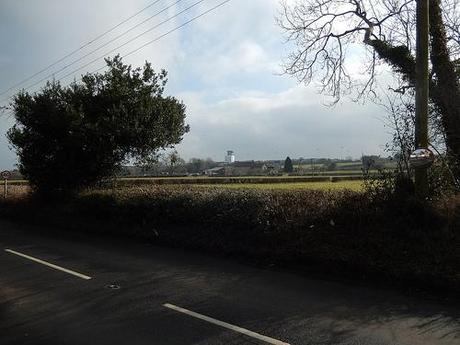 Crossing over the road and following a road that contours beyond a golf course and around the airport itself; this was the only viable option left open to me, as a walker. Sadly, for fellow 'Wringtonians', there is no immediate or more direction return route across greenland which the airport is constantly threatening to expand across.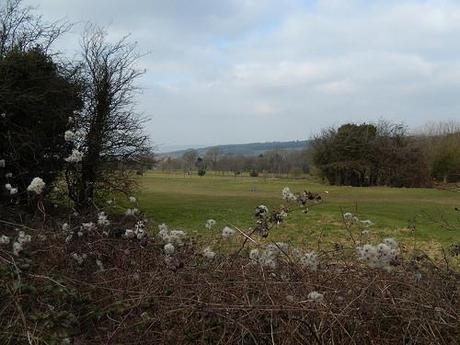 Tall Pines Golf Course.
So, I know this part very well. Not simply because it links my current home with an old one but largely because I used to cycle around here (one lap around the airport) in an evening.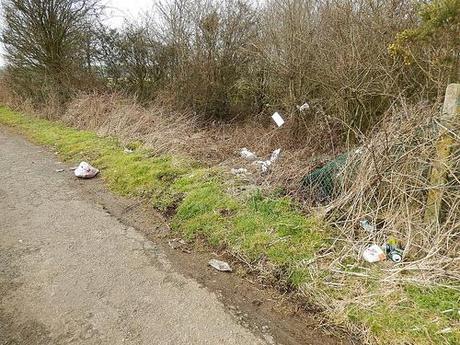 Why are people so completely irresponsible?
What I hadn't anticipated was the disgusting amount of litter hanging from the branches (particularly on the northern side of the airfield). I'm sure they used to have bins along the southern side but the lack-of here doesn't excuse this kind of behavior.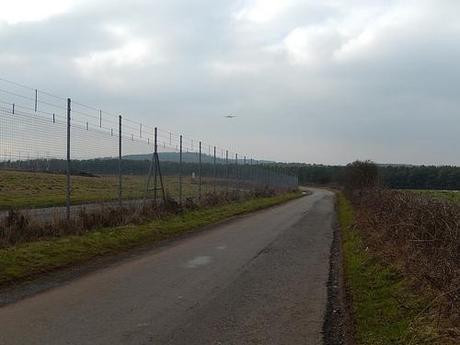 I got to witness these great landing lights (or whatever they are) from the eastern side and noticed a flock sheep grazing beneath them (I'm pretty sure this is part of the land campaigners have been fighting to protect for several years now).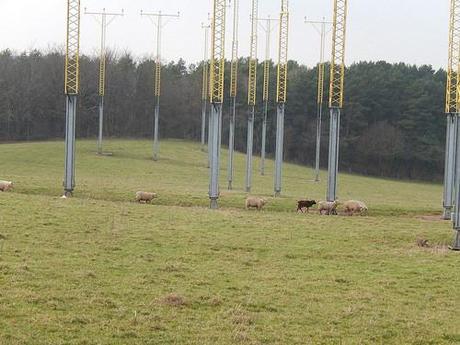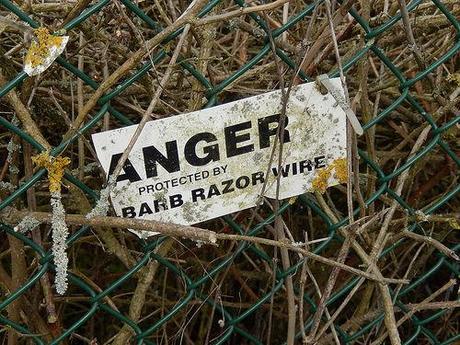 Anger.
Finally completing my semi-circuit around to the south, I spotted the usual flurry of parked cars and plane-spotter aficionados, waiting for the latest arrivals or departures.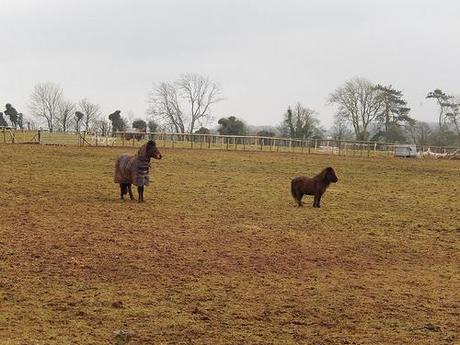 Me, however, I was more interested in the horses in the field to my right!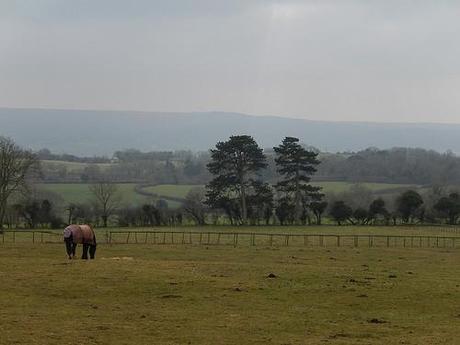 For a period of only a few months, I worked at Bristol Airport as a Ramp Agent (baggage handling). Despite trying for several years to get even a part-time job there, I did not enjoy the experience once I finally made it airside.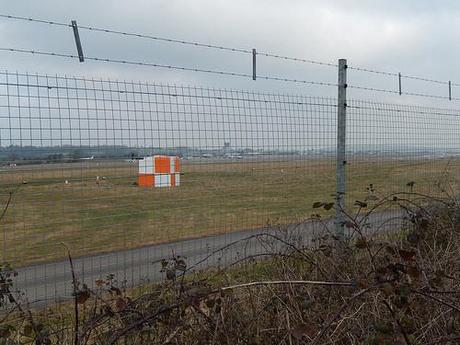 From our classroom-based induction though, one comment (from the 'tutor', if you will) has always stuck in my mind… If someone really wanted to attack Bristol Airport, they could simply park here on the north side, snip the fence open and unleash a rocket launcher at the main terminal building! The simple fact that this has never happened suggests to me that the world isn't always quite as some tabloids would like us to believe.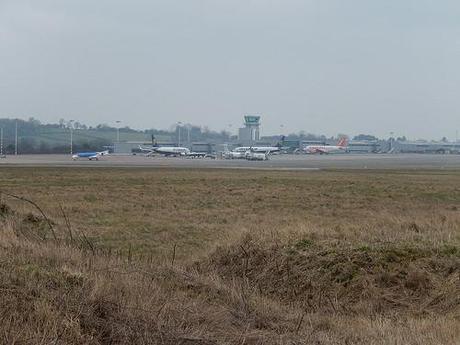 I continued south along tarmac and towards the Redhill/Wrington border.  At one road corner, I would've been able to deviate from the solid ground but for two lengths of barbed wire strewn over a large puddle…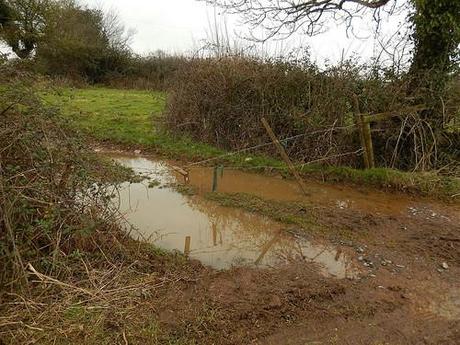 It's a definitive right of way, even if the footpath sign is partially buried within the hedge to its left. For whatever reason, I don't believe the landowner has done enough.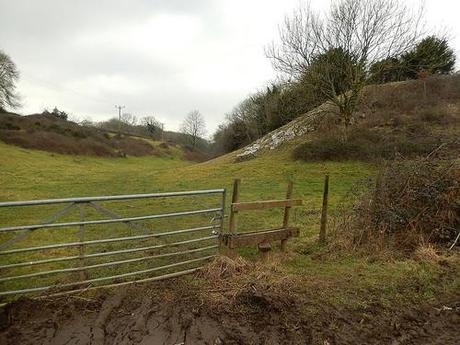 On my map, I could see the dashed lines of what could be an alternate route or even a track and so, in order to avoid the risk of injury (and waterlogged boots) I continued a little further, past Goblin Combe Farm and along an unmarked route inside this 'valley' that reminded me very much of the landscape near Cheddar Gorge, about 8 miles south east of here.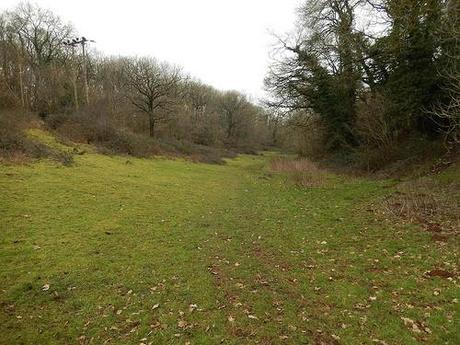 It got pretty boggy before I reached the next stile but I was able to avoid the worst (just about) before meeting up with the route I had intended to follow a few moments earlier.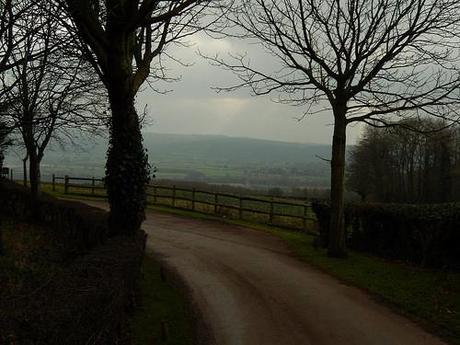 I crossed a couple of fields that would be a joy to discover again in the summer before joining a private road that would lead me down to Long Lane (in Wrington, this time, not Backwell).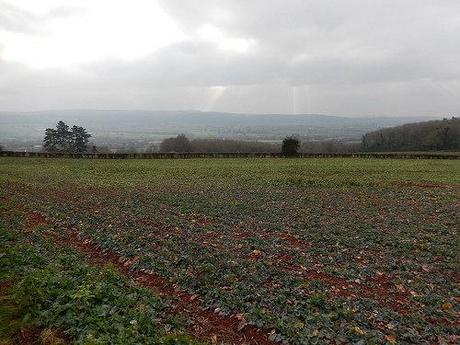 I was soon returning along very familiar territory, past the local walled garden and on to the village I now call home.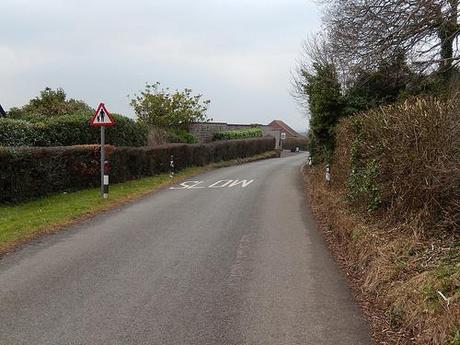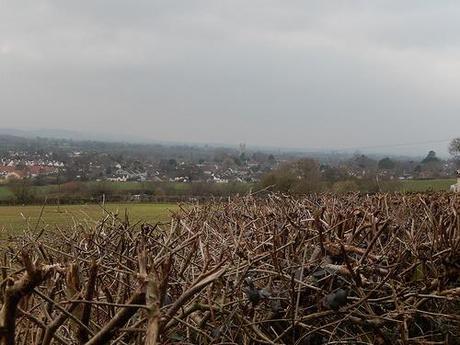 Wrington.
Thanks for reading this far. I don't really know what I was looking for on this walk (which took about five hours) but I didn't find it. All I discovered, really, was that I'm far more confident at following and discovering routes then I was almost half-my-life ago. I can also take that to mean that I'm far more confident as a person.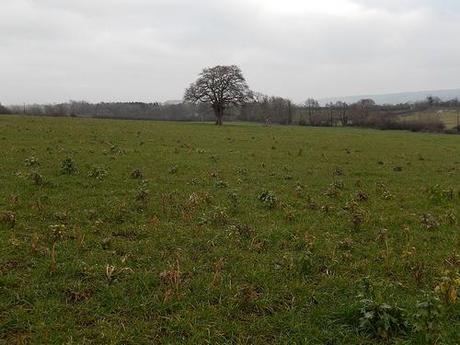 It's hard to know where to walk the next time from my own doorstep as I've mostly walked and lived within a very 'confined' area.