Friday 3rd of June 2016
With two peaks behind me, I was ready for the second-half of this challenging walk.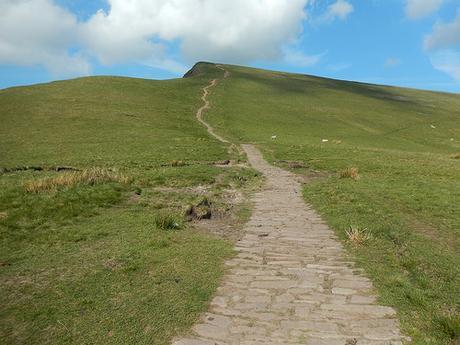 Before I could begin the climb to the summit of Cribyn, I had to endure a drop of more than two-hundred metres, from the heights of Pen Y Fan.
Descending Pen Y Fan was as tricky as I could remember from last year, with those large stone steps ahead of a gravel path only luring you in to a tumble.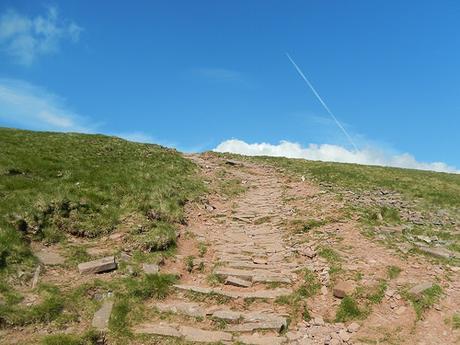 Cribyn is an imposing mound. It's a challenge psychologically, having already climbed two peaks and then, you're faced with one that appears to grow taller before you're staring at its feet. This wasn't one I was going to climb without pausing. At times, it felt as though the summit was increasingly out of reach.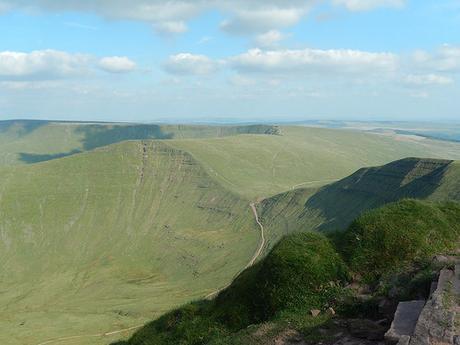 From the top, I could look eastwards, following the Beacons Way to Fan Y Big.
But for the cold wind that had somehow evaded the previous two mountains, it was bliss, with no other walkers in close proximity. 'Ant-like' forms could be seen, scurrying slowly around the trig point. I wondered, whether they could see me.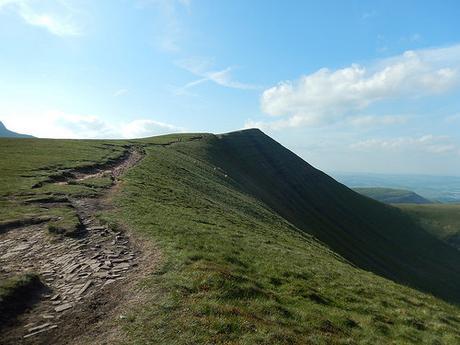 So, I began another descent, following the ridge of Craig Cwm Cynwyn.
This was deceptively gentle, at first. Then, as the gradient suddenly increased, it was time to grit my teeth as my knees began to ache with every step. Zig-zags helped but I wouldn't be jogging any part, as I think I did a year ago.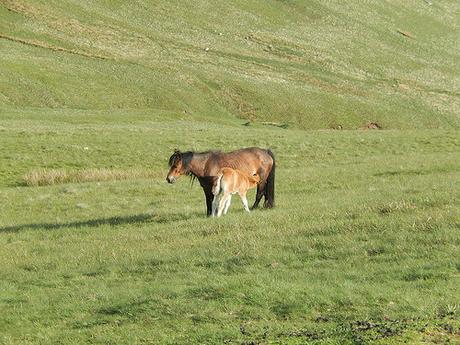 This time last year, we mutually agreed to end our Peak Challenge at a strong 75% completion rate; soon descending the valley to return to the car. Darkness was fast approaching and I had someone else's health (and sanity) to consider along with my own… This time, it was just me and the wild horses. I probably had an extra hour to spare, only weeks away from the Summer Solstice.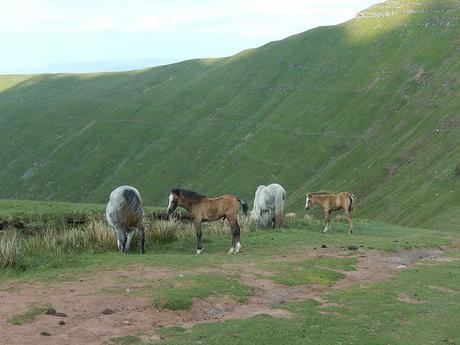 Well, I hadn't postponed my lunch break and driven seventy-odd miles across two countries to turn back now… My body wasn't up to it but my mind knew it was the right option.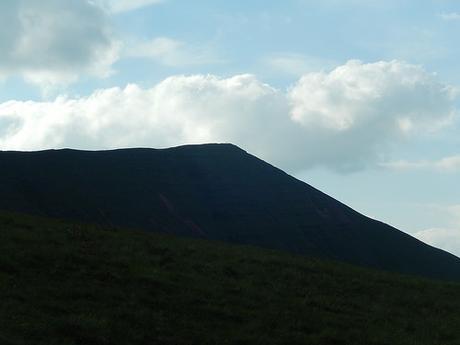 Before I set off on one final ascent for the day, I took a last look at Cribyn, where a figure stood alone upon the peak. This was, almost certainly, the same person I had passed on the way down. He had a walkie-talkie or radio-device on hand. Fortunately, I don't believe he was an undercover Heddlu officer, investigating the thirty-one year old male seen taking a leak on the eastern side of Cribyn…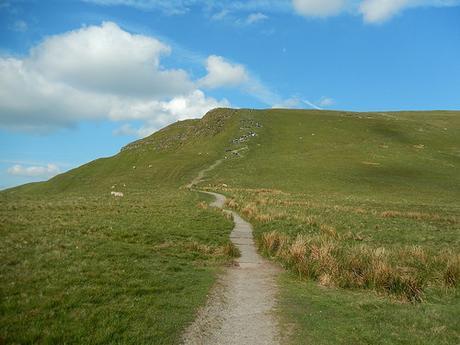 There was a 4×4 vehicle parked in the nook beneath Fan Y Big. Higher up the path, I could see large stationary objects that I feared were cows… Part-way up, I would realize two guys were repairing and maintaining the path. This must've been around 19.00, on a Friday! Every so often, I would pass a large builder's bag holding a very large rock of some sort.
I didn't have the energy to engage in conversation with what they were actually doing or how. I'm also not convinced that I did the most graceful thing, in walking straight along the gravel-path they were working on… But with rocks soon obstructing the actual path higher up, I like to think levelled the score a bit, if not the terrain…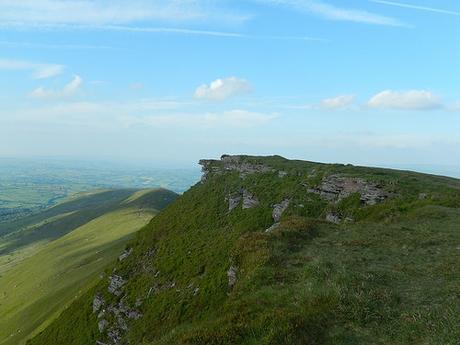 Having dropped almost two-hundred metres to begin this one, I found this one-hundred-and-twenty meter climb to be the toughest of the lot. It was hard to imagine it being any easier having previously walked no peaks, instead of three. There's a good reason the path zig-zags, instead of climbing straight up. I thought back to why I was doing this and for what I had set out to achieve.
Having paused at least half a dozen times, I spotted the infamous 'diving board' moments before triumphantly reaching the summit; blessed with the northward view you can see below: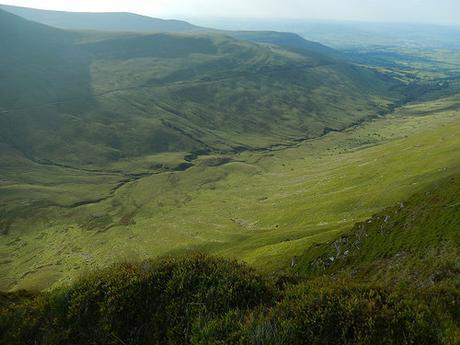 My final ascent of the day! I had made it and there would be no more climbs to follow.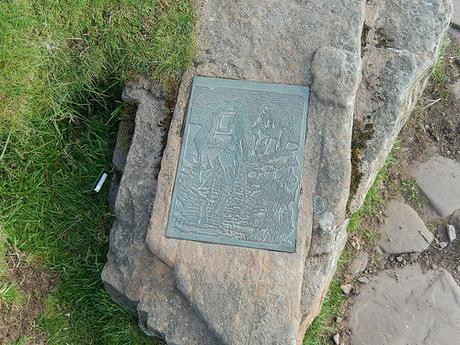 Set in to the face of one rock, down to my side, I found this intricate image. How long has it been here and who planted it?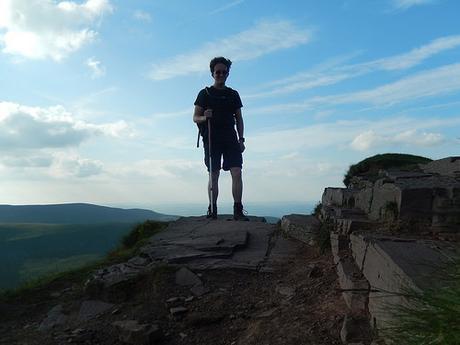 With my camera balanced precariously on a rock, in a windswept location; I took to the diving board myself and attempted my second selfie of the day.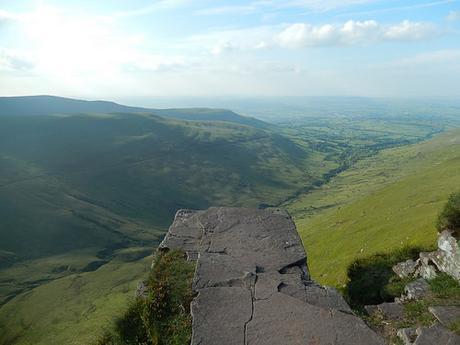 You can see how the rock formation has gained its name.
No longer, did I feel any urgency on this walk. I had achieved all that I had set out to do and without losing in the race against nightfall.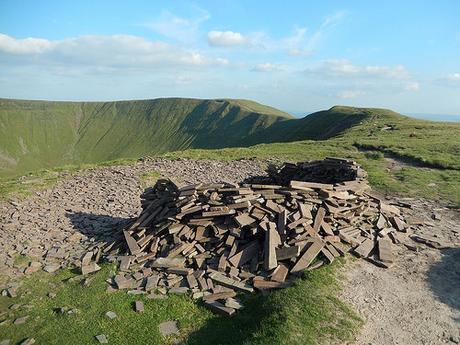 Beyond a windbreak (for a hardened wild camper?), I would follow this high wall south along Craig Cwmoergwm.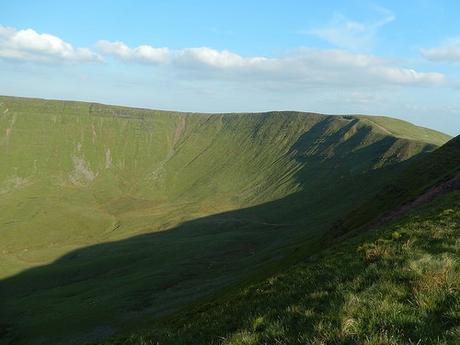 I had rejoined the Beacons Way, after it had decided not to follow me up Cribyn.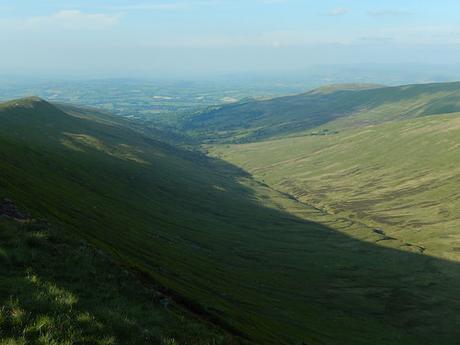 I spent some time up here, trying to locate Crickhowell, which I assumed would be somewhere down in that valley, to the north… Crickhowell wasn't on this OS map and my smart phone suggested it was actually to the east… So, back in 2014 and whilst looking up at the mountains from the site of the Green Man Festival, I guess I was looking at an different range of Black Mountains, after all.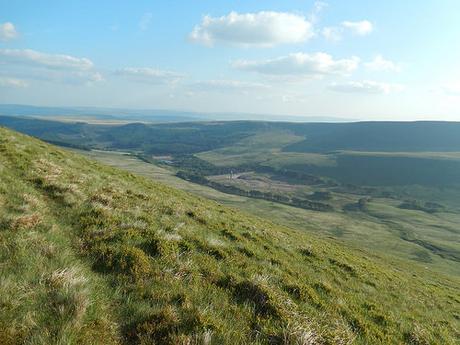 From here, I decided that I would attempt to follow the Beacons Way in the direction of Blaen Y Glyn, where a number of waterfalls are highlighted on the map.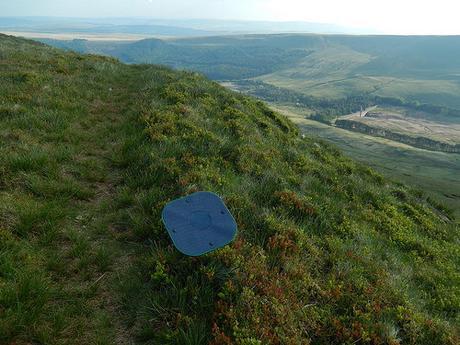 Staying true to the obvious path beneath my feet, I veered right, at a point that looked appropriate on my map and where I also met with an unmarked round wooden post in the ground. This next track was narrow, almost animal-like and led me past this item, which looked as if it might be a solar panel of some sort.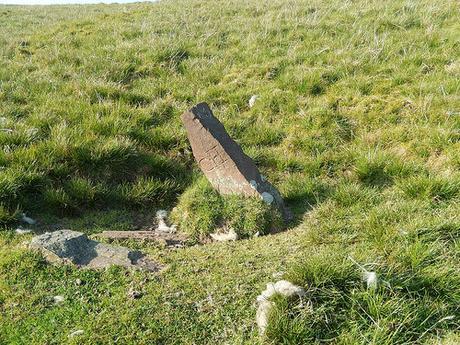 Still unconvinced that this was the Beacons Way; I soon passed a narrow stone with the initials "GH" carved in to one face.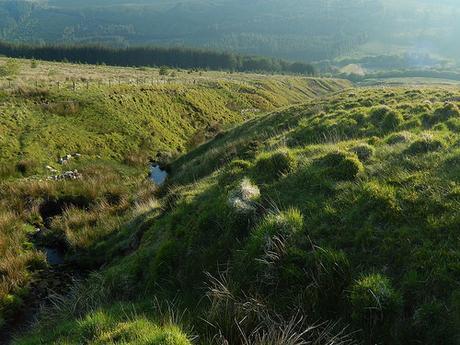 With a complete lack of waymarking (I have recently read that the Beacons Way is apparently waymarked), I'm ready to believe that I was probably following a sheep track and not a footpath. But I did find my way to a broad and more distinct path alongside Nant Bwrefwr.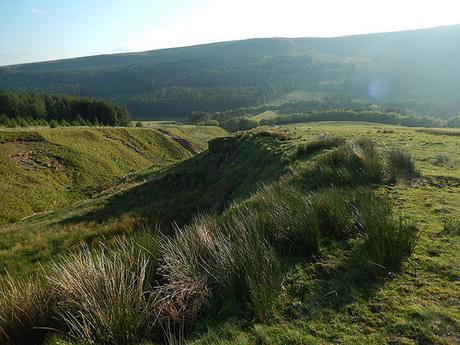 At the other end of this watercourse, I realised I was still on the wrong side of the bank. Not that it mattered, as a familiar field gate (from last year's walked) was just ahead of me and I was back on the road to my car which was, honestly, where I most wanted to be.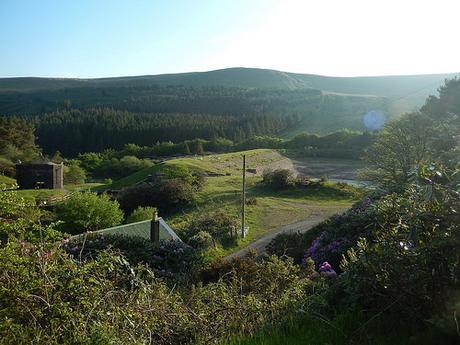 Those waterfalls could be heard distinctly. I decided not to explore them and risk cramming too much in to one adventure. Plus, with the sunlight fast dissipating, midges were out in full force.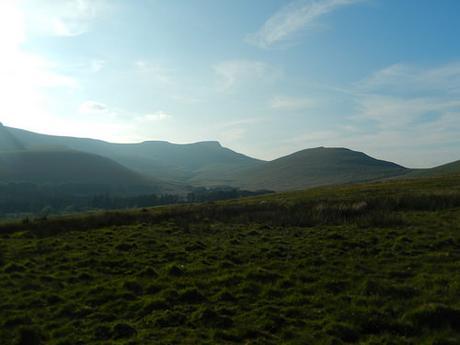 It was not an easy drive home – although, it seemed to take less time than the journey in the opposite direction (which was eight-miles shorter). I am pleased and proud that I can now say I've completed the infamous Four Peaks Walk, also known as the Neuadd Horseshoe. Training for a thirty-mile challenge in less than forty-eight hours' time though, it was probably on the verge of extreme.
Next time I arrive in the Brecons Beacons, I'll try to explore somewhere 'new'.
Total distance of this walk = 9.5 miles
Thanks for reading.