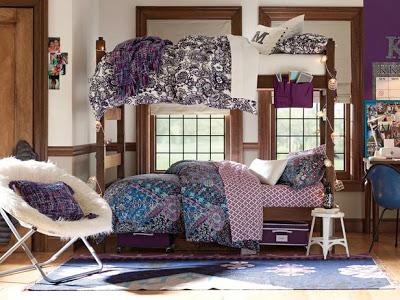 via Pottery Barn

It's that time of year again when High School graduates are leaving home and heading off to college.  What will it be like?  Will I make new friends?  Will my classes be hard?  And most importantly, what is my roommate like and how will we decorate the dorm?
So many good ideas abound, there's no reason why "the dreaded dorm room" can't be warm, colorful, and reflect the personalities of its occupants.  Don't let the small quarters cramp your design style.  Here are some tips and tricks to take your dorm room from bland to beautiful.  First, consult with your roommate on a color or theme that you both can live with.  Then, think outside the small white box!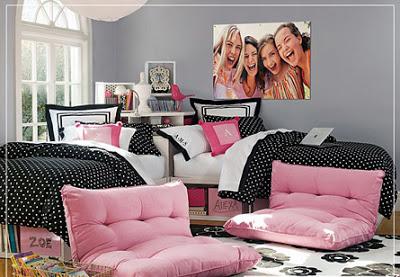 Think multi-functional.  Each piece should have a dual purpose.  A futon, small poufs or stacking tables can do double duty, and valuable floor space is not wasted.  Think vertically and look skyward.  Use the walls to organize and personalize.  Decorative shelving and boxes keep clutter at bay.  An added bonus ~ it creates another layer of interest.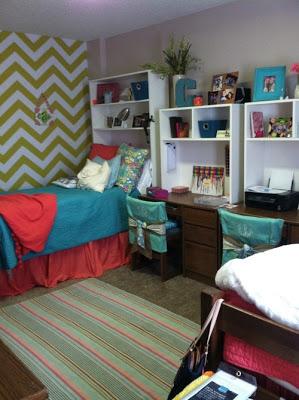 Elevating beds or building a loft allows you to use the premium space underneath for storage, and is a no brainer.  Designate areas for eating, sleeping, and studying.  Layering fabrics and carpets creates a sense of coziness, while no sew curtains inject a major design wow, second only to the bedding.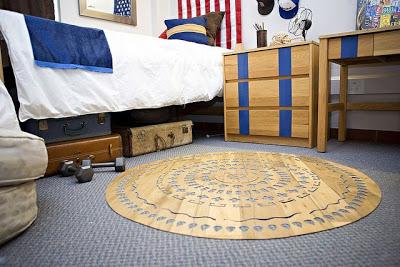 Self adhesive hooks are ideal for hanging art, decorative mirrors, or framed photos.  Temporary decals jazz up any cement wall and allow you to personalize your dorm.  You can then conveniently reuse them in your next space.  Also, have you seen what you can do with Duck Tape these days?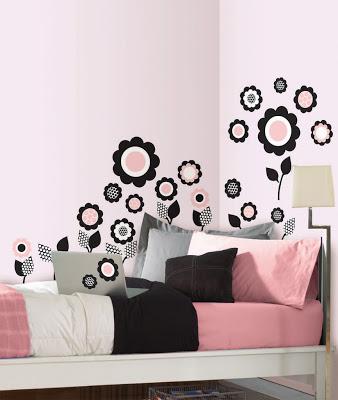 Often, the lighting in a dorm is dismal and not conducive to living and studying adequately.   This I have never understood.  Think layers of light.  A desk lamp is always a must, but also consider a lamp clipped to the headboard or a floor lamp nearby for reading.  You also need to think about your task lighting for doing the necessary chores that go along with daily living; eating, applying make up, entertaining, etc.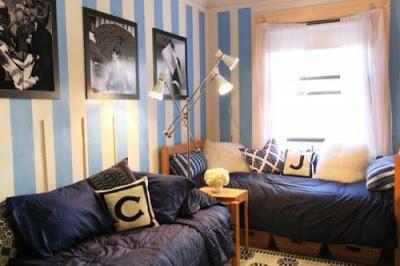 Like anything else, you can choose to go minimalistic or crazy.  It's up to you (and your roommate).  Max's dorm room was so memorable The New York Times did a piece on it.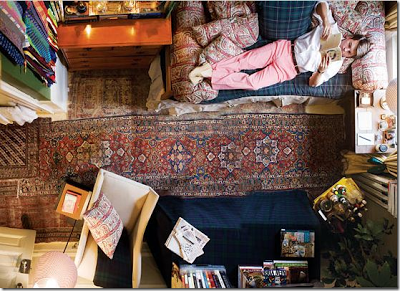 If you're feeling really ambitious, there so many DIY tutorials on how to make headboards or create the dorm room of your dreams, whatever that may entail.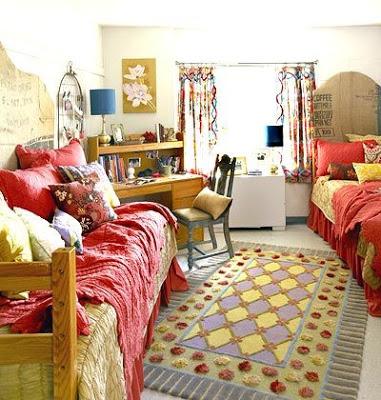 Thinking outside the little cement box and creating a room that expresses and comforts you, promotes well being, functions efficiently, is conducive to studying and sleeping, (because isn't that why you're really there?) is a task worth 
tackling.
Plus, these small space tips will help you then transition to your first apartment.  
For more great ideas, visit my

Pinterest

board.