With every new school season, comes a new set of  books you're expected to devour in record-breaking time. In an effort to cope with your endless list of reading lists, you are often forced to turn to the next best thing to the book: the movie adaptation. In an attempt to get into the back-to-school spirit - and possibly give you a head start on your slacker studying - over the next week, we will be giving you a sampling of our favourite page-to-screen adaptations.
BREAKFAST AT TIFFANY'S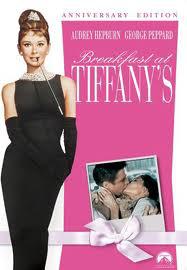 Release Date (Book / Movie):
1958 / November 1961
What the Back Cover Should Read:
A postcard for the 1960s Beatnik New York generation, the film captures the NYC skyline, the Upper East Side, and of course, a certain jewelry retailer that lends mythology to the world-class city (when that mythology was still enigmatic and alluring, of course.) Audrey Hepburn's flighty yet perfectly poised Holly Golightly staring forlornly at Tiffany's in the opening scene is likely the most iconic, if not, ubiquitous example of radiant Old Hollywood glamour.
Why It's Worth Checking Out:
The whole gang- socialite Holly, her writer friend Varjak, her former husband Doc and that "damned" cat- makes it in the film, though fleshed out in a 2D, Hollywood blockbustery way. Can you tell I read the novella first? Yet not even Truman Capote could have captured hearts like Hepburn's spellbinding rendition of "Moon River." And my second favourite cinematic quote: "I'm like cat here, a no-name slob. We belong to nobody and nobody belongs to us. We don't even belong to each other."
THE OUTSIDERS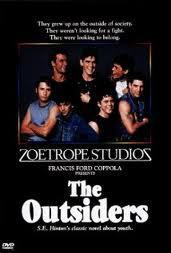 Release Date (Book / Movie):
1967/ March 1983
What the Back Cover Should Read:
The coming-of-age tale of the societal clashes between argyled, prepster Socs and comb-in-back-pocket Greasers oozes and festers until tragedy forces the toxicity of their prejudices to surface. With their cooler-than-Fonzi swagger, the gang of impoverish Greasers is defined by the kind of bond where friendship and brotherhood dissolve into each other. It also bestowed our lexicon with Ponyboy, Socs (pronounced "So-SHAS") and Ralph Maccio. A tearful rendition of the Robert Frost poem, "Nothing Gold Can Stay" makes the film the epitome of loss of childhood, innocence and cowlicks.
Why It's Worth Checking Out:
World: Meet Rob Lowe. Director Francis Ford Coppola could not have selected a more perfect embodiment of Sodapop Curtis, S.E. Hinton's Adonis specimen of a 17-year-old boy (not creepy!). Shouts to Matt Dillon, Patrick Swayze and Tom Cruise- yeah, it's pretty much a testosterone-laden who's who of Hollywood's golden boys before they were old enough to (legally) order a drink.
P.S. I Love You

Release Date (Book / Movie):
2004/ December 2007
What the Back Cover Should Read:
If you can get past the whole receiving letters from your dead husband deal, the film tenderly crafts the love saga of a couple through enough flashbacks and conversations to maintain the momentum of a continual love story. Except he's gone and the Ghost of Perfect Husband Passed looms over Holly's life like a shadow. What's apparent is that Gerry will forever love his wife and that death comes as a sweet relief to persistent spousal nagging.
Why It's Worth Checking Out:
The lush Emerald Isle could not have asked for better promo video and spokesperson in Gerald Butler (sorry ladies, he's actually a Scotsman.) And when he serenades a lovestruck Holly for the umpteenth time, you'll have already booked your one-way ticket to Ireland in search of your own whistling Leprechaun. Good luck ladies! Just don't bring the book by Cecelia Ahern for your plane ride.