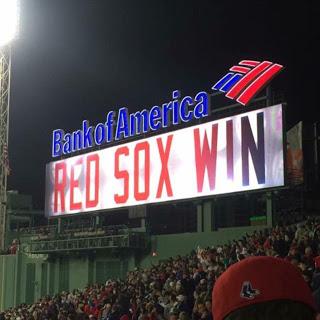 How I do love a weekend sweep by the Red Sox at Fenway. Especially when they do it to the rivals from the south.
And seeing that sign in center field at the end of each game all weekend.
A lot to love about this past weekend's domination of the Yankees. The Red Sox came from behind of Friday night, which concluded with David Ortiz' two run blast off Dellin Betances in the eighth inning. Henry Owens gutted out six innings, allowing two runs.
Saturday night was all Sox. Jackie Bradley hit two triples and a double, and the home team was off to the races. Rick Porcello extended his record to 5-0 with 7 shutout innings. If he is a legit number two starter now, it makes the Sox even more dangerous. He struck out six and walked just one. He was never in any real trouble against a slumping New York offense.
Sunday night was a very different story. It was another difficult game for David Price, as he allowed six runs to New York, but he went seven innings and spared the bullpen, as the Yankees had a 6-4 lead by the fifth. But another hallmark of this Red Sox team is their comeback prowess, and they tied the game in the fifth on Travis Shaw's two-run shot.
In the seventh, Christian Vazquez took Betances' first pitch (I thought this guy was supposed to be unhittable?) which was down the heart of the plate and hit it across Lansdowne Street to make it 8-6. And yes, New York Daily News, your beloved team WAS beaten by "someone named Christian Vazquez." (Remember that name while you're at it.)
New York got a run in the eighth on a wild pitch, but Craig Kimbrel had another 1-2-3 ninth to make it a sweep. David Price is now 4-0, but with an ERA just above 6.00.
The win last night puts the Sox one-half game in first place, as the Orioles lost to the White Sox in Baltimore yesterday. They are 15-10, five over .500 for the first time in 2016, and have won 6 of 7. Anyone else notice the Yankees are 8-15, last in the AL East and third -worst record in the AL? Yep, I know I'm not the only one.