Buying a pram for your little one can be a long winded process choosing one that is suitable for all weather conditions and that will last through out their first years with out having to replace. I came across Baby Merc a company I must admit I had never heard of  before. I was super excited to see they has a fantastic range of prams available at such amazing prices.
After contacting them to find out more about their products I was very pleased to be offered the chance to review their Baby Merc S7 model.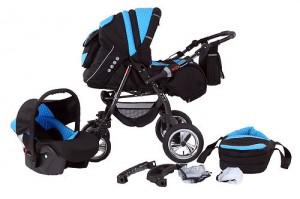 The Baby Merc is very strong with a lightweight frame, easy to collapse which is great as many prams can be time consuming when putting down. It has full suspension on all four brackets allowing you to push it at great ease.
The handle can be set in four different positions which allows you to have your child front facing or facing you.
The wheels are detachable fantastic if they needed cleaning as we all know how difficult it can be to clean pram wheels whilst still attached. The footrest is great for your growing child as it has 5 different levels and the safety belt is also adjustable ensuring your child is as comfortable as possible.
The Baby Merc S7 comes with the following
The S7 lightweight frame  

Carrycot
Car seat
Shopping bag
Changing mat
Rain cover

Mosquito net
Play tray
4 wheels
Rain cover for car seat.
Large storage basket
Foot muff
Foot muff for car seat
Umbrella
All for the fantastic price of £239.99 (prices may vary). They have a wide range of colours available something to suit everyone.Post and package is also FREE and items are sent by recorded delivery.
 EVERY PRAM HAS A 12 MONTH GUARANTEE
So if your looking for a new pram with a great price tag and made of high quality material look no further Baby Merc are definitely the company to buy from.