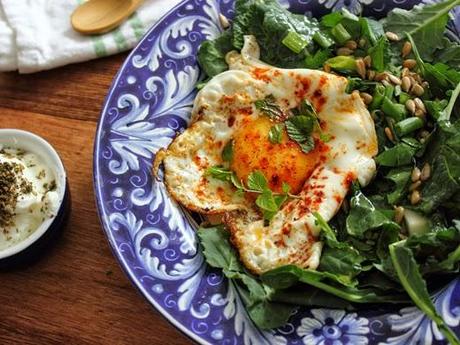 "Be a tennis ball, not an egg."

These were the confusing words written on a sign.  A sign located in Pennsylvania. A sign that was seen while riding in a vehicle with my mom and my child.  And most importantly, most unfortunately - my sister.

For as long as I can remember, my sister has considered me to be an egg. It has never been quite clear to me why this is so.

I can't believe I need to point this out, but I am not an egg. I do not have a shell and/or a yolk.  I'm fairly certain I have a brain.  I think therefore I am, and all that.  Also in my favor of not being an egg, I can use my vocal cords to speak and communicate.  I'm going to go out on a limb and say that an egg can't do all of that.
Upon reading the sign, my sister displayed some sympathy for me, and told me that it was okay to be an egg, it was okay to be me.  I thanked her for her concern, as I was experiencing an unusual mixture of emotions - 1) amusement by the extremely roundabout way the sign owner tried to convey his/her wisdom 2) apathy, as it has absolutely nothing to do with me, because I am not an egg 3) indignation, as it should be perfectly okay to be an egg, 4) horror at the thought that I have perhaps conceded the egg point to my sister.

Upon arrival to our destination, I called Seth and told him about the sign we had passed in our travels.  His response was "Oh, bounce, not break, well in that regard you may be a bit egg-like." I thanked him for his faith in me, as well as for hopping on board my sister's egg train.

Now we are here with a lunch bowl.  One filled with baby greens (I used baby kale)and pears, and a bit of scallions and parsley for some flavor, coated with olive oil, salt, pepper, and lemon juice.  And sunflower seeds.  And a dab of Greek yogurt and zaatar.  And of course, most importantly, a fried egg.  I broke that egg into a hot frying pan, cooked it with some salt, pepper, and smoked paprika,  placed that broken and fried egg in the bowl as well, then topped it with a sprinkling of chopped mint leaves.  An egg may break not bounce, but it sure is delicious.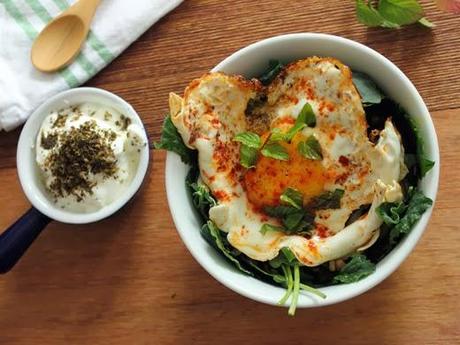 Ingredients


2 cups baby greens
1/4 cup diced pear
1 tablespoon scallions
1 tablespoon parsley
1 tablespoon roasted sunflower seeds
1 1/2 tablespoons olive oil
1 tablespoon lemon juice
pinch kosher salt
pinch freshly ground black pepper
2 tablespoons Greek yogurt
1 teaspoon za'atar
1 fried egg, sprinkled with a pinch of salt, smoked paprika, and freshly ground black pepper
1 tablespoon mint leaves, chopped


Instructions


Toss baby greens, pear, scallions, parsley, and seeds in a bowl.  Drizzle olive oil and lemon juice, then sprinkle just a touch of salt and pepper.  Add a dollop of Greek yogurt and sprinkle with za'atar.  Top with the fried egg sprinkled with salt, pepper, and smoked paprika.  Finish with chopped mint leaves.