No, I don't have baby fever, let's get that right out of the way! But Mama Kat, who I'll be linking up with for a vlog later today, has provided writing prompts recently that have me thinking about one thing I've always wished I could have done differently for my babies.
DECK OUT THEIR NURSERIES!
Yes, I have always wished to have one of those amazingly beautiful magazine-worthy baby bedrooms. The kind you see on beautiful websites like this one, Lollipop Lane. They even have an entire section devoted to "dream nurseries." Ah, it makes me wistful.
I did OK with Nature Girl's because I had such an amazing turnout at my baby shower in Singapore, where she was born. 40 monetarily comfortable ex-pats who loved me (they were volunteers and I was their manager) and therefore my bump, gave me extraordinary gifts that I never would have been able to purchase myself. It was divine! Think lavender and sage colors, Sir Leapsalot, which went out of production. Dreamy and sweet and perfect for my first baby.
My second daughter got a very simple jungle theme, but only the bedding. The rest of the room was very plain. That's what happens when you have your second baby just 15 months after the first. For The Boy, I got a little more serious and had my husband paint his room and I framed pages of the 2005 edition of The Little Engine That Could because Loren Long's artwork is just so beautiful!
So, since the middle child here seemed to get shorted, if I had to choose one do-over dream nursery, this would be hers: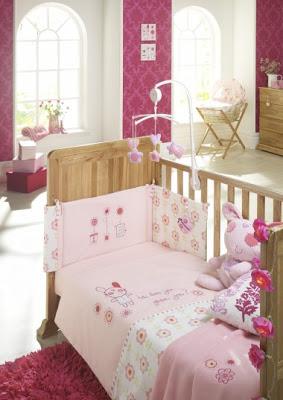 She loves pink; she's my little Rose after all, and this would so suit her from babyhood to the 6-year-old she is now! I just love it. I can't get the picture to save properly, but you have to see this adorable, adorable, adorable curtain tie-back that doubles as a toy. So sweet!
It's somehow satisfying to do an imaginary nursery. Try it. What would you choose?