, the technical festival of VNIT Nagpur is going to be held from . AXIS is one of the biggest festivals of its kind in Central India. The participants are definitely going to be enthralled and amazed as this exciting journey of AXIS unfolds into a memorable technical extravaganza. With the tagline of "Redefining Reality", AXIS'16 is going to be really big.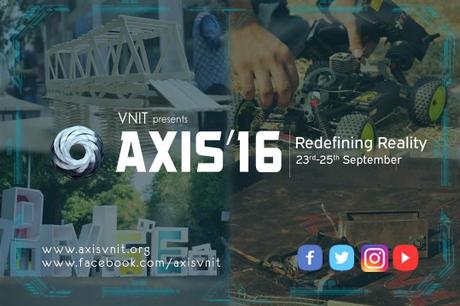 Here is the list of events that will be held during the fest.
Automation & Robotics: Robowars, Mechatryst, Aquahunt, Autobot, Manual Roboticcs
Construction & Design: Devise, Crepido, Paradeigma, Turboflux, Aquaskylark
Software & Electronics: Animazione, Cryptocrux, Insomnia, Posterolic
School Events: Junior Scientist, Dexter
Management & Others: Informals, Wallstreet, Who's the boss, 221B Baker Street, Freak O Matix, Gamesutra
AXIS Igniting Minds: Coll in Coll, Kartavya, Techno.docx
New Events: Brainstorm, Laser Litt, Electroblitz
Click here to know more about the events.
Self Balancing Robot
Mobile Building Workshop
Android App Development
Click to know more about different workshops and register for them.

Colours of Nagpur
No Smoke Campaign
World Environment Day
Against Child Labour
Enjoy the beautiful street play performed by the students of VNIT Nagpur against Child Labour
So, what are you waiting for? Go and register yourself for mega events of AXIS'16.
Website: http://axisvnit.org/
Facebook: https://www.facebook.com/axisvnit/
Twitter: https://twitter.com/axisvnit
Youtube: https://www.youtube.com/channel/UCjczZvwh0T20yvMLsc5eUkA

AXIS - 2016 - Technical Fest - VNIT Nagpur