Olympique de Marseille (OM) has officially become my favorite French Ligue 1 side, entirely due to their sense of fashion. Literally their fashion sense. Check out their new third shirt for 2011-12: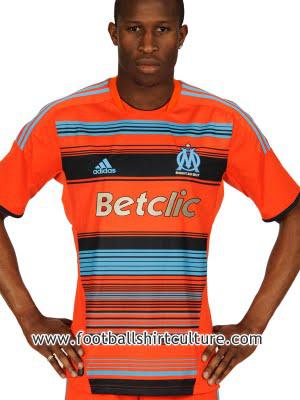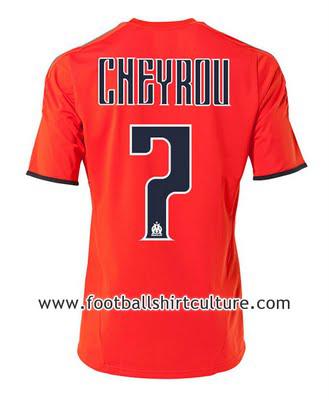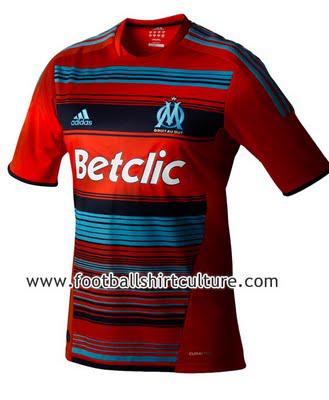 10/5 Stars, easy.
OM is killin' it on the kits this year. In fact, going back to my previous reviews of the home and away kits, OM is averaging a stellar 6.33 out of 5 stars on my super-official rating system. It's safe to say they will be taking home the Kitty Award (still working on the name) for "best overall performance" come - well, whenever I decide to put together my official awards column. It's gonna' be a thing.
Anyways, as you can see, another smash hit by OM. They're consistently pushing the limits when it comes to kit design, and this year it's working out for the best. As I've mentioned before, Marseille is by far the best when it comes to sponsor integration. They're not afraid to change up the sponsor color to make it fit with the shirt palette. The golden betclic logo framed in the asymmetrically distributed, horizontal pinstripes almost looks like it's supposed to be there. The orange material looks very rich, and the accent colors (what look to be robin's egg blue and black) intriguingly complement the base - by far the best non-traditional color scheme on the pitch in 2011-12. The last feature to point out, which I'm sure you've already noticed, is the lettering/numbering. It's safe to say the back of the shirt is in cohorts with the front, as it's both edgy and attractive.
I want one.
--------------------------------------------------
Here's a hilarious video of Peter Wisgerhof of Eredivisie's FC Twente attempting a rather pathetic dive. '
Stay classy, Pete.

--------------------------------------------------
And finally, here's an interesting video Nike put together during Manchester United's recent training session at Nike headquarters on their recent trip to Oregon. United fan or not, this video is good. It focuses more on the training regimen than the players, so don't let the Champions deter your viewing.