So sorry. There are not many sausages here, only sauce. But if I had the time there would have been a lot of damned sausages raining down!  I have enclosed one sausage at the end.
I am terribly belated in giving out the award given to me by the awesome and inspired Anita Howard of a
Still and Quiet Madness
. Thank you, Anita, for my awesomesauce! Without further adieu, I am going to pour a big vat of awesomesauce down the neck of....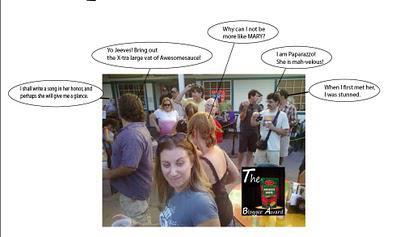 ...Mary Frame, aka Marewulf, of
It's All Fun and Games Until Someone Gets an Agent
. Proud member of the #goatposse on Twitter, and now bedecked with sauce.
Rules:
1. Thank and link to the person who gave me this fabulous piece of work.
I did that!
2. Pay it forward to no more than one person per month. Elaborate why said person is deserving of said award.
The month is almost over so I'm getting this one in under the wire! Mary is swell and clever and writes a wonderfully helpful & smart blog, so we lurves her. Do you not see the people stalking her in the photo above? We like her! So do the stalkers!
3. Answer the following questions:
- What is your favorite song currently playing on your iPod, CD player, etc.?
Low's album "C'mon"
- If we peek into your Internet history, what would we find?
How long should a humor memoir be?
Light sensitivity
Brain tumor
Time between dinosaurs and now 
Personality disintegration
Station Liquors Mamaroneck
Allergy to fluorescent lights 
Boom!
Cell phone cancer risk
-And lastly, what is your all-time favorite movie that you watch over and over again?
Wizard of Oz, Star Wars, shit like that
-And here's nice big photo of The Sauce so that Mary can grab it and post it on her bloggeroo: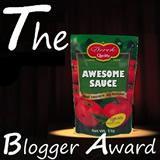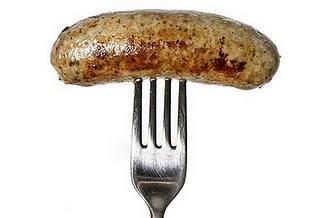 Awesome-Sausage! Tastier and less vegetarian. Porky. Greasy. Bad for you.