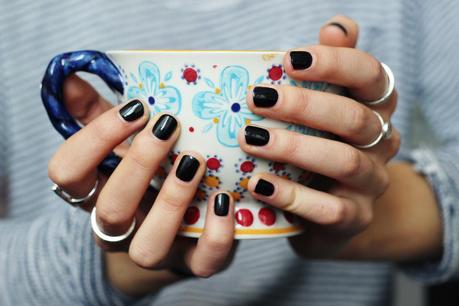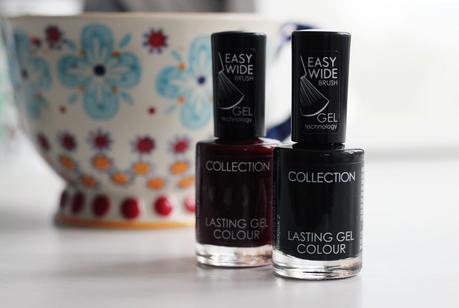 With November coming round quicker than I can believe, and the weather turning cold and autumnal, I decided now would be the perfect time to treat myself to some suitably seasonal themed nail polishes to go with the thick knit jumpers and berry tones that are currently filling my life. And what better colours than black and a dark burgundy to scream autumn and the end of all that is summer?
I've given the Collection Lasting Gel Colour a trial run before in the form of a gorgeous fuchsia which I wore all over the summer, so new that the formula was a good'un - glossy finish and a good staying power (plus they come with a wide brush - winner) - so when I stumbled across these two colours, in the aisles of Boots I knew I had found exactly what I was looking for. 
Red Vixen is a gorgeous rich wine toned burgundy which appears more black or red in certain lights. A classic colour, it's one that goes with everything and a dupe of the infamous Chanel Rouge Noir, it's one to get if you want to save a few pennies. Black Jack is just your average black, but I really like wearing it around this time of year to vamp up looks slightly, and it makes me feel like a witch - in a good way - perfect for Halloween. 
I don't think I will be wearing anything else on my nails, at least until after the new year, these two have definitely stolen my heart! What are your favorite shades for this time of the year?