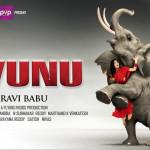 Story:
Mohini (Poorna) and Harsha (Harshavardhan Rane) are newly married couple who buy a new house in a gated community. This house is out of the city and there is no one in the gated community but for one family. Slowly strange things happen in the house and eventually all hell breaks loose. What is it that is in the house? What is its intention forms the basic plot of the film.
Performances:
Primarily there are only three characters in the film that of Mohini played by Poorna, Harsha played by Harshavardhan Rane and small kid Vicky.
These three suit their roles well and act accordingly. Poorna acts well and forms connect with the audience which was extremely crucial for the film to click.
Harshavardhan Rane has really nothing to act. He just has to look lovable for most part which he does very convincingly. It is only towards the end that he gets to act and he is fine in that part as well.
As far as Vicky goes, just his overall presence adds to the film. It is a good choice by the casting department.
There are few others characters played by Chalapathi Rao, Rajeshwari, Sudha, Ravi Babu etc but they have very limited time compared to those three.
Positives:
Duration of film
Screenplay
Background music
Some films are to be seen in cinemas to get the right desired effect, this film is one of such films.
Negatives:
Becomes too slow and repetitive at times
A clear inspiration from a very popular Hollywood film might make the film predictable in parts for few.
Analysis:
Avunu is a supernatural thriller and for any film of this genre to click three things have to be right. One is the location or set up, two is the background score and finally a tight screenplay which exploits one and two.
Ravi Babu gets these three, right, in Avunu. And what makes this film stand apart or look different from the rest of films of this type is the set up of the film which doesn't look eerie at face value. The house in a gated community is as common place as anyone would get to see and within this normal looking set up the director introduces super natural element with awesome result. Also the director doesn't show gore or blood he just lets the normal things effect the audience which is also another plus for the film and brings freshness.
However the director in the first half takes a lot of time for this set up which tends to drag a bit. It is only towards the interval that the film picks up and from there on till the end maintains the pace. The cliffhanger climax works well for the film.
Direction by Ravi Babu is good. He extracts decent to good performances and maintains suspense through out.
Music director Sekhar Chandra given a superb background score which helps the film big time by keeping the audience glued to their seats.
Cinematography is alright, editing is good.
Bottom-line: Avunu, this one deserves a watch.
Rating: 3.25/5 

Rating: 0.0/
5
(0 votes cast)