Thank you for those that have checked in on Avrie, it means a lot to me- wondering how she is feeling. It's never ever fun to have a little one that is sick... but KNOCK ON WOOD today we are so far fever free, with an early morning wake up 7am! She is still not eating very much food and turning her nose up to all of her favorites, but again- this is normal for her when she has teeth coming in.
BUT, get this, she again got all chocked up on her water & extra saliva right before bed last night- and went thru the motions of almost BARFING! She didn't actually do it this time. But she really scared herself with having no idea what just happened (and our quick motions to the bathroom before she blew!) Aaron and I feel like she is just swallowing A LOT of extra saliva with the new tooth and she not handling that well... have any of you other mom's dealt with something like this? We said if it happened again tonight (a third time) I would get in touch with the doctor- as she has ZERO symptoms of any type of sickness.
Here is Avrie in a week of photos the end of last week...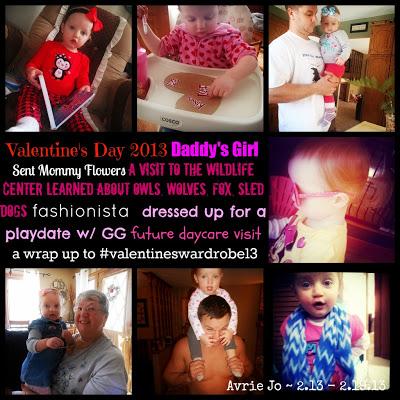 ALSO big this coming week (see the "future daycare visit" in word block above) on Thursday Avrie will be starting a daycare, but only part-time. We will start out with one day a week and when the Spring months approach (nanny is moving and work gets busy) she will attend 2 - 3 times a week.
We are looking forward to her time with this daycare family. I REALLY like them, their home/daycare space is wonderful. I will be well informed of Avrie's daily activities. They have a small group- all of the kids being girls with the exception of one boy AND all kids are under the age of 5. Avrie is going to have SO much fun- she has already met two of the kids and played really well with them! That I am not worried about, its more the fact of how she will act without having Kangy by her side all day... hopefully her new friends will take place of Kanger during the daytime ;)